Analysis
Spring Training Notes: Padres vs. Cubs No-Hitter
While it may have just been a typical spring training game, there was plenty of excitement when the Cubs no-hit the Padres in Arizona.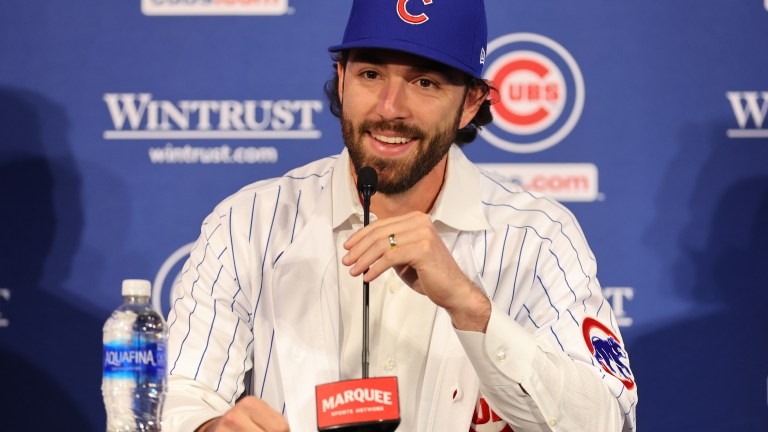 The second game of the day for me in Arizona on Friday was actually a historic one. You can read about the first game between the White Sox and Reds in the other article released yesterday, but for now I'll focus on this game.
I got to see a lot of the Padres yesterday and then some of their key players again today as they had a split squad day. I was very fortunate to see a lot of the Cubs' regulars and a few prospects during the one game I watched them play.
This also ended up being historic as it was the first time the Cubs have ever thrown a no-hitter in Spring Training. While there wasn't much offense to take in, I've got some important key takeaways to go through.
Padres
How in the world are we getting no-hit in a Spring Training game Padres? The offense was completely dead for San Diego. They had a few line drives that easily could have been hits and the Cubs made some nice defensive plays, but this was a really rough performance from the offense. The Padres appear to be one of the better offenses in the league this year and they were playing without many starters as this was a split-squad day for them, but this was bad regardless.
Depth within the pitching staff is going to be one of the bigger possible concerns for this very talented team and I got to see two possible depth arms pitch. Julio Teheran started for the Padres and while he may not ever reach the level he was as a young pitcher with Atlanta, he had a good outing. The only extra-base hit he allowed was a severely misread line drive that should've been a single if approached well by Trent Grisham. He threw three innings without allowing a run or a walk. Nabil Crismatt allowed a monster home run to Edwin Rios, but was otherwise solid and flashed some quality strikeout stuff. Both pitchers will play for Team Colombia in the WBC, but can hopefully provide solid depth for a team that will need it.
Top prospect Jackson Merrill continued to impress me even during a game when the offense was dead. His ability to hit the ball all over the field was very clear after just two days of watching him. With his natural hitting ability and plenty of room to gain muscle, I expect him to be hitting home runs to every part of the field soon enough. He looks incredibly poised and locked in for a 19-year-old as well.
I can't say much else about the Padres in all honesty. The offense was atrocious, but I expect this team to be very good regardless. After all, it's just Spring Training. Don't freak out because you got no-hit when nothing matters right now except preparing properly for the season.
Cubs
The Cubs threw a no-hitter! I mean, that's something exciting regardless of when it happens. Justin Steele started it off and six others pitched in via relief. Steele looked very solid and while he appears likely to get a back-end rotation spot, there are many young arms knocking on the door. He induced ground balls with ease against the best part of the Padres lineup tonight.
The new additions looked good today in early spring action. Dansby Swanson picked up his first hit for his new team and Trey Mancini smoked two singles. Swanson was the big move of the winter and will be one of the key leaders of this team for a long time. Mancini is a quality veteran and his swing looked sharp today. These two will both have leadership roles within a team of many young players.
Two of the Cubs' top prospects started this game today. Matt Mervis and Brennan Davis both struggled today and have for most of the spring. They both failed to reach base in three at-bats a piece as they each finished with a strikeout and two easy outs in play. Mervis is coming off an insane 2022, while Davis has struggled with health and consistency over the past two years after a monster 2019 season. They both have tons of upside but will likely start the season in the minor leagues.
While those two struggled, the top-ranked prospect in the Cubs system impressed me today. Pete Crow-Armstrong came into the game very late but quickly got on base via a single he knocked into the hole and proceeded to steal second the next pitch. His projectability is so high and he has the ability to become a multi-dimensional star outfielder. I wish I got to see more of him because he might be so good that the Javier Baez trade comes back to haunt the Mets.
The rest of the pitchers that contributed to the no-hitter are not big-name guys but are noteworthy nonetheless. Javier Assad debuted last year and was fairly good. He threw two innings after Steele and worked effectively. Brad Boxberger has looked good in his first two appearances and the veteran arm should have a big role with the Cubs this year. Adbert Alzolay is working his back from an injury-plagued 2022 season and threw a clean 1-2-3 inning today of former teammate Alfonso Rivas. This was definitely not a group people would expect a no-hitter from but they performed tonight against a good Padres team.