Feature
Shane McClanahan is the New Best Pitcher in Baseball
With Jacob deGrom forfeiting the mantle of the best pitcher in baseball, Shane McClanahan is presenting his case to be the new titleholder.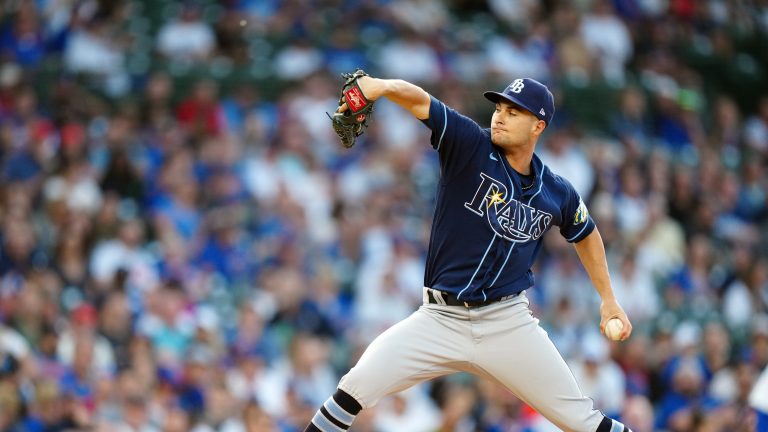 At 46-19 entering play on Friday, June 9, the Tampa Bay Rays are the best team in baseball. They host the second-best team, the Texas Rangers, this weekend at Tropicana Field.
In a clash of titans, each pitching matchup has a level of intrigue over the three-game weekend set. On Friday night, left-hander Andrew Heaney opposes Tampa Bay's Tyler Glasnow, who is as dominant as anyone in the game when healthy, but whose health is as volatile as anyone in the game as well. On Saturday, Texas' Nathan Eovaldi looks to continue his excellent, Cy Young-caliber start to the 2023 season against intriguing rookie right-hander Taj Bradley.
Then, we get to Sunday. It'll be a battle of left-handers at 1:40 PM EST, with Martin Pérez and his 6-1 record opposing Rays ace Shane McClanahan. His surface-level numbers jump off the page when looking at the daily schedule; the 2022 All-Star Game American League starter boasts a 9-1 record with a 2.02 ERA. But, we won't stop digging there.
With Rangers ace Jacob deGrom slated for his second Tommy John surgery to repair a torn UCL and sidelined for the foreseeable future, Shane McClanahan has officially become the title-holder of "Best Pitcher in Baseball."
The Stats
Yes, McClanahan leads all of baseball in Earned Run Average at the moment, sporting a 2.02 ERA entering the weekend. He sits 11 points lower than Detroit's Eduardo Rodriguez, 13 points lower than Minnesota's Sonny Gray, and 22 points lower than Eovaldi, who rounds out the top four.
Yes, McClanahan leads all of baseball in Wins, with his nine besting Eovaldi, Clayton Kershaw, and Rays teammate Zach Eflin by one and eight other starters by two. His .900 Winning Percentage is the third-best mark among qualified starters, with Gerrit Cole and Atlanta's Bryce Elder as the only two undefeated qualified arms in the game.
And yes, this season is a continuation of the masterful start to McClanahan's career. After he became one of five players in Major League history to debut during the postseason, McClanahan made his regular season debut on April 29, 2021.
Since he debuted, McClanahan ranks fifth among all qualified starters in ERA at 2.73, only behind Max Scherzer, Carlos Rodon, Max Fried, and Brandon Woodruff. Among that list of five, McClanahan's 66 starts during that period are the most, and his 365.1 IP are second only to Scherzer.
In his career, McClanahan is holding opponents to a .218/.276/.349 slash line (.625 OPS) while striking out 29% of hitters and walking just over 7%. His K-Rate, Strikeout-to-Walk Ratio, and FIP are all top-15 marks in baseball over the course of his career, while his 1.09 WHIP is top-20.
The Metrics
While 2023 may be considered a "down year" for him by several of the common advanced pitching analytics, I'd argue that's exactly why he's earned this title. At this point in 2023, his 3.51 FIP is the worst mark of his three-year career, as is his 3.58 xFIP and his 19% K-BB%. His 3.45 BB/9 is the highest mark of his young career, while his 43.3% GB% is the lowest.
Let's start with the command woes that we've seen from McClanahan. Last season, he was as pinpoint as any pitcher in the game, walking three or more hitters in a start just five times in 28 outings, and only walking four hitters once.
This season, he's already walked four hitters four times. His start against the Yankees on May 13 was his worst start of the year, allowing four runs and five hits to go along with four free passes in four innings. In the other three starts in which McClanahan walked four men, he allowed just three runs in 17 innings. If there's a perfect example of tightrope through several outings, that three-start sample may be it.
As for the batted ball metrics that may have McClanahan outside of the top 10 in the game right now, he's outperformed the data in that regard as well. Opponents' average exit velocity on batted balls against him this season is up from 87.3 MPH last year to 89.1 MPH in 2023, while Hard Hit Rate is up nearly 7% and Fly Ball Rate is up by 6%.
Naturally, you would think that the long ball is an issue for McClanahan for the second season in a row, right? Wrong. For the first time in his career, McClanahan is allowing fewer than 1.00 home runs-per-nine, while his HR/FB% sits at a career-best 11.6%. The contact is harder, and it's been in the air, but the results are clear: the ball's not leaving the ballpark as much.
The Fastball
Who doesn't love a hard fastball? McClanahan sits at 97.1 MPH with his four-seamer, which is the hardest among left-handed starters and the fourth-hardest among all qualified starters, trailing only Sandy Alcantara, Shohei Ohtani, and Spencer Strider.
It's an excellent pitch, posting a whiff rate around 25% and sitting in the top 10 among four-seamers (minimum 100 plate appearances) in Run Value per Baseball Savant. But, here's the catch: among the top 10, McClanahan has the second-lowest usage of the heater, only ahead of Seattle's George Kirby.
The Changeup
This is the money-maker for McClanahan. He throws a split change, utilizing a splitter-type grip while riding a seam with his index finger for much more arm-side run than the typical diving changeup.
The results have been utterly insane. This season, opponents are hitting .138 against his changeup while slugging .175 and whiffing at a 52.3% clip.
When hitters do make contact, they're putting the 1,600 RPM change in play at an average of 83.6 MPH, well below league average. Among changeups that have ended at least 50 plate appearances, McClanahan sits in third in Run Value at -7, and his Whiff Rate is the best by nearly five percent.
The Breaking Balls
McClanahan throws two forms of breaking balls: a curveball with 11-5 action that sits in the low 80s, and a tight slider that sits in the high 80s.
The curveball is certainly the better of the two offerings. Opponents are hitting .214 with a .262 SLG against it, as he uses excellent tilt in his delivery to snap it off and get more perceived sharp vertical break than many other higher velocity curveballs.
His slider has been somewhat demoted since he first entered the league. His slider usage was more than double what it is now when he first broke in during the 2021 season, and it was by far his best pitch per Run Value in 2021.
In each of the past two seasons, the slider has been not only his least-turned to offering, but also his worst by Run Value. Still, it presents somewhat of a "taste-breaker" to opposing hitters.
The Verdict
The pitch mix is exceptional for Shane McClanahan. He's entering rarified air, with all four of his pitches resulting in a negative Run Value. Over the last two full seasons, the only other two examples I found of an entire arsenal resulting in negative Run Values were Justin Verlander's 2022 season and Walker Buehler's 2021 campaign (Sandy Alcantara threw 11 curveballs last year, which had a Run Value of exactly zero).
The advanced metrics may indicate that McClanahan could be due for some minor regression, but we have yet to see it. With deGrom on the shelf, Verlander running into some rough outings, Strider being uncharacteristically pulverized by the Mets on Thursday night, Cole running into recent trouble, and Alcantara having a brutal start to his Cy Young title defense, it may be time to say it.
26-year-old Shane McClanahan is, as of this very moment, the best pitcher in all of baseball.