Analysis
Gerrit Cole vs. Shane McClanahan: Baseball's Best New Rivalry
Monday night was the first installment of a incredible pitching matchup we could see continue for years in the American League East.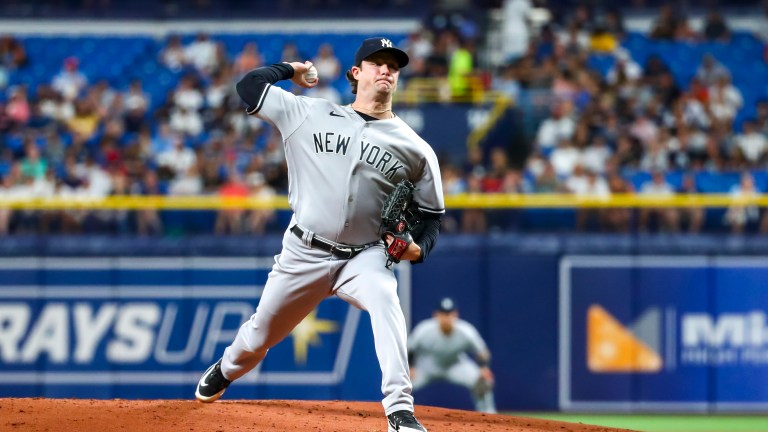 Last night, as a baseball community, we were able to witness one of the best starting pitching matchups we will see all year.
Gerrit Cole and Shane McClanahan are two of the game's best arms. Cole, the $324 million man, has experienced a rollercoaster of a season thus far. His 3.13 ERA ranks as just the fourth-lowest among Yankees starters, that's how incredible that staff's been this year. A dominant start against this same Tampa Bay team just last week was promising, but his opponent on the other side has been one of the best pitchers in baseball during the 2022 season.
Shane McClanahan has been nothing short of tremendous during his 14 starts this campaign. The 25-year-old has struck out 113 batters thus far, the highest tally in baseball. His 1.81 ERA is the third-lowest mark in MLB, while he has an MLB-best WHIP of 0.85. He's electric.
Last night we saw these two face off in an all-time showdown that could be seen as a potential ALDS Game One matchup later this year. And honestly, this is a matchup that could be legendary for the history of the sport. Cole versus McClanahan could turn into a historic rivalry over the next five years, and we just witnessed their first dogfight last night.
Cole's second no-hit bid foiled, Dominates Rays
Pretty incredible to think that Gerrit Cole, a nationally ridiculed athlete, has put out two no-hit bids this season. In my opinion, Cole is a top-five pitcher in the sport. And recently, he's been better than ever.
Cole delivered his second no-hit bid of the season last night in Tampa Bay. Carrying seven innings hitless, Isaac Paredes broke up the no-no with a single up the middle during the bottom of the eighth inning. He was then removed from the game for Clay Holmes, who is possibly the best reliever in the league at the moment.
In a rare blip, Holmes allowed Paredes to score, unfortunately handing Cole an earned run in the process. Don't let this distract you from the fact that this might've been his most dominant start of the year.
Striking out 12 and walking three during his 111-pitch outing, he was immaculate last night. This Rays lineup seemed defeated at the hands of Cole. His fastball velocity was tapping out at 99 MPH, and the wipeout slider had hitters completely fazed. Gerrit's reputation was tarnished following the "sticky stuff" scandal last year. He was in need of a huge bounce back this season. And while it hasn't been perfect, he's shown his greatness over his past two starts.
His first no-hit bid against Detroit earlier this season was also spoiled in the eighth inning. Is there a possibility he throws one this year? This is actually a legitimate case to watch.
The greatness of the Yankees rotation this season has relatively left Cole on the back burner, out of the headlines. With the likes of Nestor Cortes Jr., Jordan Montgomery, Jameson Taillon and Luis Severino all having career years, the true Yankees ace seems to have been left behind. But with continuous starts like this one, he will place himself back in the spotlight soon enough. The criticism is feeding Cole, and he could gear up for another Cy Young attempt this season.
McClanahan beat by the Rizz, Flawless outside of one mistake
The presumed loser of this matchup, Shane McClanahan, was still a force during his start last night. The young gun unfortunately was beaten by Yankees' first baseman Anthony Rizzo in the first inning, blasting a solo home run to give the Yankees the early lead.
Outside of this, "Sugar Shane" was electric.
McClanahan shoved against the best offense in baseball, again. Last week's start against the Yankees only saw him surrender one earned run, and he replicated this performance last night.
After the solo shot, Shane only allowed three hits. Striking out eight Yankee hitters and only dishing out one walk, he went toe-to-toe with Gerrit Cole last night. McClanahan is one of the brightest young stars in the game, there's no debate. His high velo fastball kills hitters up in the zone. Pairing that with his devastating curveball leaves hitters guessing every time. He's yet another incredible Rays pitching product that they've elevated to another level.
There is a prime opportunity for the left-hander to walk away with his first career Cy Young award this season. And now with another young starter, Shane Baz, back in the rotation, the two could be the best young pitching duo in the sport.
McClanahan's number will continued to be called upon every day to shove with such a stagnant Tampa Bay offense.
Over the past two weeks, he's put out solid performances against a seemingly unbeatable Yankees team. However, as the old saying goes, you have to beat the best to be the best. And unfortunately for the youngster, Gerrit Cole had his number last night. But this isn't the end for this rivalry. It's just getting started.
The next great rivalry?
The pitching matchup we received last night was an incredible one, and it's one I believe we'll be seeing multiple times in the near future. The Yankees will forever be a contending franchise due to the overabundance of cash flow in their payroll. Tampa Bay has a unique way of developing talent and continuously putting out a winning product despite their lack of resources.
Cole versus McClanahan had a very Star Wars feel to it last night. The older and wiser Cole outmatched the younger, more inexperienced McClanahan, just by an edge. In due time, we could see these roles reversed as the legend of Sugar Shane will grow. But for now, round one belongs to Gerrit Cole.
We've seen a multitude of incredible pitching rivalries in baseball history. Clemens/Pedro, Johnson/Maddux are just two that come to mind when we think about it. Two dominant pitchers at their peaks, duking it out at the highest stage year in and year out. History tends to repeat itself, and this newest rivalry could be legendary if both players are at their highest levels.
With both franchises ready to compete over the next few seasons, this will be a playoff matchup that we will see often. The two aces of two of the best franchises in baseball will be on showcase against each other for the near future. With Cole seemingly back to being unhittable, and McClanahan putting in one of the greatest pitching seasons we've seen over the past few years, the chances are extremely likely. The potential of this matchup is immense. And if you didn't catch the game last night, make sure you don't miss the next time these two face off. You won't regret it.