Analysis
Ronald Acuña Jr. Is Back in the Best Way
After a down year in 2022, Ronald Acuña Jr. is back with a vengeance, and he's ready to lead the Braves to another division title.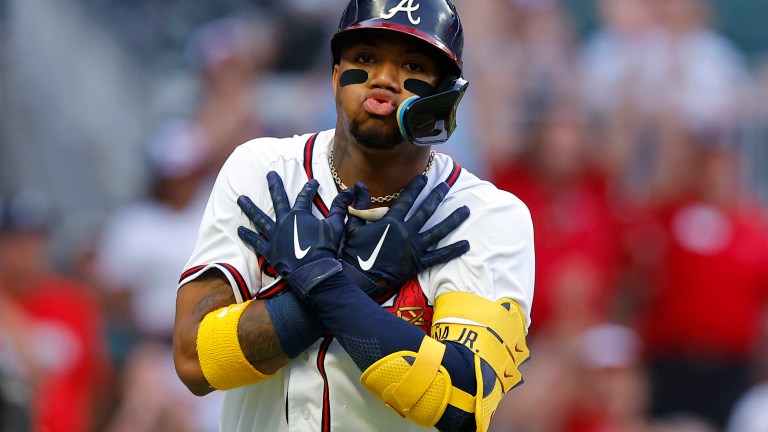 Ronald Acuña Jr., man. Heading into the 2021 season, a then 23-year-old Acuña was my pick for NL MVP. I was feeling pretty good about my choice through the first half of the year. The Braves phenom was slashing .281/.392/.593 with 24 home runs and 16 stolen bases in 81 games. Unfortunately, we all know what happened in game 82: the superstar outfielder tore his ACL, prematurely ending his 2021 campaign.
Acuña returned in 2022, and while he was still a key contributor for Atlanta, he wasn't quite himself. His .351 on-base percentage was solid, but his .413 slugging percentage was out of character, and his sprint speed was down by nearly a full foot per second. His defense was worse too, according to every advanced metric.
What was particularly concerning was that Acuña didn't show any signs of improvement throughout the season. If he were slowly recovering from his injury, you might have expected his numbers to improve as time went on. Instead, he hit .239 in September with a 6.8% walk rate and .174 isolated power.
I'm not saying anyone was ready to give up on Acuña – at least, I certainly hope not. Just Baseball ranked him as the fifth-best corner outfielder in the sport this March, and FanGraphs projected him to bounce back with a 5-6 WAR season. However, Acuña needed to prove he could still be that guy after a terrible injury and a subsequent down year.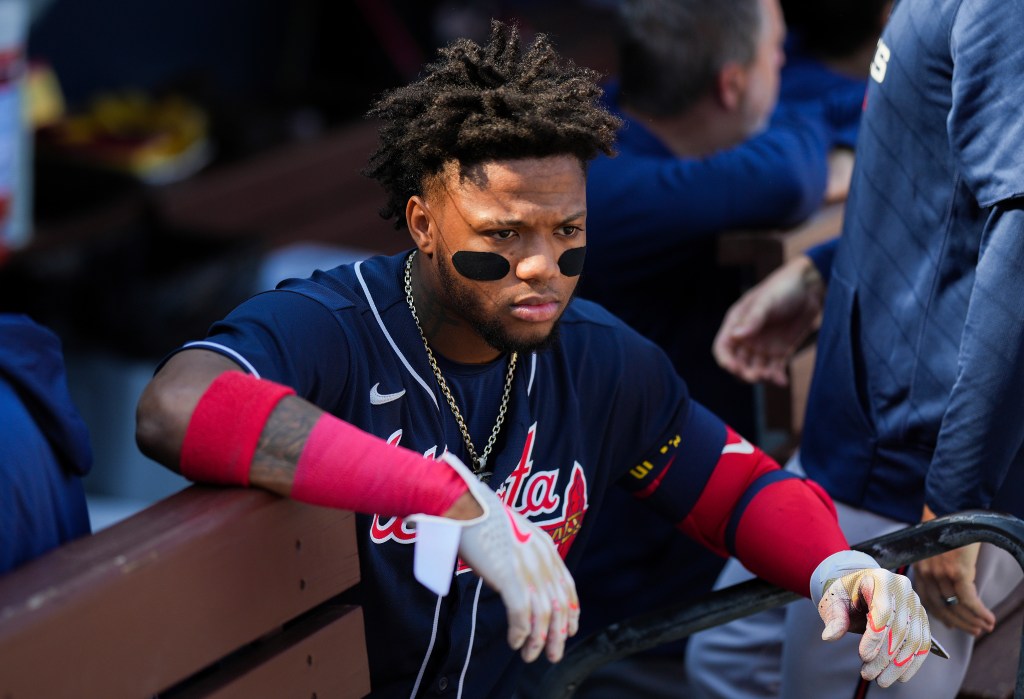 Three weeks into the season, and it's already clear: Acuña is indeed that guy. He is slashing .368/.448/.553 with three homers, five doubles, and seven stolen bases. He leads the National League in FanGraphs WAR. His hot hitting has helped the Braves win their last eight games – there's a reason Cristian Crespo named Acuña the X-factor for Atlanta in 2023.
While Acuña's slashline is mouth-watering, we all know not to put too much faith in early-season stats. Thankfully, the underlying data is just as thrilling. First and foremost, Acuña is hitting the ball hard again. His average exit velocity sits at 93.9 mph – 2.7 mph faster than last season. His average EV ranks in the 91st percentile on Baseball Savant, his maximum EV ranks in the 98th percentile, and his hard-hit rate ranks in the 90th.
Another thing that stands out is Acuña's strikeout rate. He has struck out 13 times in 87 PA, good for a 14.9% K%. Acuña has never been particularly punch-out prone, but he usually strikes out a little more than the average hitter. This year, he has one of the 20 lowest strikeout rates in the National League.
When you combine a low strikeout rate with high-quality contact, you're going to get excellent expected numbers. Acuña's .440 xwOBA is the best mark of his career, and it currently ranks among the top 15 qualified hitters in baseball. His .333 xBA is third-best in the NL, behind only Freddie Freeman and Paul Goldschmidt.
As great as Acuña has been, a few red flags in his numbers warrant a closer look. More than half of his batted balls have been on the ground, which is unusual. Acuña used to be a fly ball hitter, and it's why he was such a power threat in the first several years of his career. However, he hit a ton of groundballs last season, and his groundball rate is even higher thus far in 2023.
From 2018-2021, Acuña's average launch angle was 15.1 degrees. Last season, that number dropped to 10.8 degrees. This year, it's currently sitting at an even 5.0 degrees. These numbers help to explain why his isolated power is surprisingly low, even though he's hitting the ball so hard. If Acuña wants to regain his power, he needs to start elevating the baseball.
Another cause for concern is Acuña's footspeed; he has yet to regain the speed he lost following his ACL surgery. That's not to say he's been slow – his sprint speed still ranks in the 88th percentile – but he's no longer elite on the basepaths. It can take a long time to recover full strength after an ACL reconstruction, so Acuña may regain some speed as the year progresses. However, if he can't get his sprint speed back up, his power will become an even more essential part of his game.
I'm not worried about Acuña – he remains a strong baserunner and an excellent hitter – but he still has room to improve. If he can run faster and hit the ball in the air while keeping his strikeouts down, he could be the best offensive player in the National League.
Ronald Acuña Jr. isn't the same player he was before he tore his ACL. Even so, he's been one of the most valuable players in baseball this season. That should tell you everything you need to know about how talented he is. My MVP prediction may have been premature in 2021, but this is starting to look like the year when Acuña finally comes out on top.