Analysis
MLB Best Bets, Predictions, Odds, Rangers vs. A's, Marlins vs. Pirates, Astros vs. Mariners for July 24, 2022.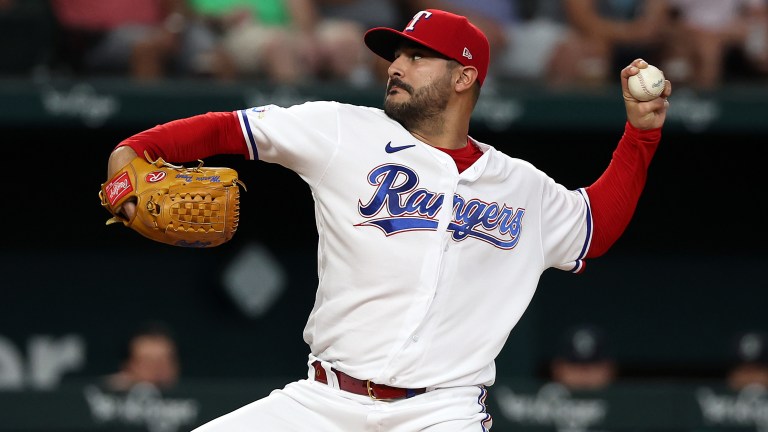 Back on track. We had a winning day yesterday going 2-1 and now I'm back with three MLB Best Bets to end the week. Let's finish strong.
2022 MLB Regular Season Record: 138-120 (53%) +19.59 units
Miami Marlins vs. Pittsburgh Pirates: 1:35 PM EST
Sandy Alcantara (RHP, Marlins) [9-4, 1.76 ERA, 0.90 WHIP, 138.1 IP, 123 K, 33 BB]
Mitch Keller (RHP, Pirates) [3-7, 4.55 ERA, 1.46 WHIP, 89 IP, 77 K, 34 BB]
We head to Pittsburgh for the last game of a three-game set. Both offenses do not look strong, but we have an exciting pitching matchup between two right-handers who throw gas. This will be a pitcher's duel until the end.
What do you even want me to write about Sandy Alcantara. He's the best pitcher in baseball right now. He's incredible against both righties and lefties. He's phenomenal at home and on the road. He leads the league in innings pitched and should go deep in the game considering the Marlins used a lot of their bullpen after Max Meyer left the game early yesterday. He's been at his best in July so far, throwing 23 innings and only allowing two earned runs. The Pirates haven't faced him this season, so they'll be in shock with what Sandy brings to the table.
This will be his first start off the All-Star break, so we should get plenty of length from Alcantara. The Pirates just traded away Dan Vogelbach who isn't very good, but at least he could hit a right-hander. Without him, this lineup looks really dry. Since June 23, the Pirates rank 21st in wRC+ against right-handed pitching, but they rank 13th in slugging. They do have some power, but Sandy has allowed six home runs in 138.1 innings. He doesn't allow home runs.
When we shorten the sample to the beginning of July, the Pirates rank even lower in wRC+, dropping to 24th. I don't expect a single run against Sandy Alcantara from a Pirates offense that ranks third to last against righties this season, and they haven't seen Sandy. This offense will still be without Bryan Reynolds who is on the IL.
Taking the bump for the Pirates is Mitch Keller, who's been solid lately in his own right. He's clearly no Sandy, but he's been showing signs of a well above-average pitcher lately. Keller is enjoying his best month of the season, throwing 19 innings in July and only allowing five earned runs. One of those starts came against the Yankees and the other was against the Rockies at home. His best start of the month was against these Marlins, throwing seven strong innings while only allowing one earned run.
The Marlins offense went viral for not scoring for 36 straight innings before putting up 8 runs in one game. They were just dominated by Quintana, and rank even lower than the Pirates in wRC+ against right-handed pitching in July. Jazz Chisholm and Jorge Soler, two of the three best hitters on the team, are on the IL. The other best hitter in the lineup was hit on the hand in the eighth inning in a pinch-hit appearance. He's currently day-to-day.
While the Marlins did use a lot of their bullpen yesterday, they are at least more rested due to the All-Star break. The Pirates bullpen will be rested after the break and Quintana going deep into yesterday's game. I think the under-through the first five innings is safe, but it's very low at 3.5 for a reason. I think that will hit, but I think the safer play is the full game considering we should see plenty of length from both starting pitchers.
The Pick: Marlins vs. Pirates Under 7.5 (-115)
1.15 Unit to Win 1 Unit.
______________
Texas Rangers vs. Oakland A's: 4:10 PM EST
Martin Perez (LHP, Rangers) [7-2, 2.68 ERA, 1.19 WHIP, 111 IP, 95 K, 30 BB]
Paul Blackburn (RHP, A's) [6-5, 3.62 ERA, 1.20 WHIP, 97 IP, 77 K, 27 BB]
The Oakland A's are hosting the Texas Rangers today for the finale of their three-game series. The A's have now won three games in a row, a feat they've accomplished only once this season. Still, the Rangers have won seven of the first 12 matchups with the A's this season, and they will have won eight of their first 13 matchups after today.
It's hard to believe that the Rangers will get swept by the A's, so I'm willing to get hurt by Rangers' money line once again.
Martin Perez will toe the rubber for Texas who is having a resurgent type season. His stuff and command look superb, and his 3.23 xERA indicates some slight regression, but this performance looks like it's here to stay. He has been everything the Rangers could've ever asked for this season, and he has been outstanding on the road all year. In Perez's eight road starts, he has pitched to a 3-0 record with a 2.52 ERA. Perez also has respectable numbers against these current Oakland A's hitters. He has a .316 wOBA, a .267 average against, and a .249 xBA in 63 PA. Also, the A's rank in the bottom three of pretty much every major offensive category in baseball.
Blackburn also has respectable numbers against this current Texas Rangers lineup: .299 wOBA, a .273 batting average against, and an 18.9% strikeout rate. Blackburn has fallen back to earth from his hot start as he has given up 11 runs in his last two starts. In his last start against the Rangers, he allowed five runs in six innings. That was his last start before the All-Star break so the familiarity should bode well for the Rangers.
Since Blackburn made the All-Star team this year, one would assume that he has pitched well at his home stadium this year. However, he is just 1-4 with a 6.75 ERA in all his home starts. To make matters worse, the A's are 4-17 in their last 21 home games against southpaw starters. The Rangers have won in 12 of the previous 14 games where Martin Perez toes the rubber.
I posted on Twitter yesterday that I'd be on the Rangers no matter what. I do not see the A's winning four in the row for the first time this season or completing the sweep against the Rangers.
The Pick: Rangers ML (-130)
1.3 Units to Win 1 Unit
_________
Houston Astros vs. Seattle Mariners: 4:10 PM EST
Framber Valdez (LHP, Astros) [8-4, 2.66 ERA, 1.13 WHIP, 115 IP, 102 K, 43 BB]
Robbie Ray (LHP, Mariners) [8-6, 3.54 ERA, 1.09 WHIP, 117 IP, 135 K, 38 BB]
The Houston Astros and Seattle Mariners conclude a three-game series today in Seattle. The Astros have hit the ground taking the series' first two games. The Astros look like the team to be in the American League, having taken five of seven against the Yankees and putting an incredibly balanced lineup out on the field every single day. The pitching matchup is a battle of lefties between Framber Valdez and Robbie Ray
Valdez has excellent numbers against the Mariners in his career. He has pitched to a .237 wOBA, a .178 batting average against, and a .258 xSLG in 52 plate appearances against the Mariners' current roster. Meanwhile, Robbie Ray has less than exceptional numbers against this current Astros lineup. In 65 plate appearances against, he has a .440 wOBA, a .296 batting average against, and a .510 xSLG. While Robbie Ray has been exceptional at home this season, the Astros offense really has his number. In his last start against them, he went five innings and allowed eight hits and four earned runs.
The Astros have had their way with the AL West Division this season, but they have also dominated the road at 32-18. Yordan Álvarez has picked up where we left off, and Alex Bregman and Jeremy Peña are two right-handed bats that alleviate so much pressure from guys like José Altuve. The Astros' pitching has also been fantastic against Seattle this season and in this series. The Mariners have only scored three runs in this entire series. Valdez is 3-0 in his career at Safeco Field, and as much as we are rooting for the Mariners, they will not be able to keep up with the Astros this afternoon.
The Astros bullpen got a nice day off yesterday after Justin Verlander threw seven fantastic innings. They'll be ready to go behind Valdez with the number one bullpen ERA in the game.
The Pick: Houston Astros ML (-120)
1.2 Units to Win 1 Unit