Analysis
Opening Weekend Shows Marlins Are Still Incomplete
The Miami Marlins look vastly improved from last season, but still have a flawed roster that is at least one big piece away from contention.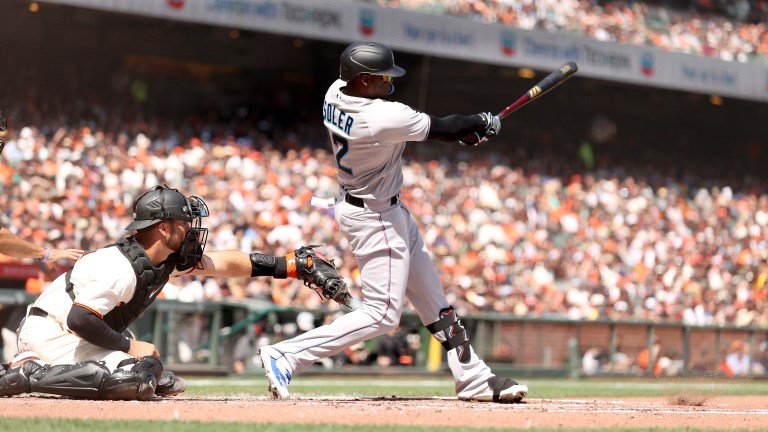 It was a wild opening weekend in Major League Baseball, with stars shining and crazy games galore.
However, only the series between the San Francisco Giants and Miami Marlins saw each game decided by one run. Surprisingly, a team that won 107 games and one of the league's biggest disappointments from last year basically played to a draw.
It may say a lot about where both teams will be this year or it may go down as a whacky series on the first weekend of the season. There are a lot of things from both sides to be examined, but the Marlins are the more interesting case study here.
The Fish had a busy offseason, making many key upgrades to the team. They made their roster a lot deeper, beefing up a putrid bottom of the roster from last season. Acquiring Avisail García, Jorge Soler, Joey Wendle and Jacob Stallings allowed the Marlins to move on from the likes of Lewis Brinson, Jorge Alfaro, Isan Díaz, Sandy León, Mangeuris Sierra, Joe Panik and Alex Jackson, all of whom had less than 75 wRC+ in 2022.
Replacing these empty at-bats from below-replacement level players with even above-average production already represents a huge upgrade. Take the catcher position for example, where Fish backstops had a combined 63 wRC+ in 2021. While Stallings's career 91 wRC+ is not an overly impressive number compared to other MLB hitters, it is a massive upgrade when it comes to catchers. Add in his Gold Glove defense and the Marlins may have improved at catcher more than any other team did at any other position.
The opening series for the Marlins showed they have improved but still have major holes. Miami will be better, but it remains unclear if their improvements are enough to push them into playoff contention.
The Positives
Arms Off To Strong Start
There is a lot to like from what the Marlins showed this weekend. As always, it starts with the pitching. They sent their big three of Sandy Alcantara, Pablo López and Trevor Rogers to the hill, and all put in solid performances.
Neither Alcantara nor Rogers brought their best stuff, but both gave their team a chance to win. Alcantara walked five but held the Giants to just three runs and his team got back in the game after he exited. Rogers had a very similar game, but the Marlins offense did not do enough to back him up.
López erased any concerns about a tough Spring Training, striking out six in five three-hit innings. The Marlins eeked out a victory despite a tremendous 12-strikeout performance from Carlos Rodón in their only win of the series.
These three all showed flashes of their 2021 form and that pitching will once again be the strength of the club. The bullpen was also really solid, which is a massive change from 2022. The pen allowed just three runs all weekend and struck out 13 Giants hitters in 11 2/3 innings.
The Fish need to find one guy to lock down the ninth inning from among the bunch, but the early signs are strong from the bullpen.
Lineup Depth Shows
This year's lineup is so much better than last. If not because of who is in it, because of who is not in it. The seven players I mentioned earlier—all of whom had less than 75 wRC+—combined for 1,580 plate appearances last season. Instead of turning to far-below replacement level players, the Marlins can now look to names like Wendle, Brian Anderson, Bryan De La Cruz and Jon Berti off the bench.
There is simply more potential in this lineup every single day than there was at any point last season. They will have so many less empty at-bats, giving them at least a fighting chance to provide run support for their elite starting pitching.
Not to mention, there are good hitters in this lineup! While the Marlins managed just nine runs in the series, that had a lot more to do with the pitching and defense of the Giants than the struggles of the Marlins.
Miami collected 14 hard-hit balls (95+ mph exit velocity) Sunday, six of which were hit 100 mph or harder. They have guys up-and-down the lineup capable of hitting the ball hard, something that could not be said last season.
Jazz Chisholm Jr. had a nice series, racking up three hits in six at-bats, including a go-ahead home run Friday.
Chisholm Jr. was unhappy about being left out of Saturday's lineup, and answered by hitting three balls over 97 mph on Sunday, including a 106.8 mph double. He also made a stunning diving catch at second base that flexed his defensive potential.
Chisholm Jr. is the current Marlin with the most star potential and until he reaches it, the Marlins will be desperately searching for star power. That leads perfectly into the negatives from the weekend.
The Negatives
The Roster Is Incomplete
After the Marlins got busy before the lockout, they still had one thing left to do: acquire a star center fielder. They tried, but were unsuccessful in their quest. It was the one move Miami could make to launch itself into playoff contention. They missed a massive opportunity to turn a good offseason into a franchise-altering offseason.
Their lack of a true center fielder reared its ugly head almost immediately. They are opting to play Jesús Sánchez—a natural right fielder who is not heralded as a great defender—in center for the time being and he struggled. It is clear they are going to have to fake it 'til they make it for now defensively in center.
Their outfield trio of Sánchez, Soler in left and García in right is not exactly Gold Glove quality, though Soler did make a tremendous catch to steal a home run Sunday.
It is not just that they are missing a center fielder, they are missing a star in general. The Fish do not have one guy that can put the offense on their back for long stretches of time. They certainly added some much-needed power, but it still will not always look easy on offense.
They have a lot of good players, but they do not necessarily have one great player. That is unless Chisholm Jr. or Sánchez cement themselves as one early in their careers or one of their veterans takes an unforeseen leap.
Make no mistake, this team has the makings of a good baseball team. They are simply one big piece away from being a great one.
Bad Situational Hitting
While there were a lot of positives from the offense, there was one massive negative. The Marlins put themselves in good position to score, but came away with just nine runs from the three games. On Sunday alone, Miami had 11 hits but managed to score just two runs and left eight runners on.
A huge part of that was their inability to convert with runners in scoring position. The Fish went 0-for-7 with RISP Sunday and 2-for-22 for the series. Situational hitting has been the downfall of Miami teams for year. Their 94 wRC+ with RISP ranked 23rd in 2021.
The lineup is definitely better on paper, but the execution still needs to be there. It is too early to say the Marlins will not be a good situational hitting team, but the early returns are not promising. Either they picked a bad time to have a rough weekend at the plate or this will be the recurring issue that dooms the 2022 Marlins.
Truth is, it does not matter how improved the Marlins looked this weekend, they lost two of three games. The process no longer matters to Miami, it is all about results now. They have to put a winning product on the field to convince fans and ownership this team is worth investment.
It may take a major in-season acquisition to get that job done.