Analysis
2022 NL Cy Young Race Update
Two-thirds of the way through the 2022 season, these pitchers are leading the NL Cy Young race.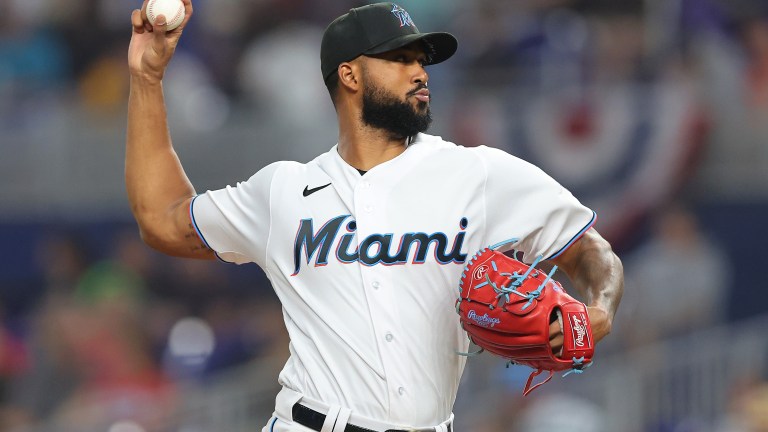 As of this past weekend, the 2022 MLB season is officially two-thirds of the way through. The All-Star break has come and gone. The trade deadline has too. The best teams in each league have separated themselves from the pack, and stretch run has truly begun.
No longer is it "too early" to begin discussing end-of-year awards. There is still time for dark horse candidates to break through, but it is apparent who the frontrunners are for MVP, Cy Young, and Rookie of the Year honors.
Let's take a look at three leading candidates in the National League Cy Young race.
2022 NL Cy Young Candidate – Sandy Alcantara
The leading candidate for the 2022 NL Cy Young Award is Miami Marlins ace Sandy Alcantara. His 1.88 ERA leads the league by a wide margin, as do his 158.1 innings pitched. He ranks among the top five NL pitchers in FIP (per FanGraphs), xERA (per Baseball Savant), and DRA (per Baseball Prospectus).
Alcantara also leads the pack in Baseball Reference WAR, while placing second in Baseball Prospectus WARP, and third in FanGraphs WAR. He is the only pitcher to rank in the top three in each type of Wins Above Replacement.
Pitching lots of innings with a low ERA and high WAR is the best way to earn the support of the BBWAA and win the Cy Young. If Alcantara keeps doing what he is doing, the award is his to lose.
2022 NL Cy Young Candidate – Corbin Burnes
The reigning NL Cy Young is having another fantastic season. He has not been quite as dominant as he was in 2021, but he is on pace to throw more innings. A lack of innings pitched was the biggest argument against his Cy Young case last season.
Burnes leads the league with an impressive 11.58 K/9, and he ranks at the very top in Baseball Prospectus WARP. Opponents are batting just .182 against him, which is second in the NL.
While he has some excellent numbers, and name recognition will help him get some extra consideration, Burnes is currently trailing Alcantara in several of the most important categories (ERA IP, fWAR, bWAR). As things stand, it's hard to see him getting too many first place votes. Burnes is a good bet to finish as the runner-up for the NL Cy Young.
2022 NL Cy Young Candidate – Max Fried
Max Fried is another guy with a low earned run average and plenty of inning pitched. His 2.60 ERA and 138.1 IP both rank fifth in the league. Alcantara is the only pitcher in the NL with more innings under his belt and a lower ERA.
Fried has the lowest home run rate in the league, having allowed just six all season. His 1.63 BB/9 ranks second, as does his 2.45 FIP. He is also second in both fWAR and bWAR.
The Braves ace is putting up Cy Young caliber numbers, but as with Burnes, it is hard to see him beating out Alcantara. If the season ended today, it seems most likely Fried and Burnes would battle it out for second place.
Honorable Mentions
It was very difficult to name just three frontrunners for the 2022 NL Cy Young. Several more pitchers are performing at the highest level and could challenge Alcantara, Burnes, and Fried over the next two months.
Here are a couple more names to keep an eye on.
Aaron Nola
The Philadelphia Phillies right-hander isn't getting much Cy Young buzz yet, but don't count out Aaron Nola just yet. His 3.17 ERA isn't eye-popping – it may be why he was left off the All-Star roster – but his underlying numbers are all very impressive.
Nola is the only pitcher in the NL who ranks in the top three in all of FIP, xFIP, xERA, SIERA, and DRA. His 7.85 strikeout-to-walk ratio is miles ahead of the next best pitcher. He also ranks second in the league in innings pitched.
There is no doubt that Nola's ERA will scare off some voters. The last pitcher with an ERA over 3.00 to win the NL Cy Young was Brandon Webb in 2006. However, with his high innings pitched total and his other impressive numbers, Nola could earn him some votes from the more analytically inclined members of the BBWAA.
Carlos Rodón
Carlos Rodón is having a terrific season. He is leading the league in FIP and xERA and ranks second in DRA. He ranks in the top five in all three types of WAR. If he keeps it up, he will definitely garner some serious Cy Young consideration.
Unfortunately for Rodón, that's a big if. He has only pitched enough to qualify for the ERA title once in his career, and that was in 2016. It's hard to know what to expect from the southpaw as he blows past his previous career-high in innings pitched.
In Conclusion
With two months left to play, Sandy Alcantara is the clear frontrunner for the 2022 NL Cy Young Award. Close behind him, however, are many more pitchers worthy of consideration. Corbin Burnes and Max Fried have the slight edge right now, but if Aaron Nola gets his ERA down and Carlos Rodón stays healthy, both are legitimate contenders too.