Analysis
San Francisco Giants Outlook for 2023-2024 Free Agency
The pressure is on Giants president Fahran Zaidi to make some big moves this offseason to turn things around in San Francisco.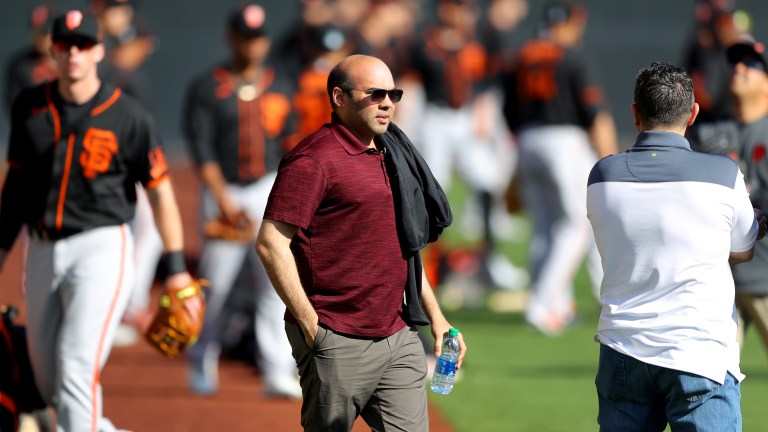 Last season was a failure for the San Francisco Giants. There are no two ways around it. The Giants looked to be in great shape for a postseason berth, then completely fell apart and missed out. The offense went extinct and the Giants were throwing a bullpen game seemingly every other day.
There was a serious lack of starting pitching depth and the offense relied far too much on rookies. The epic collapse led to the firing of Gabe Kapler, and serious questions now surround Farhan Zaidi and the front office.
Zaidi was asked a lot of tough questions, and his seat has to be flaming hot right now. This is a make-or-break off-season for him, and another failure would likely bring about a front-office overhaul.
The Giants went in a new direction by bringing in a familiar face to right the ship in Bob Melvin. The former Padres and A's manager knows California well, and knows San Francisco even better. Melvin played for the Giants from 1986-88, and called this his dream job upon being hired.
With an energized and fresh face leading the dugout, the Giants need to fill that dugout with more energized and fresh faces. Brandon Crawford likely moving on marks the official end of the "BeliEVEN" era by McCovey Cove. The time to build a new core is now, and a superstar at the heart of one is desperately needed.
There are a lot of questions to be answered by rookies such as Casey Schmitt, Luis Matos and Marco Luciano. All debuted last year and struggled. Will they become everyday players, or will even more holes open on this roster?
Those questions will be answered before the season. As we enter the first few pivotal months of the offseason calender, there are a lot of questions to answer about the roster Melvin will have.
More Money More Problems
Before the Giants can set their course for the offseason, there are a few decisions that need to be made. Sean Manaea and Michael Conforto both had player options, with the former already making the decision to opt-out and hit the market.
Manaea posted a 4.44 ERA and 3.90 FIP this year and had a player option is worth $12.5 million, but chose to enter free agency.
Conforto was average last year, slashing just .239/.334/.384 with exactly 100 wRC+ after returning from a year off. He would be owed $18 million if he picks up his player option, which again seems extremely likely.
It would be highly unlikely that he would get that kind of money on the open market. That being said, him returning to pre-injury form would be a huge boost for the Giants' offense.
Alex Cobb was an All-Star in 2023 and has a $10 million club option for 2024. The team recently announced he is undergoing hip surgery and will miss six months, which will affect his 2024. The Giants' biggest need is starting pitching, so you have to imagine they will keep Cobb in the fold. His injury only adds to their need for starting pitching, which we'll talk about plenty later.
Ross Stripling also has exercised his player option worth $12.5 million and he struggled even more than Manaea in 2023. His 5.36 ERA forced him into a swing-man role for the entire season. The Giants will want a lot more than that from him at that price.
All four of these decisions will seriously impact the Giants' flexibility this winter. Without any of those salaries, the Giants have only $68.5 million committed heading into this offseason. That bill goes up to $121.5 million if all four of the options stay on the books.
That still leaves the Giants plenty of room to operate considering their budget, but it could also mean they have unproductive players on bloated salaries. That was their problem last year, and could be a huge issue if they do not significantly improve their performance.
Of course, there is one main reason all Giants fans hope they have as much flexibility as possible this winter: Shohei Ohtani.
Sho Time By The Bay?
You cannot talk about the Giants' offseason without mentioning Shohei Ohtani. San Francisco could have a boat load to spend and they have needed a superstar for years. Ohtani would make a ton of sense as the face of the franchise in San Francisco both on and off the field.
Of course we all know by now that Shohei will not be pitching in 2024. How his Tommy John surgery affects his price tag remains unknown, but the Giants were a contender before and still are now. After they missed on Aaron Judge and Carlos Correa, missing on Ohtani would be a massive blow to the Giants.
Fans have been looking for something to get excited about for far too long and they are growing impatient. Ohtani is obviously the guy every fanbase desires, and would energize San Francisco in a snap.
Not to mention what he brings to the field. When he returns to the mound, him and Logan Webb would form one of the most feared duos in the league. He would also be the only heart of the order bat that could possibly compare to Barry Bonds.
Just as a reminder, he had a 180 wRC+ in 135 games last year, 44 homers and a 1.066 OPS. Nearly two decades after his retirement, the Giants would finally have their Bonds replacement.
I am not going to say the Giants HAVE to get Ohtani. There can only be one team, and signing a generational talent of his kind is an extremely difficult task. But they have to come close, and I'm not sure where they turn if they don't. This is a really weak free agency class, lacking the plethora of headline names the past few years have had.
Ohtani is basically the Giants' only option to land the giant fish they have needed for years. The only other options for a superstar would be via trade, with Juan Soto topping that list. Would the Padres consider moving him to a division rival? Especially when they still plan to contend for years to come? Seems unlikely to me.
The Giants have to do everything they can to get Ohtani. He is everything they have needed for so many years. If I'm the front office, I'm handing him a blank check. It would do them so much good if they dish out any sum to finally get their guy.
Pitching, Pitching, Pitching
In the same way you can't talk about the offseason with mentioning Shohei, you also have to talk about pitching. In my eyes, the main reason the Giants fell apart was their lack of starting-pitching depth.
The Giants will have four starting pitchers under contract with Manaea opting out, and Stripling opting in. That does not include top pitching prospect, Kyle Harrison, who showed flashes in seven up-and-down starts at the end of the year. Harrison's call-up was basically forced up by the holes in the Giants' rotation at the end of the year. Starting his year in Triple-A is not out of the question, but he will compete for the rotation in spring.
As I mentioned earlier, Alex Cobb's hip surgery will keep him out for the beginning of 2024. It is really hard to assume Stripling will be a reliable starting option considering their performance in 2023.
That leaves Logan Webb and Anthony Desclafani as the only starters locked into the rotation to start the year. That means the Giants need to add at least two–and more realistically, three–starters this winter.
We won't count Ohtani here, but obviously if they sign him he factors into their long-term plans.
The biggest domino that will fall on the starting-pitching market is Japanese superstar, Yoshinobu Yamamoto. Our Ryan Finklestein mentioned the Giants as an option for Yamamoto, and it makes a ton of sense. He will demand a very high price tag and the bidding war for him will be extremely competitive. Yamamoto would not quite be an Ohtani-level signing, but it's about as close as you can get.
To me, the best option for the Giants is Marcus Stroman. In fact, it almost makes too much sense. The Giants nearly signed him in 2022 and he spoke very highly of their front office. Stroman was an All-Star in 2023 with Chicago, and one of the best starters in the league for a stretch.
He made just 25 starts due to injury, and that injury greatly affected his results. Stroman posted a 3.95 ERA–his fourth straight season with an ERA under 4.00–and a 3.58 FIP. He would give the Giants two guys that have been aces in their career at the top of their rotation.
Aaron Nola is another ace on the market, but a reunion with Philly seems likely. If they cannot find a price, he is a guy the Giants should pounce on. Nola's 4.46 ERA is not pretty, but his playoff performance was more reflective of the pitcher he is. He has been one of the most underrated pitchers in the league for years. Him and Webb as a 1-2 punch would be among the best in the league. At just 30 years old, he is an option for now and beyond.
The other headline name on the market is Blake Snell. His 2.25 ERA was the best in baseball and a second career Cy Young could be on the way. The lefty will likely (and should) command a high price, his 4.1 fWAR was a career best. At 31, he will likely be looking for a deal that will bring stability until the twilight of his career. Snell is another great option that makes a ton of sense both short and long term.
Corbin Burnes will be a hotly-discussed name on the trade market, but it is unlikely the Giants have the capital for a deal. It would also require an extension and Burnes is likely to have a massive price tag. That could be a dream scenario for the Giants, but dreams are often just that.
Other options on the market include Lance Lynn, Eduardo Rodriguez, Lucas Giolito and Jack Flaherty. Jordan Montgomery is coming off a wonderful postseason performance, Alex Wood is a candidate to return and you can throw a plethora of names out that would make some sense for the Giants.
A guy I love that might not attract the most attention is Sonny Gray. He just posted one of the quietest 2.79 ERA seasons you will ever see, and has been so solid for so long. At 33 he is older than some of the other options, but a really solid one on a shorter-term deal.
There are any number of directions the Giants could go in, but the fact remains this: they have to address starting pitching. I think it is within their best interest to bring in three pitchers, because they cannot have what happened last year happen again.
Offensive Options
Whew buddy that offense was terrible last year. The Giants' 93 wRC+ was 21st in the league, right behind the Marlins. There was far too much inconsistency, especially from the younger guys trying to establish themselves in the big leagues.
The Giants are going to need at least one of Casey Schmitt, Matos or Luciano to prove they can be an everyday starter. If none of them can, the Giants will be forced to fill holes with veterans on short-term deals. That is not a sustainable recipe for success.
Of course, adding Ohtani would be a huge boost to this offense. Any discussion about what they plan to do has to revolve around the option of adding him.
I think they should start by bringing back Joc Pederson and finally giving him a long-term deal. It feels like Joc just needs some stability and assurance. He is such an underrated bat when he is healthy and producing.
This is a very weak hitter free-agent class, but there are some names I like for the Giants.
One guy is Teoscar Hernández, who I have advocated for the Giants getting before. They could use some consistency from the outfield, and Hernández has consistently been a productive hitter. He struck out a lot in 2023 and his production dropped a bit, but still managed 26 home runs and 105 wRC+. That is so much better than anything the Giants got in the outfield last year.
Matt Chapman is the big-name option at third base if they decide Schmitt is better off at shortstop. He was arguably the best hitter in baseball for the first month of the year, but really tailed off. He finished with numbers more in line with his career production: 17 homers, 110 wRC+, 3.5 fWAR. Of course the added element with Chapman is the elite third-base defense he brings to your team. That is certainly a hole for the Giants–as are most positions–and Chapman is the best option to fill it.
Tim Anderson is another option I have advocated for the Giants before. If they decide they want Schmitt at third, he could be a solid choice at short. However, he has a lot to prove after a brutal year (60 wRC+) in Chicago, so I am not sure he's the best option anymore. He has also struggled mightily on defense, and Schmitt looks like an elite defender at short.
Cody Bellinger, Rhys Hoskins, J.D. Martinez, Jorge Soler and Lourdes Gurriel Jr. are other names that could be very attractive for the Giants. But again, a lot of these are short-term fixes (outside of Bellinger). Without serious increases in production from their homegrown talents, the Giants offense will continue to struggle into 2024.
The Future Is Now
The Giants promised a new era is here and they have to make a splash to get it started. If they come up short, patience may just finally run out among fans by the bay. Farhan Zaidi needs to treat this offseason as if he's fighting for his job, because he absolutely is.
It is absolutely critical to add starting pitching and a superstar in some manner. The problem is, the options to add a superstar are far more limited than years past. The Giants will need to get creative, or throw a blank check at Ohtani, to make it happen.
Before they get there, pitching has to be the focus. Last year was a nightmare and it all started on the mound. Get those issues solved and the rest can fall into place.
They will also need a serious boost on offense from their internal options. Any fixes made in free agency will only be temporary ones, and a core will need to be created from within. If Schmitt, Luciano and Matos–or at least two of those three–reach their potential, a core will start to form. Filling in talent around that is a great recipe for success.
If they all continue to struggle and prove not to be everyday options, it could be a recipe for disaster.