Analysis
Ryu's Injury Troubles Creates a Dilemma in the Blue Jays' Rotation
Where does a team with a highly-potent offense go from here?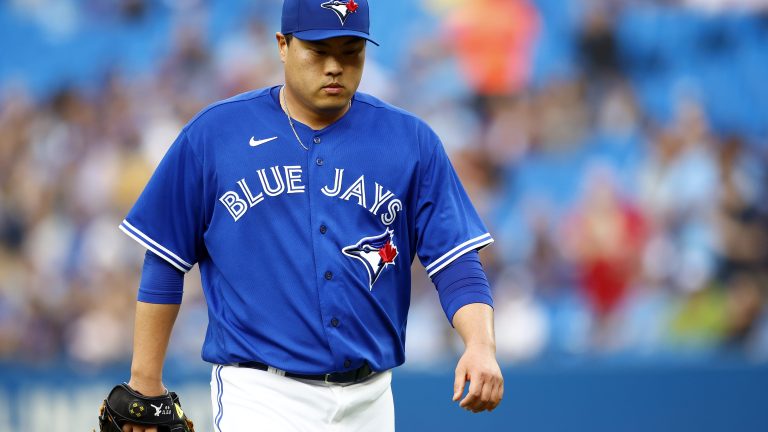 This past offseason, the Toronto Blue Jays lost Robbie Ray and Steven Matz to free agency but gained some veteran experience in the rotation by signing Kevin Gausman and Yusei Kikuchi to multi-year deals. The Jays had been courting Gausman for years and finally got their man, while many are hoping Kikuchi can bounce back under the guidance of Pete Walker and the club's pitching staff.
So far this season, the Blue Jays have had some solid starts from both pitchers, as well as Alek Manoah, with the starters sporting a collective 3.60 ERA. This puts them ranked at #9 in the league, and that includes some less-than-stellar starts from José Berríos and Hyun Jin Ryu early in the season.
Berríos is still working towards finding a groove and pitching deep into games but has been inconsistent on the mound. He has four starts where he has two earned runs or less, but has also surrendered nine earned runs over his past two starts through 8.2 innings. Hopefully, he is able to bounce back sooner than later. But, the bigger question mark revolves around Ryu and his health moving forward this season.
Lingering Injury Concerns?
For the second time this year, Ryu finds himself back on the IL with forearm issues. He went on the IL back on April 17th and so far this year, the southpaw has been limited to six starts and 27.0 innings. While he did struggle before his first IL stint, Ryu was cruising since his return, allowing only five earned runs through 19.2 innings with 11 strikeouts and a 2.29 ERA.
This latest injury news is obviously concerning, and Ryu is expected to miss weeks after a recent MRI revealed a forearm strain and elbow inflammation.
With that news, the Blue Jays find themselves in an awkward position with their rotation. While Ryu is not done for the season, he will be out for an extended period of time, and there is no guarantee he remains healthy for the rest of this season. With the Jays slated to be playoff contenders, should they consider looking for outside help in the rotation?
I truly believe they should, especially since there are a few solid options available via trade. While clubs may not be ready to deal this early into the season, the club can get by with Ross Stripling moving into the rotation until teams are ready to deal. Nate Pearson is a bit of a risk factor with starts after beginning the year on the IL. He will most likely be in the bullpen for the remainder of the year. If Ryu is slated to miss extended time due to injury, trading for a starter should be the way to go.
Options on the Trade Market
The problem with this move is that there really is no solid upside option amongst the bunch unless the Jays are willing to dive deep into the prospect pool for RHP Frankie Montas or RHP Luis Castillo. Both have additional years of control, creating a tough scenario once Ryu is healthy not just this year but also in 2023.
The Jays also have to contend with the COVID-19 border crossing regulations, so some pitchers like Tyler Mahle are not available. The club could trade for rentals like Drew Smyly or Zach Davies, but are they really upgrades?
This is where the dilemma occurs if Ryu is truly out for longer than the few weeks that the preliminary results are shaping out to be. The club does have some starting depth but it is a risky move considering the Jays are looking for a World Series and nothing less.
While Ross Stripling will continue to start, for now, don't be surprised if Ross Atkins starts exploring the trade wire. It may be too early in the season, but come July, there may be some pieces moved to help stabilize the rotation.