Analysis
Alek Manoah's Keeping Himself in the AL CY Young Conversation
Alek Manoah is having a great sophomore campaign, where he has solidified himself as the present and future ace of the Toronto Blue Jays.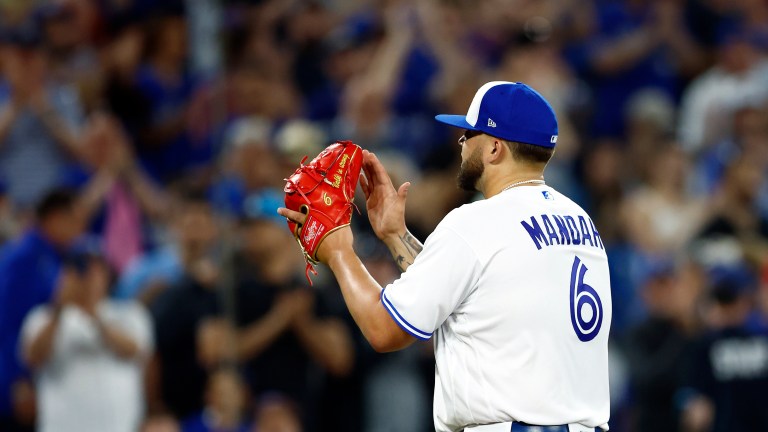 The Toronto Blue Jays entered the 2022 season with one of the strongest rotations in the American League, even after losing Robbie Ray and Steven Matz this past free agency. They added Kevin Gausman and Yusei Kikuchi to multi-year deals, joining a rotation that already boasted veteran Hyun Jin Ryu, a newly-extended José Berríos, and former first-round pick Alek Manoah.
Fast forward to the end of the season and a lot has changed since Opening Day. Ross Stripling has been upgraded to the rotation after Ryu underwent Tommy John surgery earlier this season, and has been pitching very well all year.
Kikuchi has struggled to find his command and was moved to the bullpen back in mid-August, setting the stage for Mitch White and bullpen games over the past month. Berríos continues to be a wild card, as he has been up and down all season with quality starts marred with inconsistency while both Gausman and Manoah have been excellent pretty much all year.
Alek Manoah's Impact on the Blue Jays
For Manoah, the 6'6″ fiery right-hander was heading into this season in the Blue Jays rotation compared to being a late May call-up last year. The West Virginia University alum has been one of the shining stars on the team this year, posting a 2.31 ERA through 190.2 innings of work across 30 starts.
The first-time All-Star currently owns an 8.3 K/9, but has seen an improvement on his free passes, authoring a 2.3 BB/9 so far this year. He still has a bit of a wild side, leading the league with 15 HBP but he is just a beast on the mound, not afraid to challenge opposing hitters (or pitchers for that matter) on the mound.
In his sophomore season with the Blue Jays, Manoah has exceeded expectations and on top of the All-Star appearance, the Florida product has also consistently been in the AL Cy Young conversation all year long.
He may be on the outside looking in, as there are lots of other contenders for the award like Justin Verlander, Dylan Cease, Framber Valdez, and Shane McClanahan, all of whom are posting better or similar betting odds on a majority of sites.
Manoah Compared to Other AL Cy Young Hopefuls
As of right now, Manoah currently ranks against the other AL pitchers heading into the final 10 days of the season:
Innings pitched (190.2) / Games Started (30): Second
WHIP (1.002) / BB/9 (2.3) / ERA (2.31): Third
Strikeouts (176) / H9 (6.7): Fourth
FIP (3.37) / K9 (8.3): Fifth
While he doesn't lead any of the categories above, he still finds himself amongst the mix with two starts still left on the season. He has easily been one of (if not) the top starter on the Blue Jays' pitching staff and the club has posted a 17-13 record when he is on the mound, with the starter owning a 15-7 record.
This season, Manoah has gone five or more innings in each start and has gone eight innings on two occasions this season. He also hasn't allowed more than four earned runs this year, hitting that mark four times, while also allowing two earned runs or fewer in roughly 75% of his starts this year.
Overall, Manoah has won over the Blue Jays fanbase but might still be on the outside looking in with the AL Cy Young conversation. A lot could happen over the remainder of the season and regardless of what happens, the Blue Jays will be turning to Manoah for these crucial games down the stretch and hopefully in the playoffs later this year.