Analysis
The Blue Jays Need to Add Another Starter This Offseason
The Blue Jays have a strong lineup heading into 2023 but need another starter or two, especially with Ross Stripling potentially leaving.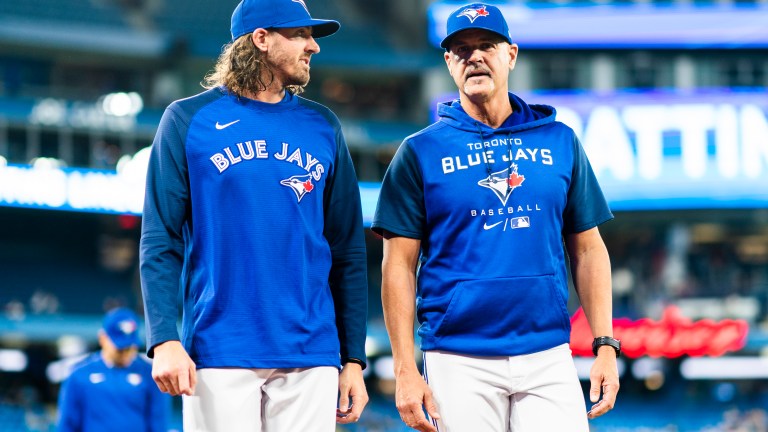 The Toronto Blue Jays have a potent offense, bolstered by a talented core of Vladimir Guerrero Jr., Bo Bichette, and Alejandro Kirk mixed with a strong veteran presence in Teoscar Hernadnez, Matt Chapman, and George Springer, with supplemental hitters littered across the lineup.
Although they feature a heavy presence from the right side, the Jays' batting order led multiple categories this season including batting average (.264) and hits (1464) while sitting in the top-five in multiple other areas as well.
The pitching staff was a bit different, with the rotation finishing the year with a 3.88 ERA and ranking 18th in the league while the bullpen pitched to a 3.77 ERA (13th in the league). Overall, the pitching staff was good but was missing another arm or two, which came back to bite them in the playoffs when the relief corps blew an 8-1 lead in Game 2 of the Wild Card, sending the Blue Jays home early.
The Jays rotation had two types of pitchers: those who were doing exceptionally well and those who were really struggling.
The Blue Jays Current Rotation
Alek Manoah and Kevin Gausman were fantastic, with both players flirting with Cy Young consideration for most of the season. When Hyun Jin Ryu went on the IL, Ross Stripling became a full-time starter and posted career numbers, authoring a 3.01 ERA through 32 appearances (24 starts). These three were a big part of why the Blue Jays made the playoffs, with the trio helping the club win 53 games when they started (compared to 33 losses).
On the flip side was José Berríos and Yusei Kikuchi, with both pitchers struggling this season. Berríos posted the highest ERA among qualified starters (5.23) and struggled to stay consistent this season, posting 17 quality starts but also allowing 5+ earned runs in nine different contests. Fresh off a seven-year extension, this was not the season many were expecting from the Puerto Rican product.
Kikuchi struggled for most of the year with his command, posting a 5.2 BB/9 on the year and losing his rotation spot midway through August. With two seasons left on his contract at $10 million a year, the Jays need him to step up and take a rotation spot moving forward.
Internally, the Jays can also turn to Mitch White, Bowden Francis, Anthony Kay, and Thomas Hatch as options next year but this isn't the most potent group of arms should injuries impact the active roster next year. Factor in that top prospect Ricky Tiedemann is likely two years away from cracking the MLB roster and Stripling may not return next season, the Blue Jays only have three starters going into the 2023 season in Manoah, Gausman, and Berríos.
Imagining Ross Stripling not returning next season, Yusei Kikuchi will slot in at the back end of the rotation. This would leave the front office to acquire at least one more starter to fill out the rotation unless they want to turn to White as the fifth starter. For a team that has postseason aspirations, it would be more likely that the club looks for another veteran rather than risk it with both White and Kikuchi. Luckily there are a few that fit the bill in both free agency and via trade.
Available Arms This Winter
Considering it is unlikely the Jays will push past the luxury tax (it would be a first for the organization) they don't necessarily have the most salary room to play with. Ideal candidates that fit the bill would be:
LHP José Quintana
LHP Andrew Heaney
LHP Sean Manaea
LHP Martin Perez
RHP Michael Wacha
RHP Nathan Eovaldi
RHP Kyle Gibson
All these pitchers have their pros and cons but all have MLB experience and would be solid upgrades over Kikuchi and White to fill out the rotation. It is highly unlikely the Jays will go after a premium arm like Jacob deGrom or Carlos Rodon this winter, but they had ties to Justin Verlander last year before he returned to Houston, so anything is possible.
Another avenue Blue Jays management could choose to follow is acquiring a player via trade, using one of their three catchers or pending free agents after the 2023 season in Lourdes Gurriel Jr. and/or Teoscar Hernández.
The Miami Marlins have a few pitchers of interest, including RHP Pablo Lopez, plus the two sides have history as they discussed a deal that would have sent Hernández to Florida last offseason. Trade rumours will likely pick up once the World Series is over and free agency begins, and while it would be great if the Blue Jays found a way to trade for two-way superstar Shohei Ohtani, they might not have the prospect capital to do so, as well as running the risk of having him for only one season.
Regardless of the method, the Blue Jays front office needs to acquire at least one starter this offseason or run the risk of depending on a few players who really struggled in 2022 to figure it out and quickly.
Bringing back Stripling would be great for the club, but even after him, it might be worthwhile for Ross Atkins to bring in another arm to really shore up the rotation for what could be another postseason run.