Analysis
Robbie Ray is a Testament to Why Sample Size Matters
So far in 2022, Robbie Ray has been about as disappointing a signing as any in baseball.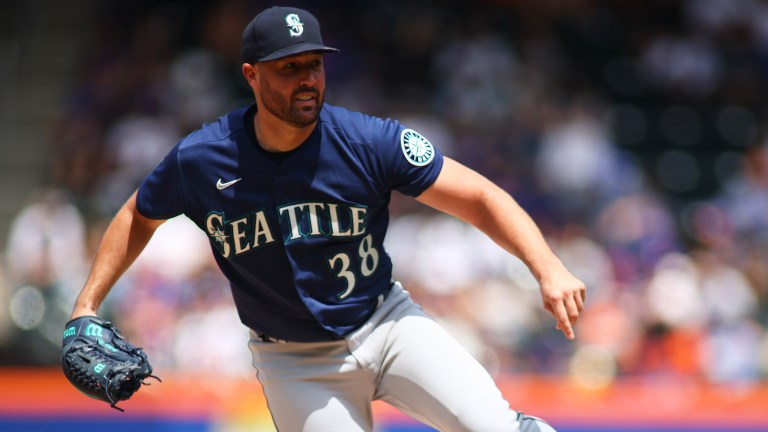 The thing with writers, or analysts, or fans — or, plainly, just people in general — is that they tend to be wrong. Such a trend doesn't usually befall individuals with a genius-level intellect like myself, but I fear the simple reality of being due has set in. So far in 2022, my adulation of Robbie Ray has been as big a miss as Red Leader's shot at the Death Star.
This past offseason, the Mariners handed out a five-year, $115 million dollar deal to the Thicc King in hopes of having a true anchor in their mostly-shaky rotation. More than a month into the season, Logan Gilbert has actually been the guy to carry their staff, with Robbie Ray's 4.77 ERA being worse than Marco Gonzales and Chris Flexen.
Even recently-called-up prospect George Kirby seems to have had more moments than Ray. On top of their middling bullpen, the Mariners starting pitching currently has the sixth-worst ERA (4.14), third-worst FIP (4.27), and their 1.4 fWAR is tied with the Nationals and Rangers for the second-worst in all of MLB (the Reds, obviously, being the worst). Being in the same company as the Two Towers of mediocrity and the apocalypse in Cincinnati is not what I imagine most fans were expecting.
So basically, the start to Robbie Ray's tenure in Seattle has been…less than ideal. Much was, rightfully, celebrated from his 2021 Cy Young season. He's always been a strikeout artist, but in 2021 he painted his masterpiece.
His swinging-strike percentage was the third-best in all of baseball, and a much-improved slider had one of the best run values and whiff rate among all starters. "He's the guy that probably won someone their fantasy league despite being nothing more than a waiver wire claim after they saw, like, Jack Flaherty hit the IL," Javier Reyes so eloquently stated back in 2021, "and they quickly sought a replacement in the midst of eating their Dominoes Pizza and drinking White Claw Surges."
But unfortunately, the ole' belief in sample size seems to be ringing true with Robbie Ray thus far. He wasn't exactly a one-hit-wonder, having finished seventh in Cy Young voting back in 2017 and his aforementioned strikeout success, but he was in the tier right before it. Should the Mariners have counted on him managing to keep up that same level of success? That's the tricky thing.
The starting point when discussing Ray's 2022 season is his decrease in velocity. The average velocity on his 4-seam fastball has fallen from 94.8 MPH in 2021 to 93 MPH, while his slider has declined from 88.6 MPH to 86.7.
Although his decrease in curveball usage is partially what contributed to his 2021 success, Ray isn't throwing the pitch at all this season (just 1.7% compared to the 6.1% the year prior). There's still time to change up his pitch usage and sequencing as the season goes along, but the velocity concerns are not what you like to see from a guy you just signed long-term.
Oh, and his walk rate has jumped from 6.7 to 8.9% and he's been significantly worse out of the pitcher-friendly confines T-Mobile Park (3.70 ERA home/5.65 ERA away). He's getting behind in counts and failing to get outs when they really matter.
But Ray's struggles certainly aren't something to relish in. These days — especially after the cheapness that owners displayed during the lockout — rooting for teams that sign players is default mode. Plenty of teams with more established and recent success than the Mariners steered away entirely from spending in what was a stacked free agent market. Those teams (e.g. Brewers) will likely flaunt their above .500 record as an excuse to continue in their ways.
A team with as much exciting young talent as the Mariners should be commended for making an investment. But thus far, it's easy to see the frustration, especially given his reported unvaccinated status that keeps him from playing in games against the Blue Jays.
This isn't all to say that the Robbie Ray signing has gone the way of, say, Jordan Zimmerman — whose production swan-dived off of a cliff immediately after signing with the Tigers in 2016. This isn't Guy Pierce in Memento, forgetting everything he did correctly in a short time. In fact, he's hardly the only free agent to have. Eduardo Rodriguez, Marcus Stroman, and…[shudders] Marcus Semien have plenty of claim to that throne as well!
It's still early on in the season, and if not for giving up a grand slam to Trevor Story — who evidently only remembered how to hit just this past week — I may not even be writing this article. All Robbie Ray needs is to be a 3.80 or so ERA guy that notches around 200 K's, given how much depth and young talent the Mariners have.
While his hard-hit rate has never been stellar to look at, he ranked in the 17th percentile in 2021 and is in the 43rd percentile through nine starts thus far. There are plenty of solid pitchers in baseball that can get hit hard but manage to be quite successful (see Manaea, Sean). If Robbie Ray can amend just a portion of his weaknesses (walks, home runs, or simply his lack of a balanced repertoire), there's still value he can provide.
But even with all that, there's no doubting that even that sort of outlook on Ray is dissapointing. Perhaps not since Rick Porcello's 2016 has there been as shaky a start for a Cy Young winner in their following season. For a team that brandished the "Believe" persona in 2021, Robbie Ray has seemingly done everything to snuff out that belief.