Analysis
What's Behind the Seattle Mariners Slow Start?
After a great finish last year, the Seattle Mariners entered this season with playoff aspirations. Unfortunately through the first 50 games, nothing has gone their way.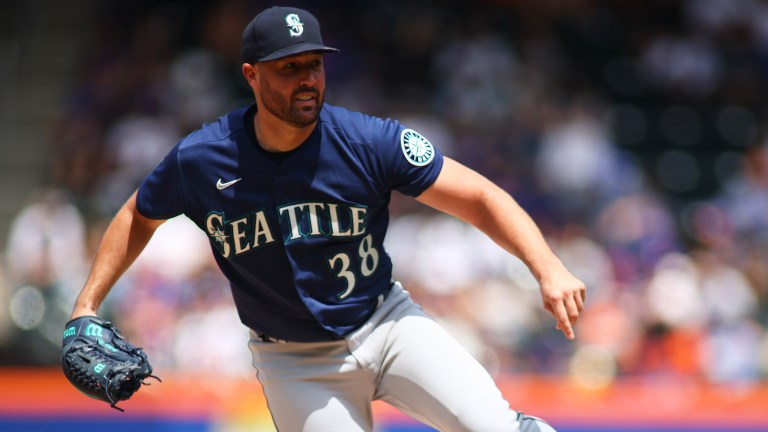 The Seattle Mariners have taken a step back from their 2021 success. After eclipsing 90 wins last campaign, they've regressed massively in 2022. Finding themselves in fourth place in a jam-packed AL West, they've only won 22 of their first 51 games.
Seattle massively impressed during their magical second half run last year, with a late playoff push during the month of September with 18 wins in 26 games. This team was young, gritty, and exhilarating to watch. Led by stars Ty France and Mitch Haniger, the Mariners seemed poised for a bright future. And with one of the top prospects in all of baseball, Julio Rodriguez, set to make his debut this season, the tides seemed to be turning for a squad that hasn't made the playoffs once in the past 20 years.
Not committed to a single salary over seven million dollars prior to the 2022 offseason, the Mariners made a few splashes to revamp this roster.
A Flurry of Offseason Acquisitions
Acquired second baseman Adam Frazier from the San Diego Padres
Their first play was to trade for second baseman Adam Frazier, who had quite the mixed bag of a season in 2021.
Voted as an All-Star while with the Pittsburgh Pirates, he slashed .324/.388/.448 with an .836 OPS through 98 games. Many teams were vying for his services at the 2021 deadline, eventually being dealt to the San Diego Padres. During his tenure in San Diego, however, saw a massive drop in production. Posting a miniscule .662 OPS in 51 games, the trade was a complete failure. Naturally, the Padres front office was ready to ship him off once more. He was dealt to Seattle right before the lockout.
The change of scenery for Frazier hasn't resulted in success unfortunately. Racking up the lowest BABIP total during his career at .277, he hasn't been spectacular. A below league average hitter, posting a 97 wRC+ in his first 50 games with the Mariners. It seems we are far removed from the 117 wRC+ hitter we saw in 2021.
Signed starting pitcher Robbie Ray to a five-year, $115 million contract
The largest move the M's pulled off during this past offseason was signing the reigning Cy Young award winner Robbie Ray to a five-year, $115 million deal. Ray was spectacular in 2021 for the Toronto Blue Jays, posting a 2.84 ERA through 193 innings. His 248 punchouts led all of MLB last year. Ahead of perennial top-20 pitchers such as Gerrit Cole and Max Scherzer.
This seemed like a slam dunk move. Mariners starters posted the 11th-worst starter ERA at 4.61 in 2022. Adding Ray to a young pitching staff including the likes of Logan Gilbert and George Kirby had the potential to push Seattle into being a true contender. And for the seven-year veteran Ray, this gave him the opportunity to cement himself as one of the best pitchers in the American League if this dominance continued.
Unfortunately, we've seen a completely different pitcher in 2022 with Robbie Ray.
In 11 starts in 2022, Ray is posting a whopping 4.93 ERA. A massive drop off after leading the American League in that category during 2022. Ray is still striking out a multitude of hitters, clocking in with a 27.1% strikeout rate. Every statistic is up across the board, including batting average against, BABIP, walks, and WHIP. While it's difficult to point the finger at Ray so early into his tenure with the Mariners, it hasn't been pretty whatsoever. The dominant ace Seattle thought they were receiving has been a shell of himself during the 2022 season.
Acquired outfielder/DH Jesse Winker and third baseman Eugenio Suarez from the Cincinnati Reds
And the final notable move the Mariners made during this past offseason was trading for both outfielder Jesse Winker and third baseman Eugenio Suarez from the Cincinnati Reds.
Winker was an All-Star in 2022 and created a nice tandem with Nick Castellanos in the Reds outfield. The outfielder has consistently raked during his six-year MLB career, posting a wRC+ total over 110 in every single big league season.
Last year, however, was his true breakout season. Slashing .305/.394/.556 with a career-high 146 wRC+, he was one of the best bats in all of baseball. Never a great defender, Seattle had hoped Winker's immense offensive power would improve their lineup even more.
Eugenio Suarez has been an MLB regular for the past eight years in Cincy. The 30-year-old has a career OPS of .797 and has mashed 202 home runs in 3700 at bats. He's a decent enough everyday regular that provides an acceptable amount of offense, but is relatively poor on the defensive side of the ball.
Surprisingly enough, Winker seems like a different player in Seattle, while Suarez is an improved player from his final days with the Reds.
Winker has had an abysmal start to this season, slashing just .220/.321/.302 with just two home runs and a 91 wRC+. Career-lows in wOBA, ISO, and BABIP have contributed to his slow start. He's posted a subpar WAR of -0.2 this season. His defense has also been extremely poor, posting an OAA of -3. Similar to Ray, it's hard to suggest that this small sample size of 50 games will represent the totality of Winker's 2022. But early on, he's struggled in Seattle.
Suarez only hit to the tune of a .198 batting average in 2021. It was only the second time in his career that he's posted a wRC+ total lower than league average. He's been improved this year, slashing .220/.305./.430 with a 119 wRC+, which is a lot better than his disastrous 2021. Although Suarez is sadly leading the league in strikeouts with 69 in 50 games.
It's safe to say that this reload Seattle went through in the offseason hasn't panned out the way they wanted it to, and this team is massively underperforming compared to their 2021 season.
The Mariners flaws, despite Winker's struggles, hasn't been their offense. They've been a top five offense in all of baseball according to wRC+ at 113.
The biggest letdown has been their pitching staff.
A Lackluster Pitching Staff
Ranking as the seventh-worst team in FIP at 4.32, and the 10th-worst team in ERA at 4.19, they've been a massive letdown this year. The aforementioned Robbie Ray has contributed to this despite George Kirby (3.46 ERA) and Logan Gilbert (2.29 ERA) enjoying success this season.
Bringing in Ray was supposed to be a massive boost to this rotation, but instead he's only hurting the Mariners. Kirby and Gilbert are a nice one-two punch. But with other struggling starters like Chris Flexen, Matt Brash, and Marco Gonzales, the depth of this rotation is minimal.
Closer Diego Castillo has also regressed in a huge way, posting a 6.50 ERA in his first 20 appearances this season. With no reliable source at the back-end, who are they supposed to turn to?
Despite their early season struggles, there have been some bright spots.
Like I previously mentioned, their offense has been electric. Both Ty France and J.P. Crawford have been incredible with the bat this season, both racking up a wRC+ over 150. Rookie sensation Julio Rodriguez has been nothing short of incredible, slashing .272/.322/.424 with a 121 wRC+. Oh, and he ranks in the 98th percentile in sprint speed in the entire league. He's insane. And both young gun starting pitchers, George Kirby and Logan Gilbert have been incredible during 2022.
After finishing with a -51 run differential in 2021, the Seattle front office might've jumped the gun on this roster. In a highly competitive AL West, it seems as if the Mariners are falling behind the pack. Brighter days are on the horizon for this team. While there's still a lot of baseball left to be played, this team needs to figure it out before its too late.