Feature
George Kirby is The Pitcher That Baseball Needs
Just Baseball's No. 20 overall prospect, George Kirby, dazzled in his Major League debut on Sunday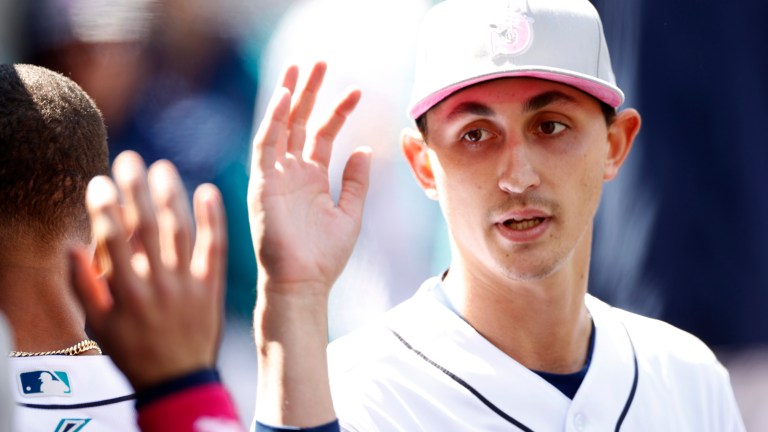 In July of 2018, I sat directly behind a chain link backstop in Brewster, Massachusetts, and watched a tall, lanky right-hander, wearing a Harwich Mariners jersey a size too big, make quick work of future first round draft picks in the Cape Cod Baseball League.
It was utterly incredible. He sliced through hitters with a popping, 96 mile-per-hour fastball and as tight and biting of a breaking ball as I saw that summer. In turn, he struck out the side and recorded his second save of the year.
After he closed the game out, my broadcast partner and I took off our headsets, turned to each other, and simply started laughing. We had no words. After our abdomens recovered, my partner put it best: "If we've seen one Major Leaguer this summer, that was him."
On May 8, 2022, that tall, lanky right-hander struck out seven Tampa Bay Rays and fired six shutout innings in his Major League debut.
Once again, George Kirby was laughably impressive.
Kirby is something that Major League Baseball has been in dire need of for the last few years. He's the perfect blend of the old-school principles of pitching and the new-school obsession with overwhelming "stuff" that draws eyeballs to phone screens and emojis of fire to Twitter. How Kirby combines the two could make him legitimately special.
The Old-School Principles
Kirby is, at heart, a "command guy." The old guard of baseball and pitching philosophy emphasizes strike-throwing above all other qualities in an elite pitcher. Think Greg Maddux; the Hall-of-Famer led all of Major League Baseball in walks-per-nine innings nine times, and owns a career BB/9 under two.
Kirby has taken a page out of Maddux's book. During his Junior season at Elon University in 2019, Kirby led NCAA Division I Baseball in strikeout-to-walk ratio, and it wasn't even close. That spring, before going 20th overall to the Seattle Mariners, Kirby struck out 107 hitters in 88 1/3 innings. He walked just six. This masterclass came on the heels of that 2018 summer on the Cape, where he struck out 24 and walked just two in 13 innings for Harwich.
Now, enter professional baseball. After he was drafted, Kirby threw 23 innings with the then-Short Season A affiliate of the Mariners in Everett, Washington. In those 23 innings, Kirby collected 25 strikeouts without walking a single batter.
In 115 career Minor League innings from 2019 until now, Kirby is striking out just under 11 hitters per nine innings, and walking just 1.6 per nine. Command? Check.
The New-School Obsession
We all know what that obsession is. The Driveline-ification of baseball has placed an overwhelming emphasis on velocity and spin, particularly on the fastball. It's purely coincidental that Driveline's main complex is in Kent, Washington, just a 23 minute drive south of where Kirby will call home for the foreseeable future.
Radar guns are as overworked as they've ever been in this era of baseball. The Hunter Greene's and Shane McClanahan's of the world are flirting with triple digits for five innings every fifth day, while Andrés Muñoz, Emmanuel Clase, and Ryan Helsley let it fly in shorter spurts. Kirby's up there with the best of them; he sat at 96 miles-per-hour with his fastball on Sunday afternoon against the Rays, running it up as high as 98.
Kirby credits Driveline workouts for improvements in fastball velocity and an overall increase in arm strength while still at Elon. While he was getting into the mid-90s with his fastball in college, he upped that peak velocity to a staggering 102 miles-per-hour at the Mariners' alternate site in 2020.
The Blend Of Both… And What He Can Become
George Kirby showed up for his Freshman year at Elon in 2017 as a noted strike thrower, sitting 88-90 with a middling fastball. Over the next few years, he built his arm to a level that is matched by few on the planet, all while maintaining the pinpoint command that gave him a shot in the first place.
His final line on Sunday in his Major League debut:
Six innings, four hits, no runs, seven strikeouts, and no walks. Of the 81 pitches he threw, 55 were for strikes.
With Kirby's arsenal and attention to detail within the strike zone, he could be that blend of un-hittable (when on) and reliable (when off) that we've only seen from the likes of Kershaw, Verlander, Scherzer, and Buehler in recent memory. But, more importantly, Kirby could be creating the template for the modern pitcher as we move forward in the game's history; a guy that starts as a command-first arm, and develops nasty stuff with an abundance of baseball technology at his disposal.
George Kirby could very well become the new gold standard of pitching.