Analysis
Revisiting the Harrison Bader for Jordan Montgomery Trade
Nearly a year removed from the trade, both Montgomery and Bader have gone on to make good in their new situations.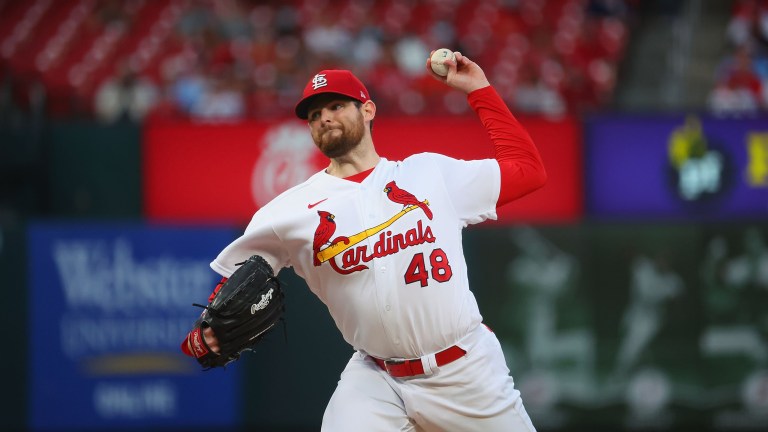 One-for-one trades are a rarity in today's game.
Just less than a year ago, we may have gotten one of the more intriguing single-player swaps in recent memory when the St. Louis Cardinals shipped Harrison Bader to the New York Yankees for Jordan Montgomery.
It's still too early to make a call on who won the deal, but as the two clubs are heading in seemingly different directions, let's see what we can take away from the 11 months post-trade.
In a season where very little has gone right for St. Louis, Montgomery has been one of the bright spots. He recently put together his second dominating start against his former team, outdueling Gerrit Cole and retiring Bader all three times he came to the plate.
Despite leaving his start on Friday with an apparent leg injury, Montgomery has been the last-place Cardinals' best pitcher in 2023 and has been on an absolute tear since the calendar flipped to June.
| | | | | | | | | | |
| --- | --- | --- | --- | --- | --- | --- | --- | --- | --- |
| | GS | IP | ERA | FIP | K% | BB% | AVG Against | GB% | HardHit% |
| Montgomery since June 3 | 7 | 42.2 | 1.48 | 2.98 | 25.2 | 6.1 | .190 | 49.1 | 26.8 |
On the other side of the deal, Bader has slowed down after a hot start to his season – a start which was delayed by an oblique strain suffered in Spring Training.
Still, he's been a positive contributor to a New York team that has needed a spark with Aaron Judge being in and out of the lineup.
While Bader's 2023 can't hold a candle to what he did in the 2022 postseason, he has proven to be an invaluable member of the Yankees, with the club going 28-14 when he's been in the lineup this year.
As we barrel toward the August 1 trade deadline, let's take a closer look at what has made the deal a win for both sides to this point.
Montgomery Is Carrying the Cards' Rotation
Not only has Montgomery stepped up for the Cardinals in 2023, but he's seemingly gone to another level since arriving in St. Louis.
Since ditching the pinstripes, the 30-year-old southpaw has made 29 starts and thrown 166.2 innings with a 3.19 ERA.
| | | | | | | | | | |
| --- | --- | --- | --- | --- | --- | --- | --- | --- | --- |
| Montgomery | GS | IP | ERA | FIP | K% | BB% | AVG Against | HardHit% | GB% |
| With NYY | 97 | 502.2 | 3.94 | 3.90 | 22.7 | 6.9 | .243 | 27.9 | 43.0 |
| With STL | 29 | 166.2 | 3.19 | 3.36 | 22.9 | 5.8 | .241 | 33.3 | 47.3 |
After initially dropping his sinker usage as a Cardinal post-trade, Montgomery has begun throwing the pitch more than ever in 2023, using it 43.7% of the time.
The returns have been fantastic, with batters hitting just .249 and slugging just .365 against the pitch. In fact, it's been the ninth-best sinker league-wide by run value, posting a -9 mark.
While he's never been particularly homer-prone, the University of South Carolina product has been limiting the long ball at a career-best rate in 2023. Allowing just 0.87 HR/9 and posting a 10.0 HR/FB, Montgomery has done a great job of keeping the ball in the yard.
However, with the Cardinals unable to parlay his individual success into consistent winning efforts — he holds a 6-7 record, and the team is 6-12 in his starts — Montgomery could emerge as one of the top trade pieces at this year's deadline.
He was a key cog in the Cardinals' rotation as they ran away with the NL Central crown a year ago and could provide a similar boost to a contender this year. And while he didn't earn a start in the Wild Card Series against the Philadelphia Phillies, he threw 2.2 scoreless innings of relief, proving that he can handle duties as a swingman for a team that decides to make a deal for the pending free agent.
Bader Is Showing All His Tools
Despite only playing in 56 games as a Yankee, Bader has made his mark with his new club.
Whether it's the 1.0 fWAR he's posted in 2023, thanks to some outstanding defense, or the five home runs he hit in 35 at-bats on the way to the ALCS in 2022, Bader has shown that he is a difference maker.
While durability questions will always exist, Bader has proven what he can bring to a team.
In 2023 with New York, the 29-year-old has a 105 wRC+ and ranks sixth in outfield OAA (6), having only patrolled center field in 42 games. He's also slashed .259/.288/.469 with seven home runs and seven stolen bases.
Since making his debut with the Yankees, Bader ranks 103rd among position players (min. 200 PA) in win probability added (0.80). This doesn't sound all that impressive in and of itself, but considering the number of games that he's been on the field, the fact that he ranks ahead of players like Julio Rodríguez and Kyle Schwarber shows just how much of an impact he actually makes when he suits up.
Bader has also become more swing-happy since coming to New York. This season specifically, he's posting career highs in swing percentage (49.1%) and chase rate (36.5%), plus a career-low 3.2% walk rate. This, however, seems to have coincided with the increase in power he's shown since becoming a Yankee. 
Like Montgomery, Bader will be a free agent after the season. Whether he stays in New York will likely come down to whether he can stay healthy down the stretch and potentially provide the club with a boost in the postseason once again.
Both the Cardinals and Yankees filled a need when they agreed to the deal. And while neither team is exactly where they expected to be in 2023, looking back to last year's deadline, it's safe to say they would both be happy with the returns they've gotten.