Analysis
Harrison Bader is Quickly Becoming a Postseason Hero for the Yankees
Once a trade that was criticized by Yankees fans, Harrison Bader has been exactly what New York's needed during this year's playoff run.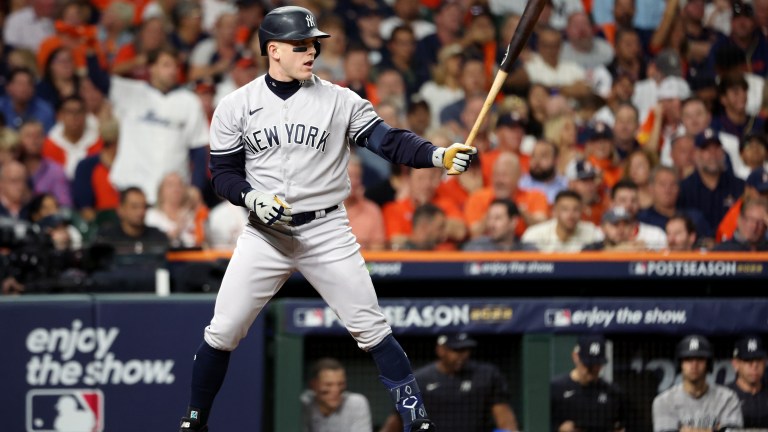 In a lineup full of premier sluggers and expensive bats, the legend of Harrison Bader has shined above all in this New York Yankees lineup.
During the course of every postseason run, there are always specific players that play head and shoulder above their regular season outings. Players that become national stars, when we never saw this type of output during the 162.
For example, Trent Grisham and Austin Nola out in San Diego have been a huge part of their success during this run. Tampa Bay Rays outfielder Randy Arozarena is another example. His career wRC+ of 125 during the regular season is solid, but it jumps all the way up to a historic number of 203 during the postseason. It seems like this trend is continuing in 2022, but in pinstripes.
Why Trade for Bader?
Harrison Bader was dealt to the Yankees at the 2022 trade deadline for a solid starter in Jordan Montgomery. The move was puzzling at the time. Why trade a solid 4/5 starter for a guy that was in a walking boot?
Yankees GM Brian Cashman cited that the Yankees "Didn't see (Montgomery) throwing important postseason innings". Understandable, but with Bader recovering from plantar fasciitis at the time, what was the point?
The outfielder wasn't set to come back until late September and into the playoffs.
Montgomery was a steady presence throughout the Yankees rotation. And following the trade, he went ballistic. Montgomery went five starts while allowing just one run and completed his first career complete game following the trade. It looked like a disaster. Yankees Twitter ran rampage to criticize Cashman for yet another move that blew up in his face.
Bader was counted out before he even stepped onto the field. Not due to his talent, but because of what was sent away. At the time, The Yankees were in the middle of their largest skid of the season, and of the last 20 years. Their 10-18 record during the month of August was the worst of any Yankee team since 1991, when the team went 9-19 during September. This squad needed a spark. It wouldn't come until late September, but it happened.
The idea of bringing in Harrison Bader was simple. He was a perfect defensive fit in center field, limiting superstar Aaron Judge's time in the position. Aaron Hicks had seemingly fell off a cliff, and with Giancarlo Stanton barely available to play defense, a specialist was needed.
The Yankees struggled mightily on that side of the ball in 2021. In 2022, they were the best defensive team according to the numbers. Bringing in Bader only elevates that, and the thought was that he would be key in the playoffs. Not only has he been incredible defensively for this team, but he's been the Yankees best hitter in the 2022 postseason.
Carrying the Yankees
If you hit a quick Google search right now and typed up "Who leads the Yankees in 2022 postseason home runs?", you would probably guess it was the single season home run record holder Aaron Judge, or maybe Giancarlo Stanton, who has been a postseason demon throughout his time as a Yankee. Maybe Anthony Rizzo? Rizzo smacked 32 homers this year. Yet if you guessed any of those three, you would be completely wrong. The correct answer is Harrison Bader.
Bader has never been a power bat. His career-high over a full season is 13, and he hit just five in 2022, all of which were with St. Louis. An above-average hitter yes, but no one expected this type of outburst with his new team.
The Yankees offense has gone completely dead in the postseason. Aaron Judge is struggling. Outside of three extra base hits, Stanton hasn't been great. Most of the team is hitting under .200, with the exception of a few names. It seems as if this prolific offense has fallen apart post regular season. The pitching has been superb. But to win a series on the postseason, someone has to be performing, right? It's been Harrison Bader.
Coming into play last night, the center fielder had mashed four home runs in his first six postseason games. His 245 wRC+ was the highest of any player left in the championship series. Bader's 1.400 OPS also led the sport, even higher than Bryce Harper. He's legitimately carried this team through the first two rounds and has become an instant fan favorite.
He's slugging .895 in the postseason. That's absurd! These are Aaron Judge type numbers, and he couldn't even sniff what Bader's doing right now. With all of the bats struggling at the moment, he's been the key.
Not to mention he's played stellar defense in center field. Tracking down long fly outs and being a true leader in the field, he's exactly what this team needed at the trade deadline. Brian Cashman saw the vision, we just refused to believe it.
The Legend of Harrison Bader
Bader has quickly become a fan favorite in the Bronx. My family is filled with Yankees fans, and Bader has quickly become my mother's favorite player. She's never wrong!
Looking back on old tweets when the move went down are laughable in this current moment, as he's been an instant impact on this Yankees team.
As for the player he was exchanged for, Jordan Montgomery isn't in the playoffs any more, nor did he even make a postseason appearance for the Red Birds. Looking back on it, this was an incredible deal that I don't think anyone will look back on and criticize. Brian Cashman may have his faults at times, but this is a win for the front office.
Bader will continue to be a steady presence in the New York outfield for years to come. What he's done to help his team now has been spectacular, and his future in pinstripes shows a bunch of promise. He's a key bit-part player that any organization would love to have. And for Yankees Universe, we've welcomed him with open arms. Hopefully this playoff success continues as the rest of the lineup continues to heat up. Keep up the great work, Harrison Bader.