Analysis
Jordan Montgomery Was a Trade Deadline Steal for the Cardinals
When the Cardinals sent Harrison Bader to New York, they weren't expecting an ace in return, but that's just what Jordan Montgomery has been.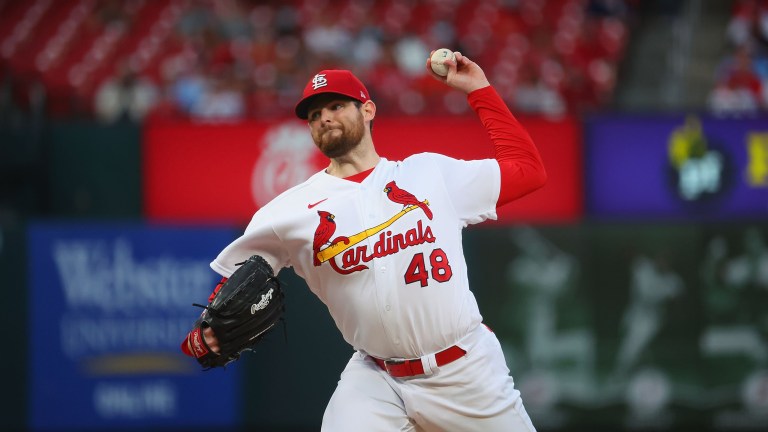 On August 2, right before the trade deadline, the St. Louis Cardinals and New York Yankees came to terms on a deal. It was a rare kind of trade, a one-for-one swap (plus cash considerations) of major league talent between two contending teams. The Yankees dealt starter Jordan Montgomery to St. Louis, while the Cardinals sent outfielder Harrison Bader back to New York.
The move made sense for both teams. The Yankees had just added Frankie Montas and had an overabundance of starting pitchers. The Cardinals, meanwhile, had a surplus of outfielders but needed a little more pitching.
As such, it was a deal that had the potential to work out well for both teams. So far, however, the Cardinals have been the undisputed winners. Bader has played only one game for the Yankees after spending much of the summer on the IL. He still has time to make a difference this season (and in 2023), but for now, his presence has been a net zero.
Jordan Montgomery, however, has been a godsend in St. Louis. The Cardinals were counting on him to be a solid, mid-rotation starter, like he was for the Yankees. Instead, they got an ace.
From the moment Montgomery took the mound at Busch Stadium, he has been on fire. In his very first start, he blanked the Yankees over five innings, allowing just two hits. The first game with a new team is always difficult. So is facing your former club, especially when they have a lineup as strong as the Yankees do. But Montgomery made it look easy.
Since the trade deadline, Montgomery is sixth among National League starters in ERA and FanGraphs WAR. Only 12 NL pitchers have thrown more innings. He ranks among the top-10 in walk rate, home run rate, and strikeout-to-walk ratio.
The Cardinals have won seven of his nine starts, and that has played a huge role in helping them cruise ahead of the Brewers in the NL Central race.
Oh, and he's one of just six NL pitchers to have thrown a shutout all season.
Will all this last? Probably not. At 29 years old and with six big league seasons under his belt, it's hard to believe Jordan Montgomery could turn into a number one overnight.
He has made some meaningful changes since joining the Cardinals (he's throwing his four-seam fastball far more and his sinker far less) and those changes have had some good results (his strikeout rate has gone up). Ultimately, however, Montgomery hasn't changed enough to make his sudden ace-like pitching seem sustainable.
Over his past five starts, he has already begun to look mortal (4.18 ERA, 3.29 FIP). Moreover, most of his success came against weaker opponents. Montgomery is a good pitcher, but he won't be this good forever.
That being said, Jordan Montgomery still deserves a whole lot of respect for his recent performance. He is having a terrific second half, and he deserves all the praise coming his way. St. Louis is in a much better position now than they were two months ago, and Montgomery is one of the major reasons why. No matter what happens from here on out, the Cardinals struck gold with this trade deadline move.