Analysis
MVP Duo Have the Cardinals Running Away With the NL Central
Paul Goldschmidt and Nolan Arenado are leading the Cardinals to a division title in the NL Central with their historic performance as a duo.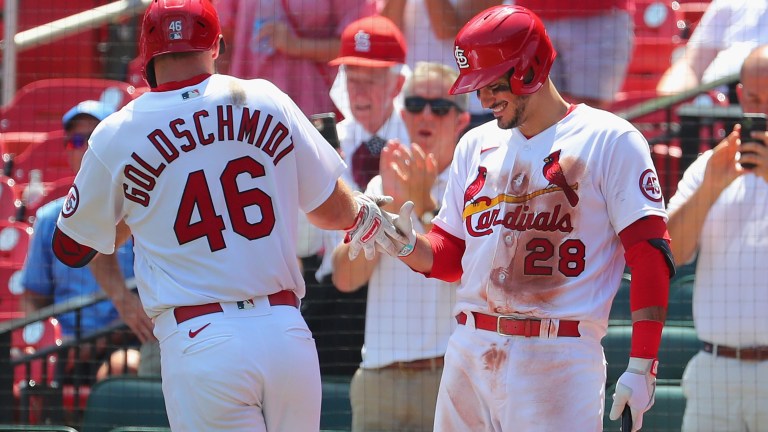 After a shaky stretch in the middle of the 2022 season, the St Louis Cardinals are fully running away with the NL Central. Winners of eight of their last 10, with a firm six-game lead above the Milwaukee Brewers, this team is dangerous. At a +120-run differential on the year, the fourth-best mark in the National League, they've pulverized the remainder of their division.
It's rare to see a team with two true MVP candidates in the same season. Luckily for Cardinals fans, they're witnessing the greatness of their corner infielders, Paul Goldschmidt and Nolan Arenado, anchoring their team with MVP production on a daily basis.
Pair those two with the legendary Albert Pujols, who's posted a .875 OPS in his send-off season, and you have the best offense in baseball over the past 25 days. St Louis' 148 wRC+ as a team leads all teams during the month of August. Not to mention, the pitching has been stellar as well.
Key rotation adds at the deadline and the greatness of their bats have powered the Cardinals into becoming possible World Series contenders. It's hard to say if this will continue into October. But what I can tell you about the St. Louis Cardinals, is that they're one of the best teams in the entire sport.
Paul Has Struck Gold(y)!
It's quite remarkable what Paul Goldschmidt has been able to do in his age 34 season. Goldy leads a number of different statistical categories in the National League and could even be on to a Triple Crown if he plays his cards correctly. He currently leads the NL in batting average at .335, but his RBI total of 100 and home run total of 31 are good for second-best in his league.
Regardless, he should run away with the NL MVP in a landslide. With a number of talented bats in this Cardinals offense, Goldschmidt has stood above the rest.
Paul Goldschmidt currently leads the entire National League in batting average (.335), OBP (.420), slugging (.637), wOBA (.448), wRC+ (195), ISO (.298), and fWAR (6.8). Aaron Judge's dominance out East has been the highlight of the 2022 season, but Goldschmidt should not go unnoticed.
This man has got to be recognized as a top-two first baseman in baseball by season's end. While the likes of Freddie Freeman and Vladimir Guerrero Jr. are having spectacular seasons as well, Goldy's putting on a show in the STL. He's been the driving force behind this team's success. And if he reaches the Triple Crown marker we spoke about earlier, this could be one of the greatest seasons of all-time.
The Robin to Goldschmidt's Batman
Nolan Arenado has had an interesting story since leaving the high-altitude Coors Field environment with the Rockies. His wRC+ of 113 in 2021 suggested that he was a product of the park, with many suggesting a complete fall off following his move to St. Louis. It was a poor year for Arenado, but 2022 has been much different.
If Goldschmidt wasn't on this incredible run that he has been this year, Arenado would surely be the MVP. One MVP candidate on your team usually results into a plethora of wins. But two? Man, this lineup has been scary this year.
Arenado is currently second in National League slugging at .557, and second with his 157 wRC+. His fWAR of 6.4 is also good for second behind Goldschmidt, with his glove contributing more than ever this season. His DRS of 15 is tied for second in the entire sport, with his OAA total of 14 leading MLB third basemen. Always known for having the slickest glove at the hot corner, he's been the best defensive third baseman in 2022. This also contributes to his massive WAR total.
He's back. The worries with Nolan Arenado's bat have fully been erased with a subpar 2021 compared to his standards. He's been the perfect Robin to Goldschmidt's Batman. When we look at the best 3/4 hitters in any given lineup, the tandem of Goldy and Arenado might be the best we've seen in a while. The combination of his incredible bat and silky-smooth glove at third have been a huge contribution to the success of the St. Louis Cardinals this season.
Gold Glovers… Everywhere
The Cardinals shocked the league in 2021 with a massive five Gold Glovers by season's end. Arenado, Goldschmidt, Tommy Edman, Tyler O'Neill and Harrison Bader were among the recipients. This trend could continue in 2022, with a slew of Cardinals continuing to be outstanding on the defensive side of the ball. St. Louis has posted the fourth-highest DRS total among any team in 2022 at 53, and the highest OAA total at 27. They've been superb!
Four Cardinals have posted a DRS total at 6 or above, those being Arenado (15), Tommy Edman (21), Dylan Carlson (8), and Yadier Molina (6). They say defense wins championships, and this team is the best on the diamond. While they might not produce the Gold Glove winners like they did in 2021, they've still been spectacular out there, and is just another factor towards their success this season.
Albert's Last Ride
It's well known in baseball circles that this will be Albert Pujols' final season in MLB. The send-offs will come aplenty, as he is one of the most talented players to ever play the game. The illustrious career of Albert Pujols will never be forgotten, but neither will his final season. Many legends such as Derek Jeter didn't particularly have their best seasons before retiring. But Pujols? He's on a mission.
Albert Pujols is currently at 693 career home runs. The historic mark of 700 is approaching. And during the month of August, he's heightened this race to an extreme level.
Albert has mashed seven home runs over the last 26 days, racking up a 303 wRC+. A .977 slugging percentage is absolutely bonkers. His 49 plate appearances this month don't stack up to a qualified hitter. However, he's mashed with the best of them during the month of August.
He's primarily worked as a DH this year. An increased number of reps could see him hit that legendary home run total. Pujols' current wRC+ of 146 on the season is his highest total since 2011, his final season as a Cardinal before signing with the Angels.
It's remarkable what Albert has been able to do at the dish this year. One last ring could be in play for Pujols if he continues on this historic run, and he's helped the Cardinals in a big way. The chase for 700 will be exhilarating, and I'm so excited to see what's next.
The Ultimate Deadline Winners?
St. Louis had a clear issue to address at the 2022 trade deadline: Starting pitching.
There were a multitude of options on the market. Luis Castillo, Frankie Montas, and Pablo Lopez were among the star names that were sure to be dealt. Instead, the Cardinals front office opted to trade for Jose Quintana and Jordan Montgomery.
At first, they seemed like solid innings-eaters who wouldn't make a ton of impact during the playoffs. It was a success that they were adding arms, but nothing too special. And boy, that couldn't be farther from the truth.
Jose Quintana, SP
Jose Quintana was enjoying a decent season in Pittsburgh before being dealt. It was the first time in a long time that his ERA was below the 4.00 mark. He seemed like a second-tier starter to be dealt at the deadline. Since becoming a Red Bird, he's posted a 3.20 ERA in his first 19 innings pitched. He's been a solid starter, exactly what this team needed. The real win here however, is with Jordan Montgomery.
Jordan Montgomery, SP
Cardinals' fans hated the Jordan Montgomery deal. Trading away a fan-favorite in Harrison Bader for a pitcher of which the Yankees didn't think would fit into their playoff rotation was seen as less than ideal. But in a complete turnaround, Montgomery has been the best pitcher that was sent away at the deadline this season through his first four starts.
He's posted a miniscule 0.35 ERA in his first 25 innings pitched. He's walking one hitter per nine innings and is striking out eight. The starter registered his first complete game just a week ago with a dazzling nine-inning performance at Wrigley Field. He's been remarkable for the Cardinals.
Cardinals starters posted a mediocre 3.98 ERA as a staff in the first half, good for 15th in the league. Since the deadline, it's been the sixth-best mark at 3.18. The additions of both Montgomery and Quintana paired with Mikolas and Wainwright have combined for one of the best rotations during the month of August. Whether this trend continues or not is yet to be seen. But this team now has all the necessary pieces to run away with the NL Central, and they've done so this month.
World Series Hopefuls?
The Cardinals now have it all. An incredible offense led by Goldschmidt and Arenado, the best defense in the game, and a good rotation. Surely, the NL Central crown is all but locked up if they continue on this pace. But does this team have a legitimate shot at a World Series title?
It's hard to say.
Yes, this offense is electric, and the pitching has been good. But can they compete with the best in the National League?
The Mets, Dodgers and Braves all seem to be in a better position to win the NL, but the Cardinals could go on another historic run during Pujols' last season. I won't count them out just yet, but this team has got to stay on track if they want to compete with the best of the best.
The central belongs to the Cardinals. With the Brewers offense continuing to struggle and the disappearance of Josh Hader, this is an easy bag. Once again, St. Louis has dominated this division, and I am not surprised whatsoever.