Rankings
Ranking All Three Current Athletics Uniforms From Worst to Best
For all that's wrong with the Oakland Athletics organization, you can't deny they have a tremendous set of uniforms.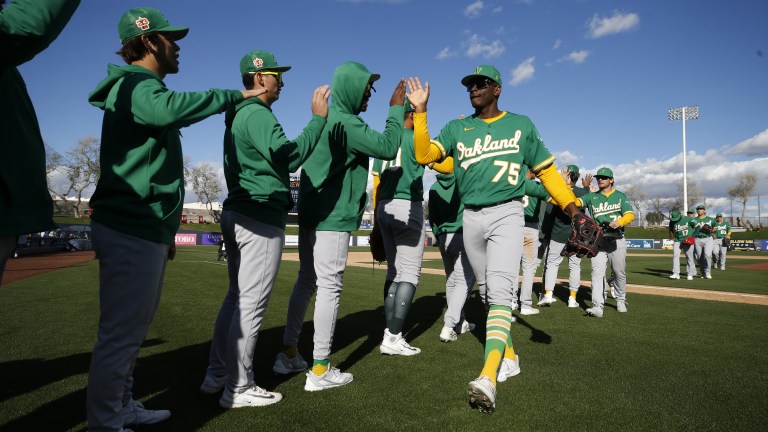 For all that's wrong with the Oakland Athletics, they have one of the most classic brands in baseball.
The A's brand began in Philadelphia in 1901, before the team relocated to Kansas City in 1955. Since 1968, the A's have called Oakland home. If their future is indeed going to be in Las Vegas, there shouldn't be a second's worth of thought given to tweaking the uniforms, other than to update the road uniforms from "Oakland" to "Las Vegas."
As long as they remain in the Bay Area — which, sadly, might not be beyond the 2024 season — it feels unlikely that the A's will get a jersey that's part of Nike's "City Connect" program. That's okay, because as is, the A's have a tremendous uniform set, which we've ranked below:
No. 3: Gray Road Uniforms
Don't take these being rated the worst as a diss, it's only because the two above them are so excellent. They are unquestionably better than both the dark green and the yellow alternate tops that the A's have phased out in recent seasons.
The cursive "Oakland" script looks sharp, and there is enough yellow and green mixed throughout the uniform that the gray is anything but dull.
No. 2: White Home Uniforms
The best way to describe the white home uniforms the A's have worn since 1987 would be clean. The white home uniforms really pop during sunny day games played at the Oakland Coliseum.
With all due respect to the New York Yankees and Los Angeles Dodgers, these may be the best home uniforms in baseball.
No. 1: Kelly Green Alternate Uniforms
For all the love that the Philadelphia Eagles throwbacks get, we would argue that these are the best kelly green uniforms in sports.
The A's now have kelly green in the mix both as a home and road alternate. Given that they say "Oakland" across the chest — and just look a bit better with the gray pants — they are actually even better as a road alternate. But this is the rare bold-colored alternate top that looks good both at home and on the road and doesn't lose its luster when worn relatively frequently.