Analysis
The A's Moving Out of Oakland Is A Crushing Blow For Baseball
Athletics fans and the city of Oakland deserve so much better than the way they've been treated by John Fisher and Major League Baseball.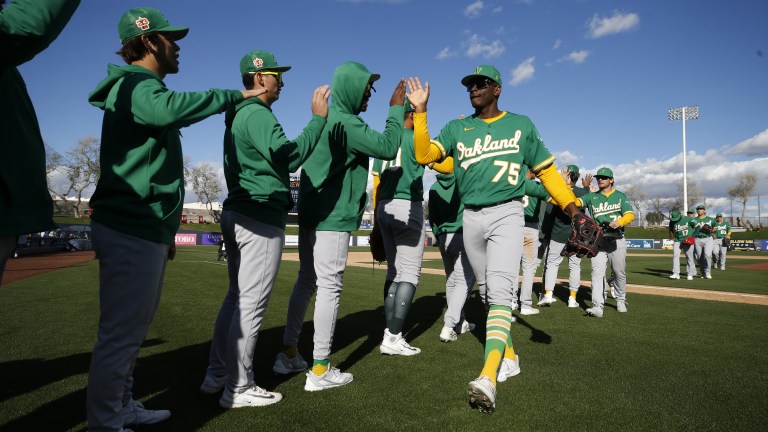 I am really upset. I honestly did not realize how much the news of the A's relocation saga would affect me. Yet here I am at my computer on a Thursday night, ready to take a blowtorch to Major League Baseball because I feel like I have something to get off my chest.
That is because tonight, Nevada's governor signed the bill providing $380 million in funding for a new ballpark in Las Vegas. The Oakland Athletics will occupy the ballpark after they are ripped away from a city that loves them dearly. The next step is for MLB owners to approve the relocation–expected to happen unanimously–and crush the dreams of a fanbase.
Just like the Expos left Montreal high and dry nearly two decades ago, Oakland is on the receiving end of the most crushing news a sports fanbase can receive.
What a blow this is for Major League Baseball. Lost in the shuffle of all this drama is the A's being one of baseball's oldest and most historic franchises. The Athletics have won nine World Series titles and 15 pennants. They've played a part in the baseball history of three major U.S. cities: Philadelphia, Kansas City and Oakland. They were a dynasty in the early 1970s, three-peating from '72-'74 with an iconic core including names like Rollie Fingers, Catfish Hunter, Vida Blue and Reggie Jackson.
Their 1989 World Series victory is one of the most famous in history. The A's easily swept the Giants, but it is most famous for the "Earthquake Game" and as the only World Series edition of "The Battle of the Bay."
You know why it's easy to forget this? Because Rob Manfred refuses to acknowledge it. For a guy that is supposed to care about baseball's history, he sure ignores it a whole lot. Remember when he called the World Series trophy "a piece of metal"? That was fun.
Now he is seemingly taunting the A's incredible fanbase as he laughs all the way to the bank with the incoming Vegas money. Take a look at what he had to say about A's fans' reverse boycott against the Rays Wednesday night.
"I mean, it was great. It is great to see what is this year almost an average Major League Baseball crowd in the facility for one night. That's a great thing."

-The Commissioner of Baseball
Thanks, Rob.
However, that just wasn't enough. Manfred also decided it would be a good idea to offer his opinion on Oakland's efforts to keep the A's.
'The real question is, what is it Oakland was prepared to do? There is no Oakland offer. OK? They never got to a point where they had a plan to build a stadium at any site. And it's not just John Fisher. The community has to provide support."

-Again, the Commissioner of Baseball
Notice the defense of the owner who is about to fetch the league an all-time paycheck.
A spokesperson from the office of Oakland's mayor quickly put Manfred on blast with a scorching statement:

The two sides will no doubt continue to have words back and forth, but we all know who is at fault here: A's owner, John Fisher. The guy has simply refused to put a product anywhere close to MLB-level on the field, and he has tarnished a fanbase. He has refused to find a solution with Oakland, instead operating with one foot out the door, knowing the check that awaits him in Sin City.
Watching the way A's fans have gone through this as a sports fan makes you just sit and wonder, "What if this were my team?" I grew up in South Florida. When I was really young, the Marlins and Panthers were constantly under threat of relocation. It was hard for me to understand the magnitude at the time, but I would have been crushed to lose one of my teams.
I remember when the Rams left St. Louis thinking about the fans and how they must feel. Something that has become a big part of the connection to where they're from ripped away in a heartbeat. That feeling is doubled, tripled, quadrupled with Oakland. The A's moved to the East Bay in 1968 and have played in the same stadium ever since. Now within four years, the Warriors moved across the bay, the Raiders left for Vegas, and the A's aren't far behind.
At least the Raiders make sense in Vegas. They have always had a large fanbase there and were moving somewhere they knew they would be welcome. Plus, the NFL and Vegas are a perfect match. The showmanship and pizazz–if that's what you want to call it–of Vegas matches perfectly with what football has to offer.
Same with hockey. The Golden Knights have been a hit in Vegas and arguably the most successful expansion team within their first 10 years in major American sports. Hockey is a brash, fast-paced sport, just like the city surrounding the T-Mobile Arena.
What the hell about Vegas screams "baseball"? Carrot Top? The Blue Man Group? The gimmicky, cheesy shows the Knights do before introductions? I may sound like a boomer but keep that away from my baseball game.
Is it the sweltering desert heat in the summer that will roast fans taking in a game in August? The population of mostly tourists that will likely struggle to fill out a proposed 30,000-seat stadium every night? What is it, Rob Manfred?
Oh, I know! It's the oodles of gambling money that will pour into the league. There's a reason the second gambling became widely legal in the United States three leagues quickly flocked to The Strip. Formula 1 is not far behind, either.
I'll tell you the most baseball thing about this move: greed. John Fisher absolutely cannot wait to cash out on this team. Has he ever guaranteed he will hold onto the team once in Vegas? Or will he cash out on a sale the second the value of the team skyrockets with a new stadium, a likely rebrand, and the aforementioned gambling-adjacent location? If you had to take a guess, which one do you think is more likely? I know my answer.
Fans in Oakland deserve so much better. My memories of A's games will always be the wild playoff crowds showing up when their organization gave them a reason. I will also always remember our own Clay Snowden's wonderful story about the generosity of fans he met on a trip out there.
I cannot imagine how those people feel, watching their team ripped away because of dollar signs. It must be crushing; losing a team is something I would never wish upon any fanbase. The worst part of it is…Vegas? Really?
I just genuinely don't see baseball doing well in that city. Other sports sure, but not this one. Maybe I will end up being wrong, but as I asked earlier: What about Vegas says baseball to you? I would really love to know if you have an answer!
Of course, there's also this problem: The same team they have now is going with! It's not like the A's are getting a new roster. What's going to happen when they move to Vegas? John Fisher is suddenly going to inject this roster with a ton of cash, they'll rapidly develop a core of young talent and win a World Series? God no. They're going to have the same roster, with the same flaws, and the same owner neglecting the on-field product.
The only difference will be the profits, maybe a new light show or something, and a fanbase with no connection to the team being forced upon them. For lack of a better word, this is a huge gamble from Major League Baseball. They are moving to a city with no baseball history, no connection to the team and a really small base of permanent residents that you have to convince to come to 81 games a year. In the summer. In Las Vegas.
My heart hurts for the people of Oakland, and I was taken aback by my reaction to the news. I felt sad, I felt angry, I felt like I might cry. I couldn't help but think about how A's fans nearly watched their Bay Area neighbors lose their team to Tampa/St. Pete way back when, before being saved by an owner who actually cared. The Giants went on to bring the biggest superstar in the game and three World Series titles to San Francisco.
The A's fanbase will never know the same joy.
Who knows what could have been if the A's were run properly. Maybe they get a sparkling new stadium just like the Giants did. Maybe they sign a superstar, build a winning team and return to the glory days. It's a shame the world will never find out because of greed and neglect toward one of the great franchises in the sport's history.
We also may be about to lose one of the great uniform sets in all of sports. An iconic, classic look that transcends time, cities and failed ownerships. Whatever Vegas does with the A's, just please leave the colors and the uniforms alone. That's probably too much to ask for though. Just think about how many Vegas Wayne Newtons jerseys John Fisher could sell!