Feature
Ranking All Four Current Angels Uniforms From Worst to Best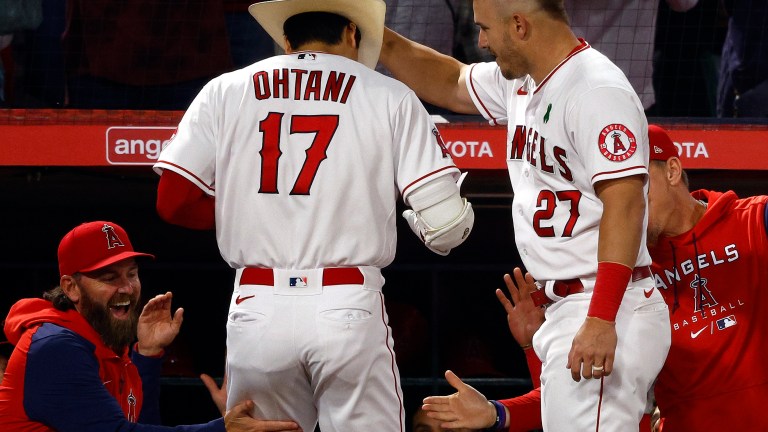 Regardless of whether it ever translates to postseason success, the current era of Los Angeles Angels baseball will be studied as long as baseball is played.
Three-time AL MVP Mike Trout is one of the most complete players in MLB history. And DH/RHP Shohei Ohtani is probably the most unique star baseball has ever had.
And whenever both are being inducted into the Hall of Fame, highlight reels will be played with them wearing one of the four current jerseys that the Angels have in rotation. With that in mind, here's a ranking of the four Angels uniforms, from worst to best:
No. 4: Red Alternate Uniforms
As the Cleveland Guardians, Philadelphia Phillies and Arizona Diamondbacks can attest to, most red tops end up being, well, not great. We would argue that the Angels have one of the better red tops in baseball, even if it's the worst of their four current uniforms. These red tops are worn as an alternate both at home (with white pants) and on the road (with gray pants).
No. 3: White Home Uniforms
When the Angels ditched their short-lived, polarizing pinstriped uniforms in in 2002, they introduced simpler white-on-white primary home uniforms.
They proceeded to win the first World Series title in franchise history the year their new home look debuted, defeating Barry Bonds and the San Francisco Giants in Games 6 and 7 while donning the white home uniforms. These aren't all-time-great home uniforms, but they are clean.
No. 2: City Connect Uniforms
Quite a few teams have had embarrassing alternate uniforms forced on them as part of Nike's "City Connect" program. But in terms of teams that still may have their CC uniforms in rotation 10 years from now, the Angels are in the mix. First unveiled in June of 2022, the surfboard-inspired cream uniforms have been a nice addition for a team that probably needed a fourth uniform as part of their lineup. The best part of the CC uniforms is probably the hat/batting helmet, which features cream at the front, and red on the sides and back.
No. 1: Gray Road Uniforms
Because of Nike's controversial "4+1 rule," teams like the Seattle Mariners and Tampa Bay Rays have altogether eliminated their road gray uniforms, in favor of solid-colored tops.
Thankfully, the Angels don't have to put any of their uniforms on the chopping block, because we would argue that they have one of the best road grays in the sport.
While gray has been accused of being a dull color for some teams, the red on the Angels hats and uniform font offers an excellent contrast. Los Angeles also has one of the better scripts in baseball, and when long red sleeves worn under under the road grays, they really pop.