Analysis
MLB Free Agency: 5 Players Off to Hot Starts in Contract Years
Matt Chapman is off to the best start of his career, and he's not the only impending free agent off to a scorching hot start.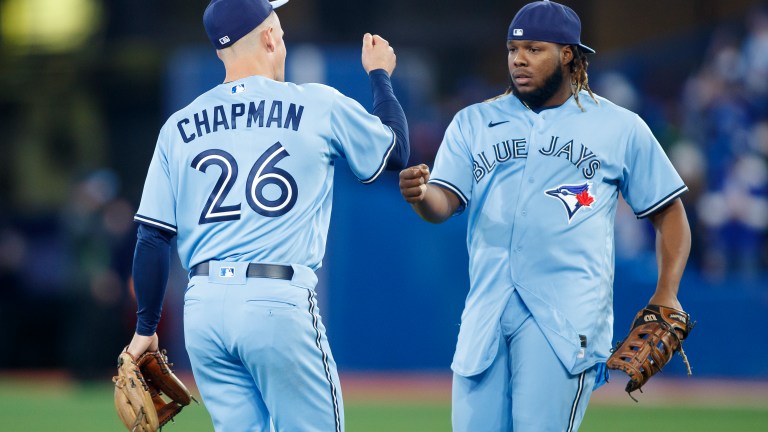 A year ago, Aaron Judge put together the greatest contract year in MLB history, slashing .311/.425/.686 with 62 home runs, 131 RBIs, a 1.111 OPS and a staggering 11.5 WAR, per FanGraphs.
That campaign was not only good enough for Judge to win the American League MVP, but it also led to him re-signing with the New York Yankees after testing free agency, ultimately accepting a nine-year, $360 million deal.
For as long as baseball is played, Judge's contract year performance may never be topped. But here's a look at five impending free agents off to hot starts in 2023.
Matt Chapman – 3B, Toronto Blue Jays
Last month, Just Baseball ranked Chapman as the No. 4 potential free agent this upcoming offseason. That list may have to be updated relatively soon if Chapman continues to perform how he did in April.
Chapman — who recently turned 30 — was named the top overall third baseman in the sport for the month of April by Just Baseball. He's currently slashing .374/.455/.654 with a 1.109 OPS.
One thing that is worth noting is that the two-time Platinum Glove Award winner's defensive metrics have declined rather rapidly since being traded to the Blue Jays by the Oakland Athletics. Chapman was worth 10 defensive runs saved and 17 outs above average in 2021, his final season with the A's. Since joining the Blue Jays, he has four defensive runs saved and -2 outs above average.
Andrew McCutchen – DH/LF, Pittsburgh Pirates
The Pirates are 10 games above .500 and currently atop the National League Central. And while McCutchen's return has brought incredible vibes to the upstart Pirates, that's not all he's providing.
In the early going, McCutchen has five home runs, 14 RBIs and 16 walks. The former NL MVP has a 0.5 fWAR, already topping the 0.3 mark he posted during the entirety of the 2022 season with the Milwaukee Brewers.
McCutchen is 36, but while there's something to be said for walking away after a good season, he'll have plenty of opportunities to continue playing in 2024 if he keeps producing like this.
Hunter Renfroe – RF, Los Angeles Angels
It should be noted that the Angels went 14-8 last April, only to finish 73-89. But as the Halos try to convince Shohei Ohtani to re-sign, they're off to an encouraging 16-14 start, with a +22 run differential.
Renfroe, acquired in an offseason trade with the Brewers, has been a nice addition thus far. The well-traveled slugger has seven home runs, 20 RBIs and an .832 OPS to show after just over a month as an Angel.
Forget the offseason, if the Angels fall out of contention this summer, Renfroe will be a popular trade target in advance of the Aug. 1 trade deadline.
Cody Bellinger – OF/1B, Chicago Cubs
After three largely dismal years with the Los Angeles Dodgers, the former NL MVP was non-tendered this past offseason. So far, getting a fresh start with the Cubs has been great for Bellinger.
Bellinger is slashing .303/.377/.596 with seven home runs, 18 RBIs and a .973 OPS for the Cubs. This comes after he hit .203 with a .648 OPS in his final three seasons with the Dodgers.
The one-year, $17.5 million deal that Bellinger signed with the Cubs in December includes a $12 million mutual option for 2023. Still only 27, it feels overwhelmingly likely that Bellinger will decline his half of said option and return to the free agent market this upcoming offseason.
Nelson Cruz – DH, San Diego Padres
The offseason surgery that Cruz had on his left eye appears to be helping him, as the 42-year-old is putting together a bounce-back campaign for the Padres, a year after he posted a .651 OPS for the Washington Nationals.
Cruz is still shy of 100 at-bats, so everything should be taken with a grain of salt. But the four-time Silver Slugger Award winner is currently hitting .296 with three home runs and 16 RBIs.
What's worth noting here is that Cruz is only 38 home runs shy of 500 in his career, so the seven-time All-Star has every motivation to continue playing beyond 2023.