Analysis
Ranger Suárez Can Breathe New Life Into Phillies' Rotation
The Phillies will be grateful to have their number three starter back in the rotation this weekend in Colorado.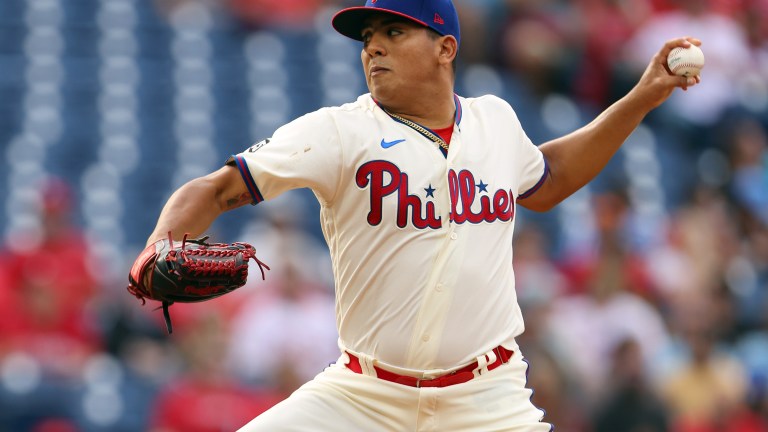 The last time Ranger Suárez took the mound for the Phillies, he twirled five scoreless innings against the Houston Astros, putting Philadelphia up two games to one in the World Series. The stakes won't be quite as high in his next appearance, but the Phillies will still be thrilled to have their number three starter back on the bump.
Suárez missed all of April with an elbow injury, which he sustained while ramping up for the World Baseball Classic. He has been slowly working his way back, and he is set to return this weekend in Colorado.
The left-hander gave the Phillies exactly what they needed from a number three starter last season, tossing 155.1 innings with a 3.65 ERA and 2.3 fWAR. He allowed three earned runs or fewer in 25 of his 29 starts, and Philadelphia went 17-12 (.586) in his outings.
Suárez was especially impressive in the postseason, where he made three starts and two relief appearances. He allowed just two runs in 14.2 innings of work, striking out 13.
The Phillies could certainly use a pitcher like that right now. Indeed, they can use all the help they can get. They're off to a disappointing start, sitting in fourth place in the NL East with a 16-19 record and a -29 run differential. They seemed to have finally turned the corner at the end of April, winning four series in a row against the White Sox, Rockies, Mariners, and Astros, but they have since dropped two series in a row and six of their last seven games.
While starting pitching isn't this team's only problem, it certainly hasn't helped that Philadelphia's starters have an 8.35 ERA over the previous seven games. Let's take a closer look at the state of the rotation Ranger Suárez will be joining upon his return.
The Phillies' Rotation 35 Games In
By earned run average, the Phillies' rotation has been pitiful. Their 4.91 ERA ranks 11th in the National League, just ahead of the oft-criticized St. Louis Cardinals. They've had a particularly rough go over the last seven games; since April 30, no Phillies starter has an ERA below 5.68.
However, things might not be as bad as they seem. By FanGraphs WAR, the Phillies have actually had the most valuable rotation in the National League. That's all the more impressive considering they only rank ninth in innings pitched.
| | | | |
| --- | --- | --- | --- |
| Team | IP | ERA | WAR |
| PHI | 181.1 | 4.91 | 3.8 |
| CHC | 186.2 | 3.18 | 3.6 |
| ATL | 184.2 | 3.41 | 3.4 |
| LAD | 193.2 | 4.04 | 3.1 |
| PIT | 197.2 | 4.05 | 3.1 |
| MIL | 193.1 | 3.58 | 2.7 |
| ARI | 180.0 | 4.75 | 2.7 |
| SFG | 180.0 | 3.60 | 2.4 |
| SDP | 190.2 | 4.20 | 2.2 |
| MIA | 176.1 | 4.75 | 2.2 |
| WSN | 182.2 | 4.48 | 2.1 |
| CIN | 161.2 | 6.40 | 1.8 |
| STL | 186.2 | 5.26 | 1.4 |
| COL | 172.1 | 5.48 | 0.6 |
| NYM | 170.1 | 5.34 | -0.9 |
Statistics as of Tuesday, May 9 (via FanGraphs)
Overall, the advanced metrics are bullish on the Phillies' rotation. Their 3.94 FIP is nearly a full run lower than their ERA and ranks third in the NL. Their 4.08 SIERA ranks second, while their 4.05 xFIP ranks third.
That being said, even the advanced numbers will tell you the Phillies' starters have struggled as of late. Over the last seven games, their 4.58 FIP ranks 11th, while the 4.13 xFIP ranks seventh. Thus, while the Phillies' starters haven't been as bad as their collective ERA would have you believe, no one would deny they could use some help. After all, this team's starting rotation was supposed to be its biggest strength entering the season.
Furthermore, while Philadelphia's rotation has strong underlying numbers in aggregate, not every starter has had a year to be proud of. Here's a quick look at how each rotation member has fared so far.
Zack Wheeler Is Still an Ace
Zack Wheeler has had his ups and downs this year, but by and large, he's having another strong season. His 10.89 K/9 is a career-high, and he is continuing to limit hard contact and keep the ball in the yard. He hasn't been quite as dominant as he can be, yet he still ranks third in the NL in fWAR. I expect his BABIP and LOB% to regress with time and his ERA to drop accordingly. Wheeler will be just fine.
Is It Time to Worry About Aaron Nola?
Aaron Nola hasn't been awful, but you could argue he has been the Phillies' biggest disappointment thus far. The team was counting on Nola to be an ace, and instead, he has given them a 4.64 ERA and 4.02 FIP in seven starts. He's still averaging six innings per outing, which is a real skill in this day and age, but that's the best thing you can say about his season to date.
On the one hand, I want to give Nola time to figure things out. He has been so dependable for so long, so we shouldn't jump to conclusions after a few bad games. On the other hand, it's exactly because he's been so dependable for so long that I'm this concerned. By xFIP, this past April was the worst month of Nola's career. His strikeout rate is shockingly low, he is allowing a ton of fly balls, and his fastball velocity is down compared to last season. Those aren't good signs.
Hopefully, Nola will find his footing as the year goes on. That said, the Phillies need to start preparing for the possibility that ace Nola won't return.
Taijuan Walker Hasn't Lived Up to Expectations
The Phillies signed Taijuan Walker to be a consistent, dependable presence in the middle of the rotation – in other words, another Ranger Suárez. That's not the pitcher he's been thus far. Through seven starts, Walker has a 5.97 ERA and a 5.80 FIP, and he's averaging under five innings per outing. His strikeout rate is the highest it's ever been, but so are his walk and home run rates.
Thankfully, there is reason to believe Walker will turn things around. He had his best start of the year on Sunday afternoon, holding the Red Sox to one run on three hits through six innings. He struck out six and, most importantly, did not allow a single walk for the first time this year. The key was his splitter, which he used more than 50% of the time. Perhaps this new approach will help Walker turn his season around.
Bailey Falter Isn't Getting the Job Done
Bailey Falter has struggled tremendously this season. In seven starts, he has a 5.75 ERA and a 4.74 FIP. Simply put, he hasn't looked like a competent major league starter, at least not for a team with real postseason aspirations.
Despite his struggles, however, Falter's job in the rotation appears to be secure. When Ranger Suárez returns, he will be taking Matt Strahm's place in the rotation, which means Falter will continue to start.
All I can say here is that I hope the Phillies have a plan. The team doesn't have any more reinforcements on the way (at least in the near future), so Falter will have to get the job done until the Phillies make a trade and/or one of the top pitching prospects is ready to debut.
Matt Strahm Is Back in the Bullpen
Matt Strahm has been phenomenal this season. He pitched a scoreless eighth inning on Opening Day and then took the mound for his first start four games later. He pitched admirably out of the rotation for six starts, putting up a 3.51 ERA and 2.61 FIP in 25.2 IP.
However, the Phillies have decided to put him back in the bullpen in anticipation of Suárez's return. He earned a two-inning save on Sunday, striking out three Red Sox batters and looking sharp as ever.
I'm torn about the decision to take Strahm out of the rotation. On the one hand, he has been Philadelphia's second best starter this season. I wouldn't have expected him to keep pitching so well all year, but I have a lot more faith in Strahm than Falter.
On the other hand, I think we have to trust the Phillies on this one. This coaching staff knows better than anyone how fantastic Strahm has been (and how much some of his rotation mates have struggled). Clearly, they have a reason for putting Strahm back in the 'pen, whether that be to protect his arm from injury or because they think he'll be much more effective as a reliever.
Is Andrew Painter Ever Coming Back?
Unfortunately, the Phillies haven't given us much information about Painter's rehab. From what we know, he's playing catch regularly and "hasn't had any issues," according to his agent Scott Boras. However, the team has not released a timeline for his return. He is still expected to pitch in the big leagues at some point this season, but it's impossible to guess when that will be or how many innings he'll be allowed to throw.