Analysis
Best Bets for World Series Game 3: Houston Astros vs Philadelphia Phillies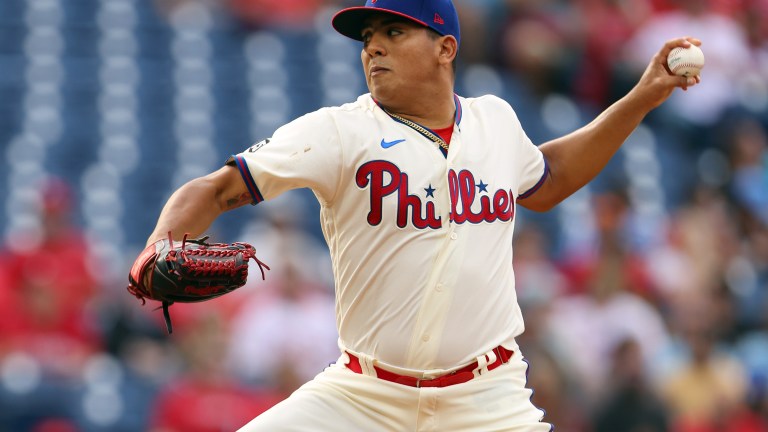 Yesterday was rained out, and it upset me. I wanted to see fireworks with Syndergaard versus McCullers Jr, but today may not be so different.
We did hit on the Browns +3.5, but we lost our football prop. Overall we had a fine day without baseball.
I'm back with more picks and props on the podcast for Game 3 of the World Series
2022 MLB Regular Season Record: 230-189 (55%) +42.59 Units
Houston Astros vs. Philadelphia Phillies: 8:03 pm EST
Lance McCullers Jr (RHP, Astros) [2.27 ERA, 47.2 IP, 25.6% K, 3.57 xERA, 3.49 FIP, 3.58 xFIP]
Ranger Suarez (LHP, Phillies) [3.65 ERA, 155.1 IP, 19.5% K, 3.78 xERA, 3.87 FIP, 3.82 xFIP]
Phillies fans have to be happy about the rainout. What should have been a bullpen game for Philadelphia has been pushed back to Game 5. Ranger Suarez will start today, followed by Aaron Nola in Game 4. The plan is to begin Syndergaard or Kyle Gibson in Game 5, followed by Zack Wheeler in Game 6 and Ranger Suarez again in Game 7. The Astros will never need an actual bullpen game, as they have five capable starters that can go at any time.
We had the over yesterday, and little has changed the more I look into it. We saw this total open at 7.5 but quickly shot up to 8. The total now sits at the same spot as yesterday, with a perceived better pitching matchup. The line may be speaking to us again, as yesterday's total was at 8 (-105), and it's still at 8 but +100. We are just getting a bit more value with slightly more risk.
Let's evaluate each facet of the game.
Starting Pitching
The same analysis is still here for Lance McCullers Jr. The only caveat that could work in our favor is a change in routine for McCullers Jr. He expected to pitch yesterday and warmed up as if he did. Now he has to repeat the process which could potentially throw him off.
He is command-dependent; if he's locating his slider, curveball, and sinker, he's deadly. If he's not, things unravel quickly. This has been proven in road starts for him this year, as he's rocking a 3.57 ERA compared to a 1.50 ERA at Minute Maid Park. This will be his most challenging road start of the year.
In the playoffs, McCullers has had one fantastic start against the Mariners and one below-average start against the Yankees. Both were on the road, but neither had the environment of Citizens Bank Park in the World Series. He's made two starts in the previous World Series' allowing three runs in 7.2 innings on seven hits.
Ranger Suarez is an upgrade for the Phillies over Syndergaard, but he's a better matchup for the Astros. Suarez came in Game 1 in relief and allowed one hit but struck out one over 0.2 innings. Suarez will be on three days' rest from that short stint, but it's been ten days since he made his last start.
The last time he had this much rest, he made his first start against San Diego, throwing five innings of two-run ball. The Astros are a better offense, especially against lefties, and they've seen Ranger before. Not only did they see him in relief, but they scored six runs against him on seven hits in three innings in Suarez's last start of the regular season.
Ranger Suarez has faced predominantly right-handed lineups all season which is also his worse split. Right-handed batters have a .757 OPS against him this season, while lefties sit at .538. Suarez has also been rougher at home, rocking a 4.27 ERA compared to a 3.20 ERA on the road. He's been worse during night games, sporting a 3.87 ERA versus a 2.81 ERA in six starts during the day.
Syndergaard is a worse pitcher than Suarez, but the matchup might be even better for the Astros against him in the early innings.
Lean: Astros
Offense
The analysis for the Phillies remains the same. Here is what I spoke about yesterday.
Lance McCullers Jr will deploy plenty of sliders and curveballs. Those two pitches take up over 50% of his arsenal. Rhys Hoskins, Kyle Schwarber, Bryce Harper, JT Realmuto, and Jean Segura are positive hitters by run value against the slider. Bryson Stott, Alec Bohm, JT Realmuto, Brandon Marsh, Jean Segura, Edmundo Sosa, and Bryce Harper are all positive against curveballs. I'm pretty sure that's the whole lineup.
The only hitter I'm forgetting is Nick Castellanos, a positive hitter against the sinker, which McCullers likes to use almost exclusively to right-handed bats.
The Phillies are 5-0 at home this postseason, averaging seven runs per game. At home, the Phillies have a .296/.378/.597 slash line with 12 home runs and a .975 OPS. The Phillies are a patient team, especially at the top of the order. If McCullers shows early signs of command issues, it could get ugly quickly.
Yesterday, we looked at how the Astros match up against Noah Syndergaard's pitch mix, primarily sinkers, sliders, and changeups. As I said yesterday, Jose Altuve, Yordan Alvarez, and Martin Maldonado destroy sinkers, and Kyle Tucker is another positive hitter by run value. That was against sinkers as a whole, which Syndergaard throws 31% of the time and Suarez throws 40% of the time.
Against right-handed sinkers, the Astros as a team ranked 15th in xwOBA. Against left-handed sinkers, they rank second, only to the Yankees, in xwOBA.
Not all sinkers are created equal. Jose Alvarado throws his sinker at 100 MPH, and Suarez throws his 92-93 MPH. On left-handed sinkers that are thrown 92-93 MPH, the Astros rank fourth in xwOBA at .407. To put that in perspective, Freddie Freeman finished third in baseball in xwOBA this year at .403.
When we query up stats against Suarez's three most used pitches, the sinker, changeup, and the four-seam, which is 79.3% of pitches he throws, the Astros are tied with the Braves for first in xwOBA against those offerings. This means the contact quality is the highest in baseball against left-handers throwing those pitches.
Suarez and Syndergaard are similar in their approaches as well. Both rely on softer contact and are not high strikeout guys. The Astros do not strike out at all, especially against left-handers. Making the Phillies play defense is where the issues may arise, which is not a good recipe for success.
Credit to Syndergaard for his command, ranking in the 86th percentile in BB%, while Ranger ranks in the 36th percentile. Syndergaard allows stolen bases at the highest rate in baseball, but we may see more people on base against Suarez.
We loved the over because Syndergaard is a worse pitcher than Suarez. The problem for the Phillies is that Suarez is a much better matchup for the Astros.
The edge overall should be in the Astros' favor, but it's undeniable how good the Phillies have been at home and how good the matchup is still for the Phillies. The Astros are still a worse road team on offense, so those numbers can reasonably come down a bit for them. Overall, both teams are going to bring it.
Lean: Push
Umpire
We have the same home plate umpire as well. His name is Dan Iassogna, and he has one of the most inconsistent strike zones in baseball. According to Umpscorecards.com, he ranks below average in accuracy metrics.
A very cool stat that I found from Action Network, "From 2010-2015, Iassogna's games went under at a 61.1% clip (116-74), suitable for a $3,520 profit for a consistent $100 bettor (17.8% ROI) while covered by about a quarter of a run per game, on average.
In 2016, the trend flipped; Iassogna's games have gone over the total at a 55.5% rate (96-77) since, by a significant margin of 0.92 runs per game. Most of that damage has come in the past two seasons (40-25, 1.27 margin)."
If you're telling me Dan Iassogna won't help the pitchers, I'm entirely in on the over.
Ballpark
Citizens Bank Park ranks as the fourth-best ballpark for hitters by Baseball Savant Park Factor. According to Ballparkpal, the environment calls for a 4% increase in runs. The ballpark factor is not as high as projected yesterday, which doesn't help our case much. Regardless, this park still plays in favor of the hitter.
My Picks
Why change anything? Suarez is a better pitcher than Noah Syndergaard, but the Astros match up better against him. The Astros have beaten up on him before, and they haven't on Syndergaard.
I'm not saying I like this more, but I'm not saying I like it any less. We are now getting plus money on the whole game over, but the first five lines has more juice on it? Are you telling me it's more expensive to go with the over now? I'm in love.
The whole game over has better value because of the extra rest day for the bullpen. It doesn't change how I feel about the first five at all. We will stick with the same picks as yesterday, losing a bit of value on one side, but gaining it through the entire game.
The Picks:
Astros vs. Phillies First 5 Over 4 (-120) (1.2 U to Win 1 U)
Astros vs. Phillies Full Game Over 8 (+100) (0.5 U to win 0.5 U)