Analysis
Predicting the Top Starting Pitchers Who Could Be Traded in 2024
Breaking down the top starting pitchers who could be on the trade market this offseason, with predictions on where they will end up.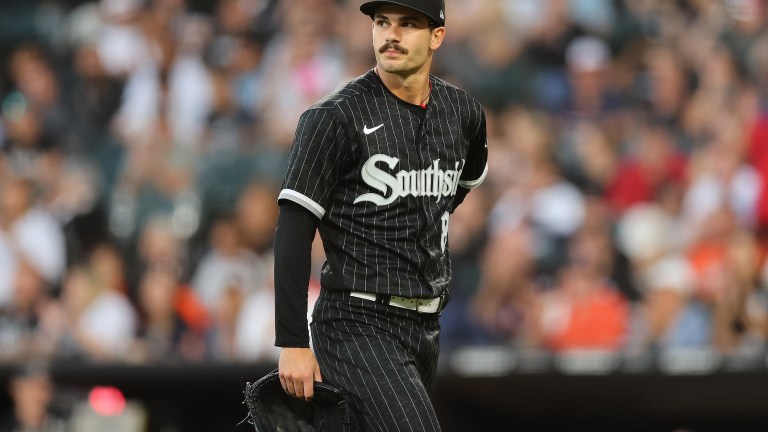 When MLB free agency officially opens after the World Series, every team in baseball will be in the market to find starting pitchers. While there are certainly plenty of options on the market, this is a rather thin free agent class when it comes to the top tier talent.
Headlined by Blake Snell, Aaron Nola and Jordan Montgomery, with Yoshinobu Yamamoto and Shota Imanga coming from the international market, the few top starting pitchers who are available should fly off the board rather quickly. This might leave some contenders needing to shore up their rotation via the trade market, especially if they are looking for a frontline arm.
Here are some of the top pitchers who could be available on the trade block this offseason, with predictions on whether or not they will get traded and to what teams.
Arms With One Year of Control
The following three starters have been ace-level pitchers in the past, all of which are only a year away from free agency and on relatively big contracts for the small market teams they pitch for.
This could be the time for these teams to flip them before it is too late, moving on to some of their younger and more affordable pitchers to shoulder the load in the starting rotation.
RHP Tyler Glasnow, Tampa Bay Rays
Back in August of 2022, Tyler Glasnow signed a very interesting contract with the Rays.
Set to hit his final year of arbitration following the season, Glasnow signed a two-year, $30.35 million extension. He was making a little over $5 million in 2022, and was due for a boost in his final year of arbitration. They essentially kept his salary where it was, improving it to just $5.35 million in 2023, then gave him $25 million for what would have been his first year of free agency in 2024.
Now set to see a massive spike in salary, Glasnow stands to be the highest paid Ray next year by a longshot. Zach Eflin's $11 million salary will be second on the team and with only $74 million currently on the books before the arbitration salaries kick in, Glasnow accounts for about a third of the Rays payroll.
Tampa has three options. They can let him play out the contract, look to re-work a longer term extension, or they can flip him now to get the salary off their books and turn him into pieces for the future.
Glasnow only has two years where he has eclipsed 100 innings pitched, so there is obvious injury risk for any team that would trade for him. With that said, when on the mound there are few pitchers more dominant than Glasnow.
This year, in his first full season coming off Tommy John surgery back in 2021, Glasnow set a career-high with 120 innings pitched in 21 starts. He pitched to a 3.53 ERA, while striking out 12.15 batters per nine.
Next season, Glasnow will be pitching for a multi-year contract, giving him every chance to post the best season of his career. Only question is if he will be doing that for the Rays or some other team.
Prediction: Tyler Glasnow is traded to the New York Mets
While he will certainly be worth it if he is on the mound, investing $25 million of your team's payroll to a pitcher with the injury history of Glasnow is a pretty big risk for a GM to take on. Enter Steve Cohen's New York Mets, who will be paying both Max Scherzer and Justin Verlander nearly that amount of money to not pitch for them at all next season.
The question just comes down to what the Rays are looking for on the prospect side as to whether the Mets would go all-in on a rental.
RHP Shane Bieber, Cleveland Guardians
If not for an ill-timed injury, there is every chance that Shane Bieber would have already been traded by the Cleveland Guardians at this year's deadline. Cleveland has plenty of young pitching and with no extension in place, it does not seem like they will sign Bieber long-term.
This could once again put him back on the trade market, with the Guardians looking to capitalize on the best possible window to trade him to ensure some kind of return.
Bieber made his way back on the mound after dealing with elbow inflammation midseason, so he does enter the offseason with a clean bill of health.
While he is on a relative decline compared to when he won the pitching Triple Crown in 2020, Bieber has still been a very effective starting pitcher. Across 21 starts and 128 innings this past season, the right-hander pitched to a 3.80 ERA.
Since making his debut back in 2018, Bieber has eclipsed 100 innings in all but one of his full seasons pitched and led the AL in innings during the shortened 2020 campaign.
MLB Trade Rumors projected that the 28-year-old would make $12.2 million in his final year of arbitration, making his salary less than half that of Glasnow, which could make him even more attractive this winter.
The Guardians could hold on Bieber, to see how they are faring in a historically weak AL Central division before deciding to keep him or move him at the deadline. The problem with that, is if Bieber gets hurt again, the Guardians could be left holding the bag in a down year just like they were this season.
Prediction: Bieber gets traded to the Baltimore Orioles
Baltimore probably won't sign Bieber to an extension either, but they have a loaded farm system and are absolutely in win-now mode coming off a 101-win season.
One year of control isn't typically what the Orioles would be looking for, but the way their season ended should have them motivated to turn some of their prospect capital into improvements to the MLB roster. A projected $12.2 million salary for an ace would also be very attractive to the Orioles.
RHP Corbin Burnes, Milwaukee Brewers
If there is one pitcher who all eyes will be on the trade market this winter, it is Corbin Burnes of the Milwaukee Brewers. Just a year ago, Burnes spoke openly of his discontent with the Brewers franchise after going through a bitter arbitration hearing to decide his 2023 salary.
Now he will once again endure the arbitration process, but for the last time, as Burnes is set to become a free agent after the 2024 season. Milwaukee was set to have a real decision on their hands with both Burnes and co-ace Brandon Woodruff, as he too is set to become a free agent.
Unfortunately for the Brewers, Woodruff is now expected to miss most, if not all of next season with a shoulder injury. This will make it tougher to defend their NL Central title without him, which could either lead them to keep Burnes to go for it, or take a step back and trade him.
If dangled on the market, there is no pitcher better. An argument can be made that Burnes has been the best pitcher in baseball over the past three seasons, if not one of the top three.
The 28-year-old won a Cy Young back in 2021, and has pitched to a 2.93 ERA over 93 starts and 562 2/3 innings pitched over the last three seasons.
Prediction: Burnes stays put for now
While the Milwaukee Brewers would be running the risk of Burnes getting hurt and losing him for nothing, trading him now after the Woodruff news would essentially be kissing their season good-bye. Instead, the Brewers can kick the can down the road on this decision until the trade deadline.
If the Brewers have a great first half of the season, maybe they decide to make one last run with Burnes, knowing they could still extend him the qualifying offer in free agency to ensure some draft pick compensation if he signs elsewhere.
Now on the other hand, if one of the other NL Central teams asserts themselves as the clear favorites prior to the deadline, the Brewers can always maximize Burnes' value and trade him then.
Arms with Two Years of Control
Next up on our list are three pitchers who are two years away from free agency, who are currently playing for teams that are in the midst of a rebuild.
With two years of control, this would be an ideal time to maximize the trade value of these pitchers, similar to how the Miami Marlins flipped Pablo Lopez under those same circumstances last offseason.
RHP Dylan Cease, Chicago White Sox
At this year's trade deadline, the Chicago White Sox certainly dangled their ace Dylan Cease on the market to get a sense of what his trade value was. They set a remarkably high price tag and it was never met, but this does still leave the door open for a trade to take place either this winter or at next year's trade deadline.
It appears like the White Sox are heading towards a rebuild, and Cease is their most attractive trade piece to further those efforts, outside of Luis Robert. With two years left of control, if the White Sox aren't going to extend him, this would be the time to maximize on Cease's value.
While he is coming off a down-year that saw him pitch to a 4.58 ERA across 177 innings pitched, Cease is not far removed from being the AL Cy Young runner-up back in 2022, when he pitched to a 2.20 ERA with 227 strikeouts in 184 innings pitched.
Although the results weren't the same, Cease's stuff is still excellent and will leave many teams tantalized about the thought of adding him to the front of their rotation. Outside of Burnes, there might not be a better pitcher who can be added via trade and the extra year control gives him the most trade value of anyone we will discuss in this piece.
After longtime GM Rick Hahn orchestrated the deadline sell-off, the White Sox let him go to turn the page to a new era of baseball on the north side of Chicago. New GM Chris Getz has a lot of decisions to make this offseason, and what to do with Cease is probably the biggest one.
Prediction: Cease is traded to the Los Angeles Dodgers
When Lance Lynn was serving up home run after home run in a must-win game in the NLDS, do you think there were a member or two of the Dodgers front office that were kicking themselves for trading for him instead of Dylan Cease?
Cease would have been the perfect fit for the Dodgers at the deadline, but they refused to part with the type of package it would take to get him. Now after another embarrassing finish to their season, it is time for the Dodgers to turn their prospects into a new ace they can count on in 2024.
RHP Michael Kopech, Chicago White Sox
If teams are already on the phone with the White Sox for Cease, they could find another starting pitcher at a much lower price point with Michael Kopech.
To be clear, Kopech would be a buy-low project, and one the White Sox might not be interested in selling at this time. The former top prospect was always regarded for his high-octane stuff, but has yet to really put it altogether in the big leagues.
He is coming off his healthiest season, where the right-hander was able to set a career-high with 129 1/3 innings pitched, but he also set a career-worst walk rate of 15.4%. Dealing with way too much traffic on the bases, Kopech posted a 5.43 ERA, which was among the worst in baseball among pitchers with at least 120 innings pitched.
Still only 27 years old, Kopech might be best served with a change of scenery, but Chicago has to be incentivized to give him one. Ultimately there is a better chance they just stick him in their rotation and hope Kopech has a good enough first half to bring some value at the deadline.
But if there is a team out there that believes in the project enough to part with something of interest, the White Sox could just cut their losses and move on.
Prediction: Not enough of a market materializes and we revisit this at the trade deadline
RHP Mitch Keller, Pittsburgh Pirates
For the first time in his career, Mitch Keller was an All-Star in 2023, thanks to a breakout first half that saw him pitch to a 3.31 ERA in 19 starts. Unfortunately for Keller and the Pirates, he was unable to keep that up in the second half, fading to pitch to a 5.59 ERA in his final 13 starts.
All told, Keller pitched to a 4.21 ERA, while setting a career-high with 194 1/3 innings pitched. He also set a career-best marks with a strikeout rate of 25.5% and a walk rate of 6.7%.
The 27-year-old flashed frontline potential but has still not put it together for a full season. This makes his contract situation an interesting one to monitor as he is now just two years away from free agency, putting the Pirates on the clock to make a decision on him.
If they decide he is not going to be part of their future long-term, this might be the opportune time to deal him, using his two years of control to get a nice package of prospects in return.
While he won't be considered an ace by other teams just yet, Keller has thrown over 350 innings over the last two seasons, which is incredibly valuable in today's game.
Prediction: Mitch Keller signs a team-friendly long-term extension
The Pirates are in the midst of a rebuild, but there is finally light at the end of the tunnel. At this point in time, they should be looking to build their rotation around a guy like Keller, not move him.
Similar to when they got Bryan Reynolds to sign a relatively team-friendly extension last April, this would be the perfect time to approach an extension with Keller. Projected by MLB Trade Rumors to make $6 million in his second year of arbitration, Keller is due for a bump but not one that the small market Pirates can't afford.
Reynolds signed an eight-year, $106.75 million deal that carries an average annual value a little over $13 million per season. For a similar annual price tag, the Pirates could probably get Keller to sign a five-or-six year extension to be one of the anchors to their rotation long-term.