Analysis
German Marquez Has Become One of the Most Valuable Pitchers in MLB
Despite pitching in one of the most difficult ballparks in MLB, German Marquez has been one of the league's best starting pitchers over the past five years.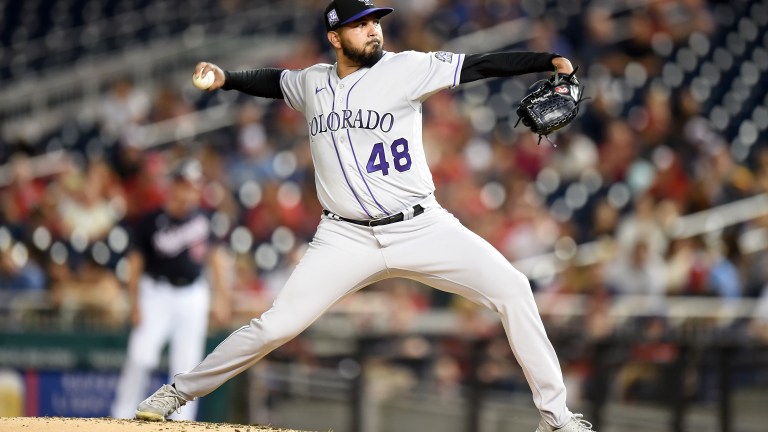 In the past year, the Colorado Rockies have traded Nolan Arenado, lost Jon Gray for nothing and are soon to lose Trevor Story for nothing more than a comp pick. In a word, the Rockies are directionless.
While the team has serious questions on their roster and a front office that seems to be perpetually in flux, there is one player that stands out as a real building block of the future for the Rockies, starting pitcher German Marquez.
Coming off his first All-Star campaign, Marquez is entering his prime as he turns 27 years old in February. He has quietly been one of the best starting pitchers in MLB since 2017. When you factor in his ridiculously team-friendly contract, Marquez is one of the most valuable pitchers in the game today.
What Makes German Marquez Stand Out?
On the surface, some may wonder what the hype is really all about for Marquez. His career 4.28 ERA does not necessarily jump off the page and while he was an All-Star in 2021, one could argue that he was the de facto selection for a Rockies team that was devoid of top-tier talent.
Still, Marquez has posted a 15.6 fWAR since becoming a fixture in the Rockies rotation back in 2017. That is the 13th-best mark in baseball, putting the right-hander ahead of more widely acclaimed starting pitchers such as Jose Berrios, Marcus Stroman, Yu Darvish, Blake Snell, Kevin Gausman and Luis Castillo, just to name a few.
What you have to remember when it comes to Marquez is that half of his starts come at Coors Field, which is notoriously difficult to pitch in. According to Statcast's Park Factors, Coors has been the most difficult park to pitch in over the last three seasons.
Just looking at the home/road splits, it becomes clear that Marquez's ERA has been inflated by having to pitch in Denver, as he has a career 4.73 ERA at home, compared to a 3.85 ERA on the road. To better assess Marquez's true value, one should look at his career 3.85 FIP or 3.62 xFIP.
When it comes to being an above-average starting pitcher, one of the traits we often neglect to put proper value on is availability. Since 2017, Marquez has made at least 28 starts in every full season, while he also led all pitchers in innings pitched during the COVID-shortened 2020 campaign.
At 793 1/3 innings pitched, Marquez has thrown the sixth-most innings in MLB over the last five seasons, trailing only Gerrit Cole, Zack Greinke, Max Scherzer, Aaron Nola and Patrick Corbin.
Along with his durability, Marquez separates himself from other starting pitchers due to having two of the better breaking balls in the game. When looking over the whiff% against his curveball and slider over the years, it is evident how difficult those pitches are for opposing hitters to square up.
| | | |
| --- | --- | --- |
| Year | Curveball | Slider |
| 2017 | 37.9% | 20% |
| 2018 | 46.8% | 42% |
| 2019 | 44% | 38.1% |
| 2020 | 43.3% | 46% |
| 2021 | 42.7% | 40.1% |
Whiff% Against Marquez's Breaking Pitches
Marquez's curveball has been his bread and butter since he entered the Rockies rotation, but his slider is a weapon he has developed across his MLB career. He first started throwing the pitch in 2017, only throwing it 3.8% of the time. The slider then became one of the key weapons in his arsenal in 2018 and he has been falling in love with the pitch ever since.
In 2021, Marquez threw the slider 26.9% of the time, using the pitch more than his curveball for the first time in his career. Overall, Marquez throws breaking pitches roughly 45% of the time, utilizing them as his primary weapons to pair with his fastball, which he also throws 45% of the time.
Marquez's velocity took a slight dip in 2021, dropping from an average of 95.9 MPH in 2020 and 95.7 in 2019, down to 94.8 in 2021. Still, fastball velocity ranked in the 73rd percentile in MLB. With three plus pitches, Marquez is adept at missing barrels, ranking in 86th percentile in Barrel% against.
One of the Best Bargain Starting Pitchers in MLB
While the Colorado Rockies front office deserves all the criticism they receive, one thing you have to give them credit for is locking up their young starting pitching. While they did miss the boat with Jon Gray, the Rockies signed German Marquez and Antonio Senzatela to two of the better contracts you will find in the game today.
In 2019, Marquez pitched to a 4.76 ERA and was then rewarded with a five-year, $43 million contract extension. At the time, some may have questioned the contract due to the inflated ERA, but one look at his home/road splits and you could see the hidden value the Rockies identified.
Marquez pitched to a 6.26 ERA in 13 starts at Coors Field in 2019, but paired that with a 3.67 ERA in 15 starts on the road. His 3.54 xFIP was far more indicative of the pitcher he had become and the Rockies were able to lock him into a contract that would keep him atop their rotation through 2024.
Colorado just did the exact same thing with Senzatela, inking him to a five-year, $50.5 million contract in October.
Now the Rockies have two starters they can build around moving forward. They also have two of the more valuable trade chips in the game, as any contending team would love to acquire a cost-controlled starting pitching during their window to contend.
Marquez will make $11 million in 2022, $15 million in 2023 and then he has a $16 million club option for 2024 with a $2.5 million buyout. Making him even more valuable in trades, Marquez's luxury tax salary comes in at just $8.6 million.
If the Rockies decide to tear it all down and star over (something they probably should've done after making the Arenado trade) Marquez could net them multiple top prospects to re-invigorate their farm system. They can also attempt to win now and build around the bargain contracts they have signed their young starters too.
Regardless of where he spends the next three seasons, Marquez is going to be one of the more valuable starting pitchers in baseball. It is time more people begin to recognize that.