Analysis
The Trade Deadline Could Run Through St. Louis
With such few clear-cut sellers at this year's deadline, the Cardinals can take advantage of being the only true seller with a ton to move.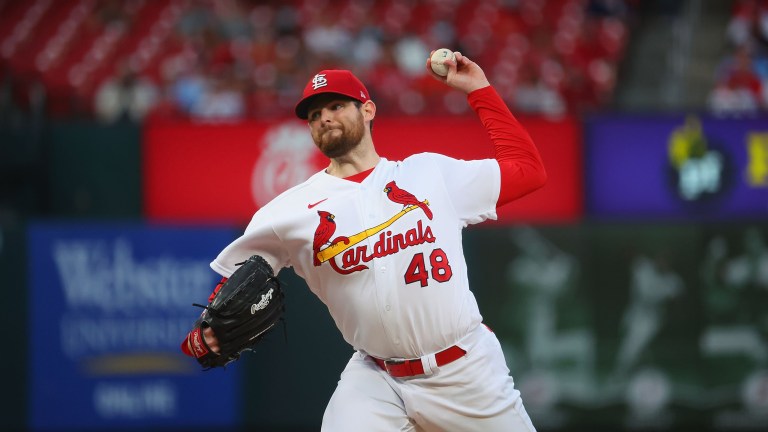 There has been a flurry of news and rumors spreading across Major League Baseball over the past few days. We've seen some ball clubs pull star players off of the trade market, and some organizations are caught in the middle between buying and selling, wavering on which direction they want to go at the trade deadline.
But one thing is becoming increasingly more clear: The St. Louis Cardinals have an opportunity to take advantage of being the only true sellers at the deadline with several valuable pieces to trade.
On Wednesday afternoon, the Los Angeles Angels declared they will not be trading Shohei Ohtani at this year's deadline. A storyline that has been dominating the MLB trade rumor mill, and rightfully so, finally comes to an end.
Although, it didn't end there for the Angels. Not too long after the Ohtani news broke, the Los Angeles Angels made it even more clear that they will be making a playoff push in 2023. The ball club made the first significant move of the 2023 deadline, as they traded two of their top prospects for starting pitcher Lucas Giolito and relief pitcher Reynaldo López from the Chicago White Sox.
Giolito was one of the more talked about rentals on the trade market, and his moving could be the first domino to fall at this year's trade deadline.
Who could be next?
The White Sox are likely to move starter Lance Lynn next, following Giolito's departure. However, the ball club has firmly taken ace Dylan Cease off of the trade market. Cease was one of the most coveted arms at this year's deadline, so he is a significant talent who is no longer available.
This begs the question, what other impactful stars are set to be traded by August 1st? Well, there aren't many of them.
With the Padres sitting five games below .500 and 10 games back from first place in the NL West, there have been rumors of San Diego shopping some expiring stars at the deadline. Players such as Blake Snell, who is putting up an incredible 2023 season and leads MLB in ERA, and reliever Josh Hader have been floated in trade talks.
However, Jeff Passan reports that the Padres have continued to reject incoming offers for their stars. If both of these names are off the table, this causes a significant ripple affect for the buyers and sellers at the trade deadline.
The Chicago Cubs possess arguably the two best rentals on the trade market. Starter Marcus Stroman has been fantastic for the Cubs this season, and he has a player option for $21 million for next season that he will most certainly be declining, making him a free agent at the end of 2023.
Cody Bellinger has been one of the best center fielders in baseball this season, and he would likely be the most desirable bat at the trade deadline. However, the Cubs have now won six games in a row and are winners in eight of their last nine games.
They sit only 5.5 games back of first place in the NL Central, and it's entirely possible that they hold onto their assets at this year's deadline and make a push for the playoffs. Doing so would take two of the most desirable pitchers and positional players off of the market come August 1st.
All that considered, there aren't many clear-cut sellers left who have impactful talent that contending ball clubs will be clamoring for.
It does, however, present a golden opportunity for the St. Louis Cardinals to move on from a nightmare of a 2023 season and capitalize on being one of the only true sellers with an abundance of valuable talent to move.
Pitchers
Jon Mozeliak has openly stated that they will be selling at this year's deadline. Now with so many names being pulled off the table league-wide, this year's MLB trade deadline could run through the St. Louis Cardinals, and they could be in a position to get an even greater return for some of their assets.
Starting Pitcher: Jordan Montgomery
Here is where the lack of availability of Ohtani, Cease, Stroman, and Snell comes into play. With Ohtani staying put in Los Angeles, and the other three pitchers likely to remain with their current ball club, it greatly heightens the value of Jordan Montgomery at this year's trade deadline.
The 30-year-old is on an expiring contract and doesn't look to have a future in the Cardinals rotation. However, Montgomery has been rock-solid not only in 2023, but through his last three MLB seasons.
Through his 450 innings pitched since the beginning of 2021, he is pitching to a 3.57 ERA and a 3.63 FIP, accumulating an 8.5 fWAR over that time.
While the southpaw isn't quite in the same tier of the four names mentioned above, he would slot in nicely in the middle of a contending ball club's starting rotation. With Giolito already being moved, Montgomery is looking to be one of the most reliable and desirable rental arms available at the deadline.
Starting Pitcher: Jack Flaherty
It's been an up and down season for Jack Flaherty. He has struggled with pitch control for a majority of the season, but has shown flashes of the form of himself that finished fourth in NL Cy Young voting back in 2019.
It's noteworthy that Flaherty has been fully healthy this season, which is something that couldn't be said over the past few years. He has allowed more baserunners than you'd like to see, illustrated by his WHIP of 1.55. However, he is pitching to a 4.43 ERA and might have some appeal at the deadline, especially considering the lack of available starting pitchers.
Flaherty too is set to hit free agency at the end of the season, and he would require a much less expensive package than Jordan Montgomery. He wouldn't bring in a top prospect, but if the Cardinals do end up selling, it makes sense to take whatever you can get for a guy who isn't a part of the future.
Flaherty has the talent, and it's likely there is a contending club out there who is willing to take a shot on him at the deadline in an attempt to iron out his command issues.
Relief Pitcher: Jordan Hicks
Jordan Hicks is a flamethrower out of the Cardinal's bullpen who sits triple digits with his fastball and has flashed velocity much higher than that. If the Cardinals wish to sell, then Hicks is likely gone.
In general, selling high on expiring bullpen arms is the way to go for selling ball clubs. Hicks' elite strikeout potential will be extremely intriguing for contending ball clubs, and the Cardinals would be wise to capitalize on his value.
If the Padres hold onto Josh Hader, Jordan Hicks might be the most appealing reliever at the deadline. Hicks doesn't have the closer pedigree that Josh Hader possesses, but he does have a talented arm and one of the most electric sinkers in the sport.
Positional Players
It goes without saying that the Cardinal's two biggest assets sit at their corner infield positions. The St. Louis Cardinals Trade Deadline Guide looks at just how likely it is that the Cardinals move on from their two superstars, and which teams would be best suited as landing spots.
However, there are more players on this roster who could bring in noteworthy hauls at the trade deadline.
Dylan Carlson has proven that he can be an everyday outfielder for a contending team. His team control should boost the value of his return as well, should the Cardinals look to move him. The 24-year-old won't hit free agency until 2027.
He hasn't put up great numbers this season, slashing just .234/.335/.354 on the year for a 97 wRC+. However, Carlson brings a disciplined approach with above average defense to the lineup, and he can serve as a valuable asset versus left-handed pitching as well.
While he does hit from both sides of the plate, Carlson has a career .855 OPS and 139 wRC+ versus lefties. Considering the lack of available bats at this year's deadline, Carlson is probably the Cardinal's most valuable position player who could be traded, not named Goldschmidt or Arenado.
Despite taking a slight step-back offensively this season, Tommy Edman will be an appealing name for any ball club who is looking for middle infield help. Edman is a fantastic defender who has the ability to play all over the outfield as well.
He is a switch hitter who brings good bat-to-ball skills to the lineup. Edman still has two full years of team control left, so he won't hit free agency until 2026. Coming off of a career year in 2022, I wouldn't be surprised if Edman yielded a good haul at the trade deadline considering the bleak market for infielders.
Paul DeJong has put together a productive year at the plate this season. In his 296 plate appearances, DeJong is slashing .238/.304/.424 for an OPS+ of 97 and a wRC+ of 101, posting some of his best numbers since his 2019 All-Star season in which he hit 30 home runs.
While his quality of contact hasn't been ideal, he has still managed to put up 11 doubles and 13 homers while driving in 32 runs for the Cardinals.
DeJong has two club options remaining on his contract after this season for $12.5 million and $15 million, respectively. The shortstop market at this year's deadline is extremely bare, so DeJong's offensive pop and team control could make him a desirable addition for a contending team.
It hasn't been a good season for Tyler O'Neil, both in terms of his on-field production and his increasingly clouded relationship with skipper Oli Marmol. O'Neil has missed a good chunk of the season with a lower back strain, and he hasn't been efficient when he has been in the lineup.
O'Neil is posting an OPS of just .650 while hitting only two bombs on the year. There's no denying the potential talent that O'Neil possesses, but we are now nearly two years removed from his spectacular 2021 season in which he finished the year with an OPS over .900 and a wRC+ of 144.
Still, it feels as if his flash of talent that season could be enough for a ball club to take a flier on him. O'Neil is entering his last year of arbitration, and he becomes a free agent following next season. It has become evident that O'Neil is not in the Cardinal's long term plans, so it might be time for St. Louis to move on and get whatever they can for him.
We are creeping close to next Tuesday's MLB trade deadline, and there are many teams who will be closely monitored. With so many teams caught in the middle between buying and selling, the Cardinals have a chance to set their sights on the future and come away as big winners at this year's trade deadline.