Analysis
Ranking All Five Current Phillies Uniforms From Worst to Best
Of the five different jerseys the Philadelphia Phillies wear, which one is the best? We discuss our top Phillies uniform rankings.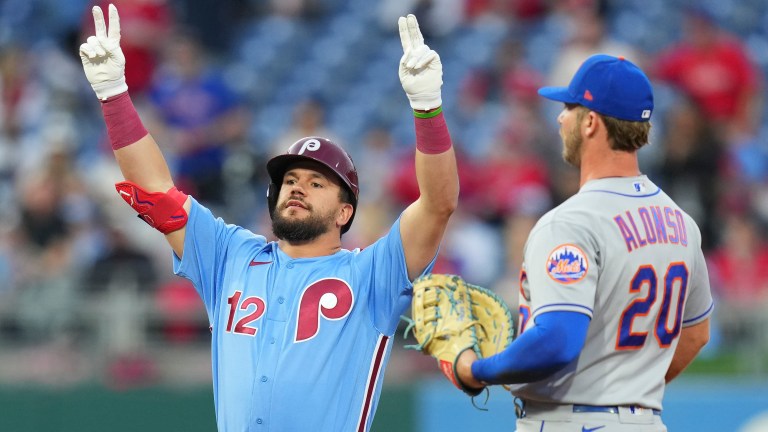 No. 4: Road Grays
It's trendy not to like gray uniforms, but the red Phillies font pops on their primary road uniforms, specifically when long sleeves are worn underneath the jerseys. These were introduced as the primary road uniforms for the Phillies in 1992, and from here, they are a pretty clean look.
No. 3: Powder Blue Throwbacks
These are the most popular uniforms in Phillies history, and they were originally worn as the primary road uniforms from 1972-1988. In 2018, they were brought back as home alternate uniforms, with the Phillies wearing them for every Thursday game played at Citizens Bank Park.
Three-time All-Star catcher J.T. Realmuto is particularly fond of the powder blue throwbacks.
"I just like the way they look, the old-school [color]way. I just like that colorway a lot, you don't see it really anywhere else," Realmuto said. "I like the catcher's gear. I love the maroon, I like the accessories that go with it. I just think it's such a unique colorway and a unique uniform. And it's just, you know, the old Phillies."
No. 2: Home Pinstripes
In 1992, the Phillies introduced red pinstripes as their primary home uniforms. As we said with the grays above, the red pinstripes look even better with long red sleeves underneath. But in general, they are a very clean uniform that are pretty universally liked.
"I like the pinstripes. I mean, I like them all, but I think the pinstripes are really the most traditional," manager Rob Thomson said.
No. 1: Cream Alternates
Based on the home uniforms that the Phillies wore from 1946-1949, these home alternate uniforms were introduced in 2008, and got a matching batting helmet in 2009. They are worn for all home day games at Citizens Bank Park, except on Thursdays when the powder blues take precedent.
Two-time NL MVP Bryce Harper says they are his favorite of the bunch.
"I think it's just the cleanest one we've got," Harper said. "I know the younger crowd kind of likes the blue a little bit. But yeah, I think a lot of us in here really like the cream uniforms."