Analysis
New York Yankees Trade Deadline Guide
Buy? Sell? A combination of the two? The Yankees' front office has some big decisions to make as we approach the 2023 MLB trade deadline.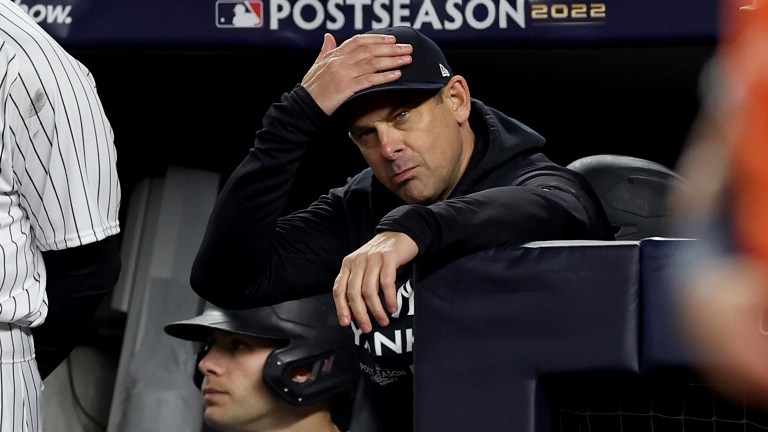 If you're a New York Yankees fan, you've probably been looking forward to this since Opening Day.
Partially, it's because the team went into the season without a true, proven left fielder, and has been playing non-outfielders in the outfield for three-and-a-half months. What a wild ride that's been to witness. It's also partially because two-fifths of "the best rotation in baseball" went down before a single, meaningful pitch was thrown.
It was always going to be about staying close enough to the pack until the deadline, and hoping general manager Brian Cashman and the front office made enough moves to push the team over the hump when the time came.
But then Aaron Judge got hurt and every flaw the Yankees have got more swollen than a big toe slammed into a cement gate. Staying close enough to the pack has become a two-month brush with death, as the organization decides whether to buy, sell, or some combination of both. I say that last part, because Ken Rosenthal reported the Yankees, in addition to getting better at the deadline, were also trying to get under the luxury tax threshold. They're roughly $1.5 million away.
The Yankees have two glaring needs. But if they really want to shed some cash in the process, there's an avenue for that too. Let's examine.
The Yankees NEED an Outfielder
This is, without a doubt, priority number one. This team so desperately needs an outfielder. Without Judge, and even at times Harrison Bader, the Yankees have relied on Jake Bauers, Isiah Kiner-Falefa, Willie Calhoun, Franchy Cordero, Billy McKinney, Oswaldo Cabrera and Greg Allen (who also got hurt) to log innings in the field. Defensively, it's not been pretty.
Offensively, well … same. Not just the fill in, Quadruple-A outfielders, but as a whole, the Yankees are slashing .230 (29th) / .300 (27th) / .406 (16th). For a team predicated on getting on base and hitting home runs, that is simply not going to cut it.
Ideally, the replacement outfielder should be a left-handed bat, someone who can slide into the middle of the lineup. But as we all know, you don't always get what you want.
So who's out there?
The most-obvious fit is Cody Bellinger.
He checks almost every box for this team. He is:
⁃ a left handed hitter
⁃ a good defender who can play left and center fields
⁃ a power bat who can take advantage of the short porch
⁃ someone with playoff experience
⁃ an expiring contract who probably would not take the sun and moon to acquire.
⁃ a possible option to replace Harrison Bader, in a world where Bader doesn't re-sign this winter.
And — take it from someone who was at Wrigley Field last weekend to see it in person — Bellinger is on a heater. Talk about picking the right time to play your best ball.
There is one caveat to this master plan the fan base has already concocted. Does another team come in to drive the offer up, and will Cashman want to pay that steepened price if it does rise? He didn't want to pay it last year with Luis Castillo. Different story, I know. But that point is worth throwing out there. Plus he, meaning Bellinger, doesn't necessarily fit the aforementioned desire to slide under the luxury tax.
If not the Cubs, what about their rivals?
After St. Louis Cardinals' President of Baseball Operations John Mozeliak said "we're going to trade people," the rumors have flown off the handle.
There are four legitimate options on the Cardinals – Tommy Edman, Brendan Donovan, Tyler O'Neill and Dylan Carlson. All of them make a bit of differing sense.
Carlson is probably the best fit for left field in Yankee Stadium – an above average lefty glove with a switch bat. He's currently slashing .232/.340/.359, but – at age 24 – you've got to feel like his best baseball is still ahead of him.
O'Neill feels like a Yankee – an oft-injured, right-handed slugger and a 'better-than-you-might-think' glove. It feels like a mistake they've made plenty of times before and could make again.
Edman and Donovan are fun ideas. They both carry the ability to play multiple positions, which is crucial for a team that somehow manages to have key players injured every day. But the catch here is that both Edman and Donovan are currently – you guessed it – injured.
Donovan hasn't been playing the field because of an arm injury, and Edman is nursing wrist inflammation. Between the two, Donovan feels like the better fit. The Yankees lineup craves his bat-to-ball skills. But actively trading for an injured player is giving big time Frankie Montas vibes.
A trade with St. Louis almost certainly costs the Yankees an arm. It's a grab bag full of them at this point. Clarke Schmidt, Domingo Germán, Jhonny Brito, Randy Vásquez, Luis Gil, Deivi Garcia, Drew Thorpe and Clayton Beeter are all probably on the table, depending on the return.
A trade with St. Louis could also satisfy the second part of the Yankees' trade deadline hopes. Would the Cardinals be willing to take on Luis Severino's expiring contract, thus shedding the Yankees of enough money to get under the luxury tax? If they do, does the return go from Carlson to O'Neill, or Donovan to Carlson? Something to chew on…
Staying in the NL Central, would the Cincinnati Reds make TJ Friedl or Jake Fraley available?
For what it's also worth, not EVERY outfield option plays in the Central. Other options include Lane Thomas of the Nationals, Ramón Laureano of the A's, Jesse Winker of the Mariners (plz, no) and noted Yankee killer Randal Grichuk from the Rockies. You've got to imagine Juan Soto and Shohei Ohtani are pipe dream options, so let's not even venture down that path.
What about a bullpen arm?
I mentioned earlier that both Montas and Carlos Rodón were injured before the year started. In their places, most of the grab bag options from two paragraphs ago have really been quite good. Schmidt has turned his season around dramatically after a bad April.
Germán, aside from a few starts here and there, has also been rock solid for the most part and perfect once.
But really, the whole season has been saved by the bullpen, which still leads Major League Baseball in ERA (3.22). But here's where the upgrade can probably come. Ron Marinaccio has really struggled in July.
So too has Michael King, who most notably, gave up the tying two-run homer to Ohtani a few days ago in Anaheim. Here are King's recent numbers, courtesy of YES Network.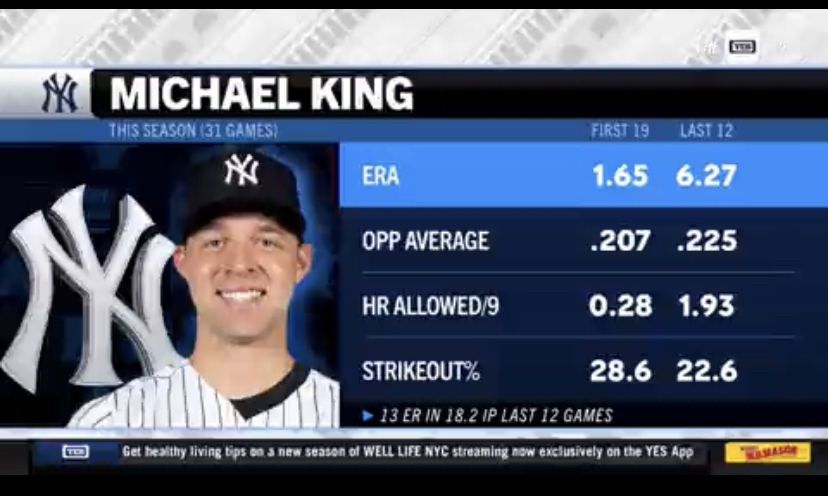 And after Tommy Kahnle started his season not allowing a run in his first 16 innings, he's gone on to allow five runs in his last 3 2/3 innings.
With Kahnle and Marinaccio struggling, the Yankees don't really have an option to get left-handed hitters out. As great as Clay Holmes has been, lefties give him a bit more trouble. They slash .224/.313/.241 against him, compared to .198/.278/.291 from righties.
So who can help them in this department?
Let's first turn to the same Padres who likely won't deal Soto, but should be open for business otherwise. After he pulled a 180 to end last season, Josh Hader has done the full 360. He's allowed just FOUR earned runs all year through 37 innings pitched, for a 0.97 ERA. He's also back to his ridiculous K rate, striking out 55 batters in that same 37-inning span.
Better yet, he's an expiring contract on a team that is financially strapped and should probably look to recoup some value on what's likely an otherwise lost asset.
Would the Cubs include Michael Fulmer in a package with Bellinger? Fulmer's been an apple of Cashman's eye since he was a starting pitcher in Detroit, long before the arm injury and subsequent move to the 'pen. The 4.43 ERA jumps out pretty hard, but the man Cashman once called a "bulldog" has only allowed four earned runs in his last 22.2 innings pitched.
Surely, this combo deal would require a solid prospect haul. Problem here, is that lefties crush Fulmer, slashing .311/.389/.590 through 61 at-bats.
I'll throw one more option out there, because why not. What about an old friend? What about getting David Robertson from the Mets? He's great against lefties this year. In 79 at-bats, they're only hitting .190 off D-Rob. And while we're at it, ask for Mark Canha too. He's better than what the Yanks are currently trotting out there.
The Mets could use starting pitching, especially if they move one or both of Max Scherzer and Justin Verlander. The Subway Series starts Tuesday. Just have the guys swap dugouts.
Like the outfield crop, there are obviously more relievers than these three. Joe Kelly, Keynan Middleton and Kendall Graveman of the White Sox come to mind. So does David Bednar of the Pirates, Carl Edwards Jr. of the Nationals, Jordan Hicks and Chris Stratton of the Cardinals and José Cisnero from Detroit.
I'll close with this. The Yankees are — as of the writing of this article — two games out of the final Wild Card spot. There's no reason to believe, with the AL Cy Young favorite in Gerrit Cole and what they thought would be another legitimate number one starter in Rodón, the Yankees wouldn't like their chances.
The Phillies did it last year and the American League is as wide open as it's ever been. Judge is coming back, even if it means he's only 75%. That's still better than a lot of other options.
Rest assured, this team is NOT selling. But will the pieces they buy be quality enough for them to make one last push?
We'll see.