Analysis
Joe Mantiply: The All-Star You've Never Heard of
The Diamondbacks lefty reliever has gone from journeyman minor leaguer to MLB All-Star, as Joe Mantiply is making a name for himself in 2022.
When the All-Star rosters came out I'm sure you quickly scanned the list to see which of your favorite teams players would be heading to the Midsummer classic. When scanning that list, you might have done a double take when you saw the name Joe Maniply.
A relief pitcher for the Arizona Diamondbacks? Who is this guy?
The 31-year-old, 6'4″ lefty out of Danville, Virginia has a different story than his All-Star teammates. He's not a young up-and-coming player who's the face of the next generation. He's not an established major leaguer adding to his Hall of Fame career.
He's a damn good pitcher with a career path that will make you his biggest fan.
Start of Mantiply's Career
Mantiply stayed in Virginia to play college ball pitching three seasons for Virginia Tech. Originally drafted by the Mets in the 48th round in 2009, Mantiply elected to not sign hoping for a better opportunity.
He had to wait until 2012 when the Phillies selected him in the 28th round. Again, Mantiply passed on the opportunity and returned to Virginia Tech in hopes of improving his draft stock. In 2013, the Tigers took Mantiply in the 27th round. Seeing this could be his last opportunity, Mantiply signed and started his professional career.
Mantiply began working his way through the Tigers system, posting low ERA's and high strikeout numbers at each stop. In 2016, his third professional season, Mantiply made his MLB debut. September 3, 2016 against the Royals, Mantiply was called upon to get the final out of the inning.
He would finish 2016 with 2.2 innings across five games with a 16.88 ERA. In November, Detroit placed Mantiply on waivers where he was claimed by the Yankees only to be released three weeks later and signed back to the club six days after his release.
Mantiply spent 2017 with the Yankee Triple-A team posting a 2.83 ERA across 35 games. Yet, he never got to call. After not pitching in 2018, Mantiply signed with the Louisville Bats (Reds Triple-A) in 2019 before returning to the Yankees organization once again.
Three years after his debut, Mantiply was back in the show. August 12, 2019, Mantiply entered in the second inning and gave the Yankees nine outs, securing his first career win.
The lefty would not appear in another game for the Yankees and was granted free agency after the season. In 2020, the Diamondbacks came calling and signed Mantiply.
That season, Mantiply only pitched in 2.1 innings before getting his first real opportunity in 2021 appearing in 57 games. His 3.40 ERA and 2.94 FIP lead him to a larger opportunity in 2022. An opportunity he's made the most of.
2022 Success
Coming into the year no one expected Joe Mantiply to be an impact arm, yet alone an All-Star. The veteran was a modern day "LOOGY" turned shutdown back-end piece. The Diamondbacks were able to unlock his potential by more or less eliminating the most common pitch in baseball; the fastball.
Mantiply used the fastball 7.2% of the time in 2021, and is now only using it 1.4% of time. His bread and butter has been the sinker (38.3%) and Curveball (34.3) mixed in with a changeup (26%).
The reason he can get away with only breaking and off-speed pitches is due to his elite movement on his changeup and sinker.

Remember, the darker the Red the better. Mantiply's changeup averages six extra inches of vertical movement compared to the average MLB changeup. Combine that with an average of 2.3 inches more of horizontal movement and you have a very difficult pitch to hit. This pitch has mostly been used low and away to righties resulting in weak ground balls, shown in his 57.9% ground ball rate.
You will see similar numbers from his sinker. This elite movement allows Mantiply to pitch to soft contact, where batters are averaging an 84.9 MPH exit velocity.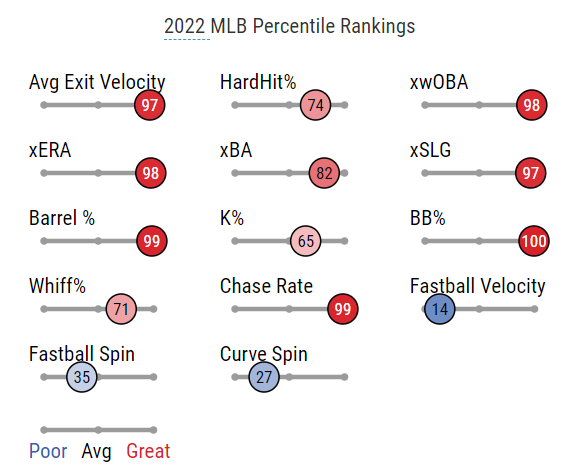 Through 36 games, he's only allowed one barrel and four extra-base hits. On top of that, Mantiply has only walked two batters in 34.2 innings. Pitch movement and location instead of velocity has been the key to Mantiply's success.
Future Outlook
While Mantiply has proven himself as a legit MLB pitcher, his future in Arizona might be short. Lefty bullpen arms are almost always a need at the deadline and the Diamondbacks have one of the best on their team.
Still in a rebuild, Arizona will likely move the 31-year-old for future assets. Although he's an older player, Mantiply is under team control through 2026. An acquiring team would be able to have the lefty for multiple years at a low average annual value. The Diamondbacks can sell high on an older bullpen piece and continue to focus on the future. The return will never be higher than it is now.
After seven minor league seasons and a few cups of coffee in the show Joe Maniply can say he's an All-Star. For a player who looked like he would become the next obscure random to reach an All-Star game is remarkable. Hopefully this is the start of many more dominate years for the Virginia kid.