Analysis
New York Mets Offseason Outlook for 2023-2024 Free Agency
David Stearns has a tall task ahead in his first offseason running the New York Mets, as they look to put 2023 behind them to contend in 2024.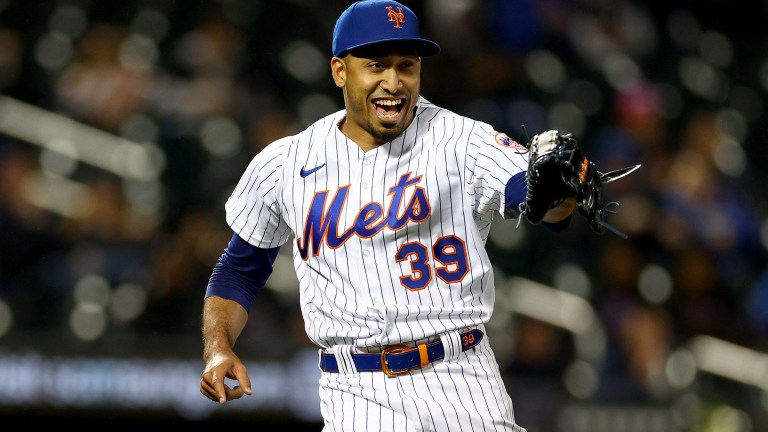 The New York Mets entered the 2023 season with sky-high expectations after being considered a clear winner from free agency last offseason.
By re-signing Brandon Nimmo and Edwin Diaz, they returned most of the roster that had won 101 games the year prior. They also added top starting pitchers Justin Verlander, Kodai Senga and Jose Quintana to offset the losses of Jacob deGrom, Chris Bassitt and Taijuan Walker in free agency.
Unfortunately for the Mets, a year made all the difference as so many of the key contributors from the previous season failed to live up to expectations and the team endured a miserable campaign.
By the trade deadline, the Mets had pivoted from aggressive buyers to aggressive sellers, flipping Verlander and Max Scherzer for top prospects, while also dealing everyone they could who was on an expiring contract. In doing so, the Mets were able to transform their farm system overnight, now featuring one of the best core of top prospects in the game.
Further looking towards the future, Mets owner Steve Cohen finally got the top-flight executive he had long desired since purchasing the team three years ago, inking David Stearns to be his new President of Baseball Operations.
Stearns brings over an impressive resume from his time running baseball ops for the Milwaukee Brewers and now gets the opportunity to prove his baseball acumen on the biggest stage, with all the resources at his disposal with the New York Mets.
While the Mets may not be quite the same buyers as they were in the past, Stearns made it clear that the intention is to win now in his introductory press conference. That means first order of business is seeing what they have in-house and what they need to address if the Mets are going to shake off this down-year and get back to their winning ways from 2022.
Starting Pitching
Impending Free Agents: Carlos Carrasco
2024 Internal Options: Kodai Senga, Jose Quintana, David Peterson, Tylor Megill, Joey Lucceshi, Jose Butto, Mike Vasil, Christian Scott
While Carlos Carrasco represents the lone departure in free agency for the Mets, they are still in the position of having to replace what they dealt at the trade deadline, moving on from both Max Scherzer and Justin Verlander.
The two aging co-aces would have been making a combined $86.6 million in 2024, but now remain on the Mets books at less than half of that amount. The Mets will still be paying Scherzer and Verlander north of $40 million combined, but they have also freed up about $45 million in salary compared to what they would have spent had they remained on the roster.
With that money, the Mets have to address their starting rotation, because otherwise they stand no chance at even making the playoffs, much less making a deep run if they were to get there.
Kodai Senga proved this year that he could be the ace of the Mets, as he likely finishes runner-up in the Cy Young race. With that said, the Mets would be best-served getting another pitcher of his caliber, if not one even better to have him sitting in the No. 2 spot.
As presently constructed, Jose Quintana would fill that second spot in the Mets rotation. The left-hander missed nearly all of the first two-thirds of the season, which was certainly part of why the team struggled so much in the first half.
When he returned, Quintana pitched to a 3.57 ERA in 13 starts, showing the ability to still be a very solid starting pitcher. It would be great if the Mets could push him down to the No. 3 or No. 4 spot in their rotation by Opening Day, but he is at least a dependable arm they can count on.
Beyond Senga and Quintana, the Mets have nothing but question marks, although they do have some depth. David Peterson, Tylor Megill, Joey Lucceshi and Jose Butto all pitched well to close the season, all but securing spots to remain on the 40-man roster for next season.
Along with those four holdovers, the Mets have some depth in the upper levels of their farm system for the first time in awhile. I noted Mike Vasil and Christian Scott as options, because there is world where either of them could win a job in Spring Training, or at least early in the next campaign.
Vasil has made it all the way up to Triple-A and had he pitched better at the level, could have graduated this past season. With a strong camp, he could turn enough heads to receive consideration.
Meanwhile Scott, who was the Mets minor league pitcher of year, has really stood out, first pitching in High-A, then in Double-A. In 12 starts in Double-A, Scott pitched to a 2.47 ERA, striking out 77 batters in 62 innings pitched. Having walked just eight batters during that span, Scott featured a strikeout-to-walk ratio better than 9-to-1.
Dominic Hamel, Blade Tidwell, Tyler Stuart and Joander Suarez are other top pitching prospects who have made their way up to Double-A for the Mets. With so much depth present in the farm, the Mets can trust on internal solutions at the back-end of their rotation.
Recommendation
Top Free Agent Targets: Yoshinobu Yamamoto, Blake Snell, Aaron Nola, Jordan Montgomery, Eduardo Rodriguez, Sonny Gray
Top Trade Targets: Tyler Glasnow, Corbin Burnes, Shane Bieber, Dylan Cease
If there is one priority for the Mets this offseason, it is adding two arms to the front of their rotation that can replace what they lost by dealing Scherzer and Verlander. These don't have to pitchers of a similar stature, but the Mets need some arms they can trust to make it through a long season.
Like many teams in need for a top starter, Yoshinobu Yamamoto is sure to be at the top of the Mets wish list. The 25-year-old Japanese sensation features ace potential.
According to Will Sammon of the Athletic, Kodai Senga has let the Mets know of his desire to pitch alongside him next year, while also making that known in Japan as well. Adding Yamamoto would be a clear indication that the Mets are still trying to win-now, as it would take a contract that is expected to end up north of $200 million.
If the Mets strikeout in their pursuit of Yamamoto, they could look towards the top of the market to find Blake Snell, Aaron Nola, Jordan Montgomery, Eduardo Rodriguez or Sonny Gray.
Due to Gray's struggles with the Yankees, he may not be an ideal fit for the Mets. Meanwhile there is real question as to if Snell wants to pitch out east and if Nola would leave the Phillies for a division rival. My sense is that Montgomery or Rodriguez seem like the more likely fits of this bunch.
Now if the Mets are only able to add one starter through free agency, don't be surprised if they venture into the trade market. Of the names listed above, the fit that makes the most sense to me is Tyler Glasnow.
In my latest article breaking down the starting pitchers available on the trade block, I predicted Glasnow to the Mets because I believe his $25 million salary will be viewed as a detriment to most teams on the market considering his injury history. Whereas the Mets could absorb such a risk with Cohen's pocketbook.
Bullpen
2024 Internal Options: Edwin Diaz, Adam Ottavino*, Brooks Raley*, Drew Smith, Trevor Gott
Moving onto the bullpen, the Mets will get a massive lift with the return of top closer Edwin Diaz next season. Outside of Diaz, the rest of the bullpen is in complete flux with no other names being written in stone. The closest would be Adam Ottavino and Brooks Raley, with the former owning a player option and the latter a team option.
There is every chance that Ottavino picks up his player option and the Mets pick up their option on Raley, giving the Mets a good start with three arms they can count on in leverage. Beyond that, the Mets have decisions to make on Drew Smith, Trevor Gott and a handful of other relievers who didn't necessarily shine out New York's bullpen in 2023.
Building a new bullpen is going to be a top priority for Stearns this offseason, but predicting how they are going to do it is nearly impossible.
Infield
2024 Internal Options: Pete Alonso, Francisco Lindor, Jeff McNeil, Brett Baty, Ronny Mauricio, Luis Guillorme, Jeremiah Jackson, Luisangel Acuna
When it comes to the Mets infield situation, they are pretty set with their internal options. Pete Alonso is still expected to be the starting first baseman, although he will become free agent after next season. Meanwhile Francisco Lindor is still locked up to be the Mets starting shortstop for the better part of a decade.
Jeff McNeil was the starting second baseman this past year, but also received plenty of playing time in the outfield. With the Mets influx of young infield talent, there is a good chance he begins to see more and more playing time on the grass than in the dirt.
Ronny Mauricio closed the season as the Mets starting second baseman, making his debut as a September call-up. Mauricio still holds his rookie status and could factor in at either second or third base next season, with the off-chance of moving out to a corner spot in the outfield.
Brett Baty was supposed to assume the position of the Mets third baseman of the future, but his great struggles in the present have casted doubt onto what he will be moving forward. Still, expect the Mets to give Baty every opportunity to earn the third base job again next season, especially knowing that they could always fall back on Mauricio at third with McNeil at second.
Beyond these options, the Mets have a decision to make on Luis Guillorme this offseason, as he may be a non-tender candidate. A great defender, Guillorme dealt with a very injury-plagued campaign this year and struggled when on the field.
With Mauricio in place to be a backup shortstop, the Mets could open up a roster spot by cutting Guillorme, but his experience and versatility should ultimately keep him on the roster for now.
A player who could soon take over as a utilityman off the bench is prospect Jeremiah Jackson. A former second round pick, Jackson posted a strong .802 OPS with seven home runs in 37 games at Double-A after being acquired by the Mets at the deadline.
The Mets will have to add Jackson to the 40-man if they want to protect him from the Rule 5 Draft. Having played every position but first and catcher last season, Jackson seems like a safe bet to be added to the roster and contribute at some point in 2024.
Lastly, top prospect Luisangel Acuna is already on the 40-man roster and is expected to make a push towards the big leagues at some point next season. With Lindor at shortstop, Acuna could be the second baseman of the future for the Mets, where his defense would play up to elite levels.
Acuna doesn't have the power potential of his brother, but did swipe 57 bases in the minors this year, giving him the ability to add real value with his speed and athleticism.
Recommendation
Top Free Agents: Matt Chapman
When it comes to the Mets infield situation, I truly believe the best course of action is stay completely internal this offseason. There is just so much talent waiting in the wings, that the Mets would be best-served to give opportunities to their youngsters to see what they have.
Not even mentioned above is Jett Williams, who skyrocketed all the way up to No. 55 on our latest top 100 update after finishing the season in Double-A at 19 years old. Between Williams and Acuna, the Mets have two uber-athletic shortstops who could soon become the starting second baseman, if not be pushed into the outfield.
The situation at third base is more in flux based on the performance of Baty this season, which is the only reason why I mention Matt Chapman as an option. Stearns has been keen on prioritizing defense in the past, which might make Chapman an attractive option, although he had a real up-and-down season in 2023.
If the Mets signed Chapman, they could move Baty in a trade for pitching help, but again I believe the best course of action is to do nothing and play the kids.
Outfield
2024 Internal Options: Brandon Nimmo, Starling Marte, Jeff McNeil, DJ Stewart, Tim Locastro
When looking at the Mets outfield situation, there is far more uncertainty and far less options available to them than what they have in the infield.
Brandon Nimmo is one of the better starting center fielders in baseball, having just posted his second healthy season in a row, where he set a career-high with 24 home runs. Beyond that, it is a real puzzle to know who will be playing on either side of him next season.
Starling Marte had a dreadful 2023 campaign, where he was one of the real reasons for the team's drop-off from 2022. Marte saw a near-200 point drop in his OPS from 2022 to 2023. Now there could be an explanation for this based on health, as he received double groin surgery prior to the 2023 campaign that he never seemed to fully recover from.
Marte was shutdown mid-season and only ended up playing in 86 games. Still owed $39 million over the next two years as part of the four-year deal he signed prior to 2022, Marte will be given every opportunity to start in right field again, but who knows how productive or available he will be.
Luckily for the Mets, Jeff McNeil provides insurance in right field, as he has played the position rather well whenever given the opportunity. The Mets could also give 29-year-old DJ Stewart another look after he impressed playing a prominent role after the deadline sell-off.
Stewart hit 11 home runs in 58 games for the Mets, hitting .238/.328/.494, with a 130 wRC+. Combine his time with the Mets along with his numbers in Triple-A and Stewart hit 27 home runs in a little over 100 games played. With that level of power potential, Stewart should be tendered a contract to remain on the roster for now.
Lastly on the 40-man roster, the Mets have Tim Locastro, who is certainly another non-tender candidate. Locastro signed with the Mets on a minor league deal, but earned a spot on the Opening Day roster due to his ability to bring speed and defense to the club as a fourth outfielder.
If the Mets non-tender one of, or both of Locastro and Stewart, it would indicate that they plan to be aggressive adding outfielders in free agency.
Recommendation
Top Free Agents: Cody Bellinger, Teoscar Hernandez, Joc Pederson, Michael Conforto*, Mark Canha*, Tommy Pham Michael Brantley, Adam Duvall, Michael Taylor, Harrison Bader, Lourdes Gurriel Jr.
Of the names listed above, I don't expect the Mets to shop at the top of market on players who could command long-term deals. The two outfielders that fit that billing are Cody Bellinger and Teoscar Hernandez.
If the Mets non-tender Stewart, expect them to be in the market for a power bat that can play in a corner spot next season. Joc Pederson, Lourdes Gurriel Jr. and Michael Conforto would be options, with Conforto potentially getting the chance to return to where he spent most of his career.
If Stewart is tendered and Locastro is not, getting someone who could play center field would prove vital, where Adam Duvall, Michael Taylor and Harrison Bader are all options.
I would also not rule out a reunion with either of the outfielders the Mets dealt at the deadline in Tommy Pham or Mark Canha. The Brewers have a club option on Canha, but if they decline, he could once again return to being the Mets starting left fielder.
Catcher and DH
2024 Internal Options at Catcher: Francisco Alvarez, Omar Narvaez*, Tomas Nido
2024 Internal Options at DH: Mark Vientos, Daniel Vogelbach
Looking first at the Mets backstop, Francisco Alvarez clearly earned the role this past season after a fantastic rookie campaign. While he was streaky with the bat, it is hard to poke too many holes in a 21-year-old hitting 25 home runs from the catcher position in his first tour of duty.
Now when you consider the fact that he graded out as one of the top defensive catchers in baseball, Alvarez has grabbed the starting catcher job with two hands. In fact, if there is anything the Mets should be considering with Alvarez right now, it is whether to give him a pre-arb contract extension.
Backing up Alvarez will likely be Omar Narvaez, who holds a $7 million player option he would be hard-pressed to top in free agency. Unless he is dead-set on finding more playing time, expect Narvaez to stay put. He also a connection to Stearns dating back to their time in Milwaukee.
Tomas Nido is still owed $2.1 million for 2024, although he was DFA'd this past season. Nido passed through waivers and was assigned to Triple-A Syracuse where he spent the remainder of the season.
Moving over to the DH position, the Mets have a lot more questions to answer. The first being whether Daniel Vogelbach is tendered a contract for next season.
Vogelbach has been non-tendered by Stearns once before after spending the 2021 season with the Milwaukee Brewers. While his overall numbers were solid this year, Vogelbach was not nearly as productive as he was after being traded to the Mets at the 2022 deadline. His on-base percentage dropped from .393 down to .339 and his average dropped over 20 points as well.
Due to his lack of speed clogging up the basepaths when he does get on, as well as his inability to hit left-handed pitching, it might be time for the Mets to move on.
Without Vogelbach, Mark Vientos is the prime internal candidate to take at-bats at DH. The rookie hit just .211/.253/.367, across 233 plate appearances, but did come alive down the stretch to homer seven times in his final 26 games, showing some promise for the future.
Recommendation
Top Free Agents: Shohei Ohtani, J.D. Martinez, Justin Turner, Jorge Soler, Brandon Belt
Could the New York Mets be a destination for Shohei Ohtani this offseason?
We can never count out Steve Cohen being in the running for a top free agent, but we are going to table that discussion for another time.
When it comes to their DH spot, the Mets will have to decide if they want to lean so much into their young players that they trust Vientos' bat in an everyday role, or if they simply want to use that spot to keep playing time open for other young players like Mauricio as well.
If the goal of this season is to be a frisky team that can hang around in the Wild Card race, but is still prioritizing the long-term development of their young talent to see what they have, they will keep this spot open. If they are trying to seriously compete with the Phillies and Braves atop the NL East, the Mets should add a real middle of the order bat at DH.
J.D. Martinez would be an ideal fit, giving the Mets a proven commodity who just drove in over 100 runs as the DH for the Dodgers. Justin Turner could take his career full circle and return to the Mets, which would also give them insurance at third base if Baty never establishes himself.
Brandon Belt could serve in a similar DH/1B split that we saw the Blue Jays employ this season with Vlad Guerrero Jr. but instead with Alonso.
Finally, Jorge Soler hit 36 home runs in 137 games for the Marlins this season. He is the youngest option of the bunch, but assuming he wants a multi-year deal, I think the Mets go in a different direction.
Conclusion
David Stearns has a lot of decisions to make this offseason, as he still has to build out his front office and hire a new manager, along with filling out the roster.
Finding two starters to pair with Kodai Senga atop the rotation is the top priority for the Mets, as is building out a bullpen. With Francisco Lindor, Pete Alonso, Brandon Nimmo, Jeff McNeil and Francisco Alvarez in place, the lineup does not need nearly as much work, but a few key additions will be necessary to put the Mets in position to really contend.
Finding another starting outfielder who can be depended on, particularly if things continue to go sideways with Starling Marte, would go a long way, as would adding a real threat at the DH spot.
If Stearns can find solutions to most of these problems, along with the continued growth of the Mets young talent, there is every chance this team can contend again in 2024.