Analysis
The New York Mets Are in Great Hands with David Stearns
Five takeaways from the New York Mets introductory press conference for their new president of baseball operations, David Stearns.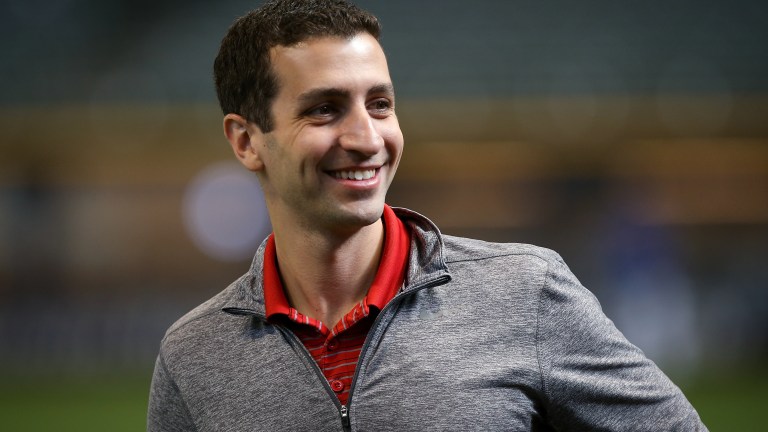 Back in 1998, David Stearns was a Mets-obsessed 13-year-old, who went as far as sneaking into Shea Stadium just to get a glimpse at Mike Piazza and the rest of the exciting Mets teams of the late 1990s.
Fast-forward 25 years later and Stearns is getting introduced as the man who will lead baseball operations for the New York Mets, where he is admitting to those adolescent crimes of breaking into the ballpark, remarking that, "he now appreciates that they are letting me here without a ticket."
Born and raised in New York City, taking the job as the Mets president of baseball operations is a homecoming for Stearns, who grew up listening to Gary Cohen, Bob Murphy and Ed Coleman every summer. Fulfilling this lifelong dream won't come without challenges for Stearns.
He is inheriting a team that massively underperformed expectations this season, in a market that is unforgiving, with a fan base that is dying to see a winner. Stearns is sympathetic to Mets fans though, making him the ideal candidate to try to build a sustainable winner in Queens.
"I know how much this team means to our fans and our community." Stearns remarked, "I've ridden the rollercoaster of disappointment and hope along with every other Mets fan."
Now it will be his job to bring hope to the next generation of Mets fans, while trying to limit that same disappointment that has plagued this franchise for the better-part of the last four decades. Here are some key takeaways from Stearns first meeting with the media.
1. This is David Stearns Dream Job
The New York Mets are now a franchise owned and operated by die-hard Mets fans.
Steve Cohen has been a Mets fan dating back to even before the franchise's last championship in 1986 and has brought a level of appreciation to this organization's history under his three years of ownership that were severely lacking in past regimes.
If there is one thing that has been absolutely evident throughout Cohen's tenure owning the team it is that he truly cares about the Mets and making them a winner for a fan base he has always belonged to. The same can now be said about the man who is running his baseball operations.
"I am here working for our fans and I do not take that responsibility lightly." Stearns said.
Stearns first job in baseball was working for the Brooklyn Cyclones for one summer in his youth, before taking a position as an intern in their front office.
Stearns worked under then-GM Omar Minaya, for which he named in his introductory press conference, along with former assistant GM John Ricco and others in the Mets organization who helped lay the groundwork for his baseball career.
When discussing the time that has passed since he was last with this organization, Stearns expressed appreciation for every stop he has had in his baseball career and how he learned things along the way that he takes with him into this experience.
He admitted that almost everything has changed since he last worked from the Mets, from ownership, down to the front office and all of the players.
But, what hasn't changed is, "this organization's quest for truly sustainable competitiveness and ultimately our first World Series championship since 1986."
Stearns has spent the past eight years working in the Milwaukee Brewers organization, first serving as the team's general manager, before adding president of baseball operations to his title in 2019. The 38-year-old stepped down from his role leading baseball ops after the 2022 season, leading to much speculation about where his not stop was going to be.
When asked about why he stepped down from his position with the Brewers, Stearns explained that he needed to spend time with his family and reflect on his tenure and what had gone well, along with what didn't. He says the only way to do that was to step away from a job, which requires so much intensity in the day-to-day aspects of running a team.
"I wasn't sure I was going to jump back into this seat. And it needed to be a pretty special opportunity. It needed to be right place not only for me, but for my family and this probably one of the few, if not the only opportunity that would have allowed me to do that."
Stearns said his friends and family were overjoyed with the news that he would be running the Mets. Not only for him getting the opportunity, but also just as Mets fans who want to see the team do well and are excited about what he will bring to the table.
Again, this is a homecoming for Stearns, one which is perfect for him and his family.
"It's cool for me that our kids get to grow up Mets fans now. They get to experience what I did growing up"
2. Stearns is Steve Cohen's Dream Candidate
When it comes to filling the president of baseball operations position for the New York Mets, Steve Cohen has certainly taken his time in looking for the right candidate. He is now three years into his ownership of the Mets, to which he quipped, "have felt like dog years".
Stearns has long been rumored to be a fit for this position, as many linked his hometown ties as a bridge that could lead him to accept the position. Cohen said in the presser that there has been about four or five executives of Stearns' ilk who have been mentioned to him across his ownership of the club. These upper-echelon executives don't always come available though.
"I have been really patient looking for the right person, as David and I got to know each other, it is clear that we are aligned in our thinking. That we get along very well."
The timeline for communication between Cohen and Stearns was made very clear during this press conference, as conversations picked up in mid-August when Stearns was officially allowed to speak with other teams based on his contract with the Brewers.
While back-channeling certainly could have taken place that would have led both parties to understand that there was mutual interest, as Cohen explained, they two sides had to meet to understand if the fit was there and if they could work well together.
"Until you have a deal, you don't have a deal. So I tried to stay pretty balanced and not get ahead of myself. When Steve and I first had the chance to meet in mid-August. That's the first time where I really thought wow this could be a fit and this could work. At that point it was at the forefront of my mind." Stearns explained.
Throughout these three years, Cohen has cycled through general managers and left a position atop the organization vacant for when he could pry a top baseball mind to head up his organization.
From running his hedge fund, Cohen is big on bringing together the brightest minds, who can come together and attack a problem from different angles to find a solution. It appears that Stearns operates in a similar fashion, making it a match-made in heaven for Cohen.
"Its universal that the people who worked under David, loved working for David. People described him as incredibly smart, thoughtful, open to new ideas and is inclusive. It aligns with my thinking on how I like to run an organization."
In the past Cohen has expressed frustration in not being able to target the top baseball executives who were under contract for other teams, because in the financial world it is much easier to poach talent without facing the type repercussions he would in a collectively bargained sport.
Yet despite his extensive experience in running operations in business, Cohen explained that he has never been in a position where a job candidate has received such a great consensus among people in an industry that they are the perfect fit for his organization.
"I have never seen such universal congratulations in you got to hire this guy."
Cohen did not let this opportunity pass him by, making sure to hire Stearns to a five-year deal to run his franchise. Moving forward Cohen hopes that it will be Stearns who will continue in this position for a very long time, as he doesn't want to continue with the franchise instability that he has been forced to operate under in these first three years.
3. New York Mets Will Aim to Contend in 2024
One of the buzz phrases that was uttered in this introductory press conference by David Stearns was creating "sustainable competitiveness", with the Mets hoping to win for years to come. With that said, Stearns was asked when does that "sustained competitiveness" begin?
"Our goal is to begin that now. We are going to do our best to put together a team in 2024 that is competitive and we're are going to do it in a way that does not detract from our competitiveness in future years."
This has long been the mission for the New York Mets, as they have built through free agency over the last couple seasons while trying to build up their farm system.
The difference now is that they have a top-flight executive to get the job done, who is being handed a much-improved farm system after the Mets midseason trades. The question is how much are they going to spend this offseason, after building through free agency has failed them in the past.
Stearns made it clear that even though teams who spent this year didn't necessarily find success, that does not mean that their spending is the reason why they didn't find success. He said there is not a direct causation that can be linked to spending and losing.
While the Mets will continue to take advantage of Cohen's resources, Stearns explained that is has to be the right time and the right players to spend on. He said the Mets will explore the top of the free agent class each year and will make the decision based on what is out there and what they need on their roster as to whether it is the right time to take advantage of those resources.
"Steve has shown the ability to compete at the top of the free agent market, it is an advantage to use."
Now that may surface for the Mets to spend this offseason, or it may not. What is clear though is that the Mets goal is to build a roster that will compete each and every year, which includes 2024.
4. Pete Alonso is Staying Put (For Now)
If the New York Mets are trying to win in 2024, it stands to reason that keeping Pete Alonso on their roster would go a long way in helping to do that. An argument can be made that Alonso just completed the worst season of his career, and he still hit 46 home runs and drove in 118 runs.
The 28-year-old first baseman is one of, if not the best run producer in the game right now and is certain to make a lot of money once he hits free agency after next season.
His impending free agent status has led to plenty of discourse surrounding his long-term future with the team, which is something Stearns addressed to the media.
"I know over the summer there was some trade speculation and I expect Pete to be the Opening Day first baseman next year. He is an important member of this team, he is an important member of this organization and I think we are very fortunate to have him."
When asked if Alonso being a good clubhouse guy who is homegrown will weigh into the decision to keep him, Stearns explained that is all part of the package that makes Alonso a great asset to the organization.
In answering these questions, Stearns showcased an ability to handle tough questions from the New York media in a very adept manure, as he talked about Alonso and his value to the organization, without tipping his hand in any shape or form when it comes to his long-term future with the club.
It is far too early for Stearns to have made a decision made on Alonso, but that is one that will have to come sooner rather than later.
Keeping him around for next season appears to be the primary motive of operations, but if the two sides are way apart in contract negotiations this winter, or the Mets find themselves out of the race entirely at next year's deadline, there is always the chance the Alonso is eventually moved.
5. Establishing a New Culture Under Stearns
After meeting with the media, the real work begins for David Stearns. The goal is to create a sustainable winner in New York and a lot has to fall in place to make that happen.
While he is widely considered one of the top executives in the game, Stearns made it very clear that he does not have some magical tricks up his sleeve that will make the Mets an amazing franchise top-to-bottom overnight.
"I want to dispel any notion that there is some magic formula to this or a secret sauce. There aren't certainties in baseball, there are no guarantees of results."
"We can guarantee we are going to work really hard, we can guarantee that we are going to explore every angle and we can guarantee an environment here for everyone associated with the Mets. An environment where they feel connected to the overarching mission of the organization and where they feel empowered to affect the direction of our organization."
"It has been my experience and my observation that when we do those things well and when we focus on those types of things, that generally leads to success and results."
Stearns will now lean on his experience taking over the baseball operations for a franchise with the Brewers years ago to handle the transition to this role now.
In the coming days and weeks, it is his responsibility to meet everyone he can in the organization to figure out what they do well and where his strengths as an executive can be utilized.
But as Stearns said, "the baseball calendar waits on no one".
The first mode of operation for the Mets is to hire a new manager, for which they will cast a wide net and begin an interview process immediately. Stearns did not put a timeline on when they make the hire, but did allude to having a manager in place by the winter meetings.
The Mets also cleared some of their longest-tenured members of their front office at the end of the season to allow Stearns to bring in his own hires to fill out his staff. This will be another important part of the offseason for the Mets.
"Operationally what we are going to try to do is build groups of really talented people at all levels of the organization. People who care deeply about each other, people who care deeply about the Mets and people who are energized coming to work every single day."
Maybe the most important person in the organization right now that can help bridge the current operations into the new structure led by Stearns is the man who has been running baseball operations for the past two seasons.
Steve Cohen has made it known his appreciation for the work that GM Billy Eppler has done since taking over ahead of the 2022 season. Compared to Cohen's first two general managers, who were both let go amid controversy, Eppler has been a far-more steady hand on the wheel.
In his first week on the job, Eppler was already negotiating deals with free agents from his hotel room, with MLB set to go through labor dispute that led to a holdout on all operations.
In Eppler's first year running the team, the Mets went on to win 101 games. While this past season has been an abject failure, Eppler's offseason signing of Kodai Senga, as well as the great returns he was able to pry at the deadline have proven his worth to the Mets front office.
Now bumped down to the No. 2 in this organization, Eppler's experience can be leaned on, without having to entrust him to run the ship himself. Stearns seems excited about having Eppler to lean on, giving him a sounding board who was seen it all in this market.
"Billy and I have had a really nice relationship going back years as competitors talking to each other whether its about transactions or whether its about industry events. I have a lot of respect for the experience he has in this game, the experience he has in New York and I'm looking forward to working with him."
With the help of Eppler, Stearns will now look to hire a manager, fill out a front office and then assess the roster ahead of free agency. Lucky for the Mets, they have a guy who is proven he is right for the job, who is getting the chance to fulfill a lifelong dream in doing so.