Analysis
Milwaukee Brewers Face a Significant Decision with Mark Canha
With top deadline acquisition Mark Canha set to hit free agency, the club faces a tough decision on if they should exercise their option.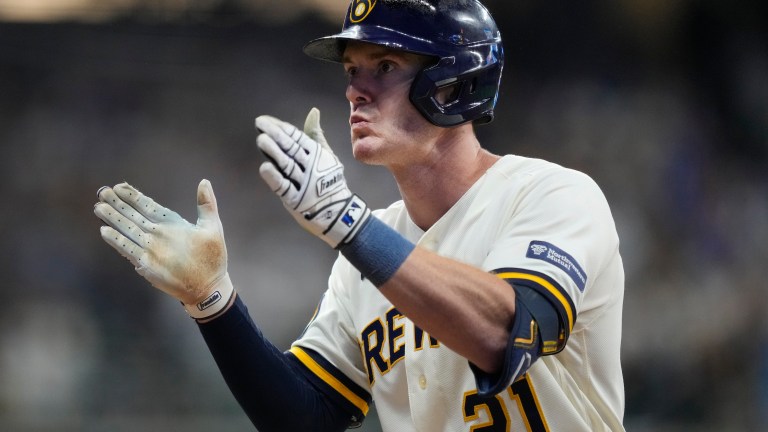 When the Brewers swung a trade with the Mets for outfielder Mark Canha, few shockwaves were felt around the league. The Mets, desperate to offload any players on expiring contracts, moved Canha as well as six other big league pieces at the deadline.
At the time of the deal, Canha had already made a name for himself in the league. In the eight years prior to 2023, he spent the majority of the time on the Oakland A's and emerged as a lefty masher who can play some first base and all three outfield spots.
One thing Canha is particularly good at is flying under the radar. The 34-year-old has posted an OPS+ north of 100 (league-average) every year since 2018 and has been a quietly reliable piece for quite some time now.
Of course, the Brewers knew this when they acquired him. After all, the club makes a living on bringing aboard players who quietly go about their business. However, they likely did not realize that his acquisition would go down as one of the best made at this year's deadline.
In a total of 50 games post-deadline, Canha was one of the Brewers most productive hitters. Along the way, he hit 10 doubles and five home runs with 33 runs driven in, 17 walks and just 27 strikeouts. The .287 batting average .800 OPS he posted is well above his career norms.
It's decision time for the Brewers
After the World Series, Canha could be a free agent, as the Brewers hold an $11.5M club option for 2024.
This is where things get interesting for the Brewers. Would they like to bring him back on a relatively cheap contract to have him rake across a full year? Of course. However, it's not always that simple with a small-market team like Milwaukee.
We're talking about a Brewers team that is well below-league average in terms of total payroll every year. Bringing aboard a player at even an $11.5M salary is considered "high-end" for them at the moment. Not to mention, other players like Wade Miley, Andrew Chafin and Justin Wilson all have option decisions of their own to be made.
Heading into next year, only Christian Yelich, Aaron Ashby and Freddy Peralta have guaranteed contracts. Beyond this trio, all other players are either arb-eligible or pending free agents. To make things even more interesting, each of Corbin Burnes, Brandon Woodruff and Wily Adames are all eligible for massive paydays this offseason, which will leave the cash-strapped Brewers, well, even more cash-strapped.
Taking that into consideration, it's entirely possible the Brewers don't pick up Canha's option. With so much money needing to be tied up elsewhere, the fit just doesn't seem to be there.
What Mark Canha does to the free agent market
Let's say the Brewers elect to decline Canha's team option. His addition to the free agent pool would immediately make it a much, much stronger class overall.
A quick look at the free agent board shows that the top position players available are the likes of Rhys Hoskins, Jeimer Candelario, Lourdes Gurriel Jr., Cody Bellinger, Joey Gallo and Jorge Soler. Shohei Ohtani is also going to be available, but he gets a tier of his own in this argument.
There's a case to be made for Canha being more valuable than most of the other names on the list. Bellinger is going to command a serious payday after his resurgence, but otherwise we're dealing with a bunch of veterans that have been fluky in recent years. Canha provides some solidity that others do not.
Sure, he's going to be 35 years old as a free agent, but Canha's shown no real signs of slowing down. A lefty-mashing power bat that can play a few different positions, who would surely be of more value than other names on the market.
If (when) the Brewers decline his option, he will instantly become one of the more sought after free agents this winter.