Analysis
Oakland Athletics Offseason Trades Have Not Gone as Planned
Looking back at the trades the Athletics made this offseason, it is fair to wonder if Oakland made a mistake with how they planned their rebuild.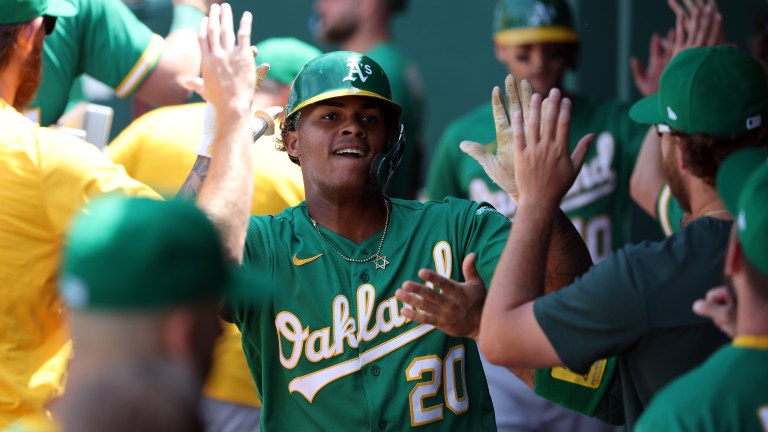 The 2021 Oakland Athletics were a few games away from a playoff berth. A front office that was aggressive at the deadline, now finds itself tied for the least amount of wins in 2022. Instead of bringing the core back from an 86-win team, Oakland decided to jump-start the rebuild.
Oakland had more talent than they get credit for. Several established starters, plus starters on the corners, and outfielders coveted by others. With plenty of trade assets, the Athletics had an opportunity to reset the farm and boost the talent level in the system. Well, let's see how that is going for them.
Matt Olson to Atlanta Braves
Return: Ryan Cusick (#8 Prospect), Joey Estes (#15 Prospect), Shea Langeliers (#1 Prospect), Cristian Pache
After winning the 2021 World Series, the Braves moved on from franchise cornerstone Freddie Freeman, allowing him to hit free agency. The Braves elected to replace Freeman with arguably the top trade target on the market, acquiring Matt Olson. The lefty slugger was brought to Atlanta, signed an extension, and has produced a .252/.347/.469 slash line and 123 wRC+.
Catcher Shea Langeliers and outfielder Cristian Pache headlined the deal going back to Oakland. The Athletics already have Sean Murphy and Ramon Laureano, but both look like trade candidates at the deadline. Langeliers, 24 years old, is tearing up Triple-A slashing .273/.366/.506 with 14 home runs. Once Murphy is (likely) traded, Langeliers will slot into the everyday catching role and looks like a plus bat and solid piece in this return.
Pache, on the other hand, has been nothing short of a disaster. His energy and elite defense brought excitement to Oakland, but his bat has pushed him back to the minors. The bat has always been a concern and Pache slashed .159/.203/.224 before his demotion. If Pache's inability at the plate keeps him from being an MLB regular, his plus defense and speed will not matter.
Ryan Cusick has an 8.13 ERA through seven Double-A starts and Estes has a 4.94 ERA in 11 High-A starts. Both are far from a finished product, but neither has flashed enough to feel better about the return.
Conclusion: The Braves ran away with this return. Considering William Contreras (catcher) and Michael Harris (outfield) both are contributing for the Braves, Pache and Langeliers will not be missed. Harris has established himself as a legit Rookie of the Year candidate while Contreras power has made him an intriguing option moving forward. It's possible that Oakland traded for the wrong catcher and outfielder from Atlanta.
Matt Chapman to Toronto Blue Jays
Return: Gunnar Hoglund (#6 Prospect), Zach Logue (#19 Prospect), Kevin Smith, Kirby Snead
From 2017-2019, Matt Chapman was looking like the next elite third baseman. A top-notch glove at the hot corner with plenty of power just entering his prime. Since his first full season in 2018, Chapman's wRC+ has dropped each year. The power is still there (27 home runs in 2021) but the average and on-base percentage have dropped and the strikeout rate has risen.
In 2022, Chapman has slashed .212/.287/.390 with a 90 wRC+. This dip in offensive production coincides with a similar regression we saw last season, as Chapman is a far cry from where he was offensively back in 2018 and 2019.
| | | |
| --- | --- | --- |
| Year | Slash Line (Avg./OBP/SLG) | wRC+ |
| 2018 | .278/.356/.508 | 139 |
| 2019 | .249/.342/.506 | 125 |
| 2020 | .232/.276/.535 | 116 |
| 2021 | .210/.314/.403 | 101 |
| 2022 | .212/.287/.390 | 90 |
While the bat has been below average, the three-time Gold Glove winner's defense has been even more concerning. Through 76 games, Chapman's outs above average is only in the 18th percentile. For context, Chapman's outs above average ranked in the 99th percentile in 2021.
While most teams target young prospects, the Athletics elected to go for older prospects who could contribute sooner. Smith (26), Snead (27) and Logue (26) have all reached the majors this season accounting for a total of -0.4 bWAR. Hoglund (22) was a first-round pick in 2021 and has yet to make his professional debut due to injury.
Conclusion: Oakland moved Chapman at the right time. He has been trending in the wrong direction but still profiles as a serviceable third baseman. Perhaps the market was weaker for Chapman, but the return is looking underwhelming. I find it hard to believe a younger package you could dream on was not available. Hoglund will have to develop into a key contributor to make up for the replacement level players included in this deal.
Sean Manaea to San Diego Padres
Return: Euribiel Angeles (#10 Prospect) and Adrian Martinez (#21 Prospect)
Sean Manaea's name is bigger than his production. Over the past three seasons, Manaea has been a solid starter, but still around league average. Manaea has a 4.18 ERA and 3.98 FIP through his first 15 starts in his first season with San Diego. Through his first seven seasons in the MLB, Manaea has a 105 ERA+, slightly above league average.
Euribiel Angeles is a middle infield prospect who just turned 20 years old. Through 68 games in High-A, Angeles is slashing .257/.284/.321 with a 67 wRC+. While he's far from a finished product, it has not been an ideal start in a new organization.
Martinez made his MLB debut this season, starting two games for the Athletics. In 10 innings, Martinez has a 6.30 ERA, 5.71 FIP, and 5.40 strikeout rate. In 13 Triple-A starts his ERA sits at 5.63, slightly above his 5.28 ERA Triple-A number from 2021.
Conclusion: Manaea has been fine in San Diego. He has flashed at times and looks like a higher-end starter, but consistency has been an issue. Angeles has upside, even if limited, and could factor into the future. Martinez is profiling as a depth option at best. At the time of the trade, Manaea's value was higher. A 19-year-old lottery ticket (and not the mega millions lottery) and depth arm is looking like a light return for a solid rotation arm.
Chris Bassitt to New York Mets
Return: J.T. Ginn (#7 Prospect) and Adam Oller (#28 Prospect)
Bringing in Max Scherzer will typically sink other headline moves. Chris Bassitt was one of three (Starling Marte and Mark Canha) 2021 Athletics to join the Mets in the offseason. Bassitt has been one of the most underrated pitchers over the past few seasons. In 2020 and 2021 he finished top 10 in Cy Young voting and earned an All-Star bid in 2021.
This season has been up and down for Bassitt, who is currently on the COVID-IL. Through 15 starts, Bassitt has a 4.01 ERA, 3.91 FIP, and 95 strikeouts in 89.2 innings.
The Mets were able to acquire Bassitt from Oakland without giving up any of their top prospects. Ginn, a 2020 second-round pick, has started five games in Double-A this season with a 6.48 ERA. In 10 High-A starts in 2021, Ginn had a 3.38 ERA and 7.76 strikeout rate. Ginn is currently injured.
Adam Oller is on his fourth organization, making his MLB debut this season with Oakland. The 27-year-old has started four games and appeared in nine, totaling 23 innings. His 9.00 ERA and 5.87 strikeout rate, combined with a 7.04 walk rate, pushed Oller back to the minors.
Conclusion: The Athletics traded an established, consistent, veteran starting pitcher for a starter with a questionable ceiling and an organizational depth arm. Ginn is a good prospect, don't get me wrong. But Bassitt bringing back one legit piece who profiles as a back of the rotation arm is underwhelming.
Final Thoughts
Tearing a team down to rebuild is always disappointing. Sure, it often times makes sense and long term is the right move. Acquiring young talent with upside can position the organization well. Allowing the players to develop in a new system and giving the team time to evaluate and plan around the talent leads to the best results.
However, the Athletics went in a different direction. Oakland brought in older "prospects" who have yet to have a chance to shine. Perhaps their floor is higher, but their ceiling is limited. Several of the acquired players are getting their first taste of the big leagues at age 26 or older.
The Athletics are years away from their next competitive window. How much will these older returns factor into the next competitive team?
Did an already mediocre farm system gets better, or just deeper? I know it is too early to judge these moves in their entirety, but how many of these players do you feel confident in saying they will contribute at an above average level? Shea Langeliers is the only one for me.
Oakland better capitalize on their trade pieces this deadline, because this crop of returns has far too many questions.