Analysis
With DeGrom Sidelined, Zack Wheeler Becoming Cy Young Front-Runner
While Jacob deGrom has been recovering from injury, Zack Wheeler has been shoving. Could the Phillies ace overtake the once runaway favorite?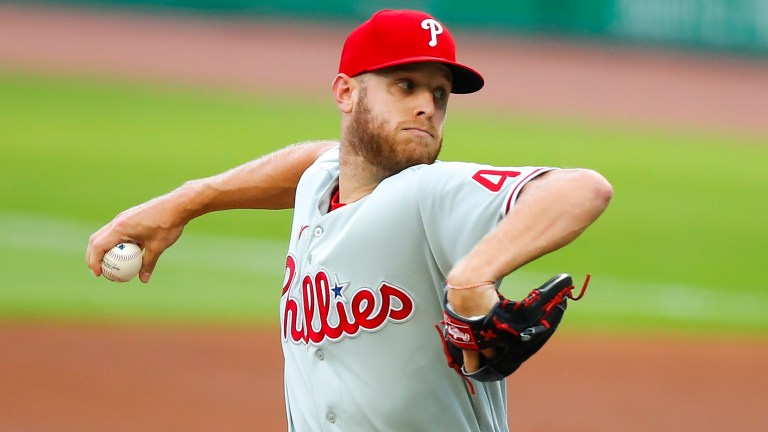 Heading into the All-Star break, it seemed like a foregone conclusion that Jacob deGrom would win his third Cy Young for his performance in the 2021 season.
Any metric you looked at showed that deGrom was the best pitcher in the sport, posting numbers that have rarely been matched in MLB history. Pitching with his minuscule 1.08 ERA, deGrom was casually pumping in 101 mph fastballs and striking out batter at an outrageous clip for a starting pitcher (14.28 K/9).
Unfortunately, it is his body that has let deGrom down, as injuries have curtailed what could have been one of the best seasons we have ever seen from a starting pitcher.
DeGrom has endured multiple stints on the Injured List this season for various minor injuries. But the latest one has him shut down every since the All-Star break. The Mets ace continues to deal with inflammation in his pitching arm what has prevented him from taking any steps towards getting back on the mound.
In his absence, the NL Cy Young race has suddenly become wide-open and one of deGrom's former teammates is beginning to take center stage, pitching for a division rival.
Zack Wheeler spent the first five seasons of his career with the New York Mets, pitching to a 3.53 ERA across 159 starts. Following the 2019 season, Wheeler became a free agent for the first time and was extended the qualifying offer. After he declined the offer, the former Met was forced to look elsewhere for his long-term deal and found a new home in Philadelphia on a five-year, $118 million contract.
Now pitching in his first full 162-game season with his new team, Wheeler is enjoying the best campaign of his career by far.
The former first round pick is finally living up to his ace potential, anchoring the Phillies staff and pitching to a 2.57 ERA, which is currently the seventh-best mark in the NL. Wheeler is pacing the league in innings pitched (147) and in strikeouts (170), and suddenly finds himself on the short list of candidates to win this year's Cy Young.
One look at his Baseball Savant page and it becomes pretty clear how dominant the first-time All-Star has been this season.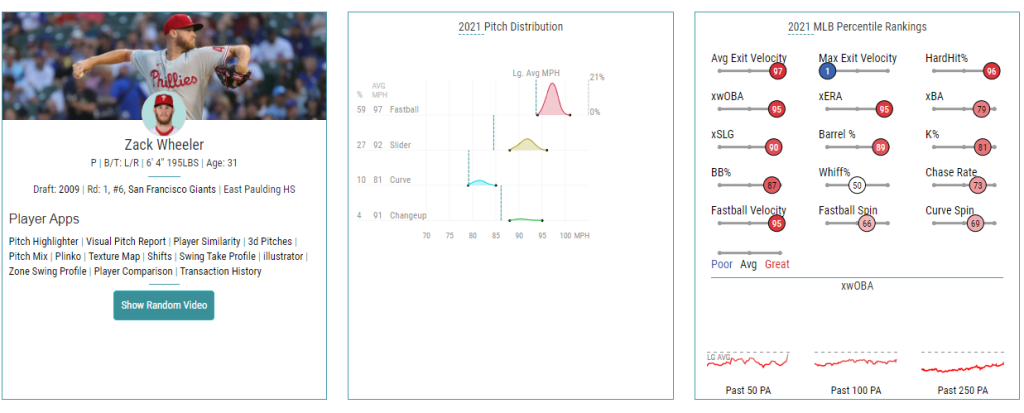 The 31-year-old is pitching to a 2.62 xERA, which is ranked in the 95th percentile. His K% of 29.1 and BB% of 5.6 are both the best marks of his career, as is his 1.03 WHIP and 0.6 HR/9. Wheeler has also been a horse for the Phillies, pitching at least seven innings in 14 of his 22 starts.
With a little less than two months remaining in the regular season, Wheeler is leading all pitchers in the MLB with his 5.1 fWAR. Despite making seven less starts, deGrom is not far behind, tied for second with his 4.9 fWAR.
When it comes to the Cy Young race, there is no question who the better pitcher has been this season when both are healthy and on the mound, but deGrom has not been on the mound enough to win this award going away as we once thought.
Wheeler's career season has a great chance to be recognized by voters as being the best in the National League this year, especially if the Philadelphia Phillies continue their surge in the standings.
After winning their sixth-straight game on Friday night, the Phillies overtook the Mets in the NL East for the first time in months. Wheeler has been a huge part of that success, winning three of his last four starts, all against division rivals. He is set to pitch the final game of this pivotal series against his former team.
Regardless of if it ends with hardware on his mantle, Wheeler has proved his doubters wrong this year, becoming a legitimate ace on a playoff-contending team.
Former Mets GM Brodie Van Wagenen infamously went to battle with Wheeler through the press after he left the team in free agency, essentially claiming that the right-hander wasn't worth the contract he was getting paid.
Suddenly Wheeler is exceeding the expectations of that $118 million contract, proving he is worth every penny that is coming his way. All while becoming a thorn in the side for his former team in this race to win the NL East.
For such a large portion of the season it appeared that the New York Mets would win the NL East and their ace, Jacob deGrom, would runaway with his third Cy Young in four years. Now instead, the Phillies seem to be the favorites to win their first division title in a decade, with a Cy Young front-runner leading the charge.
If only Van Wagenen put a little more stock in those, "Two good half-seasons" from Wheeler, this division could look a whole lot different right now.