Feature
Time is Now For Jacob DeGrom's Contract Extension
A look into the complicated contract dilemma for baseball's best pitcher, Jacob deGrom.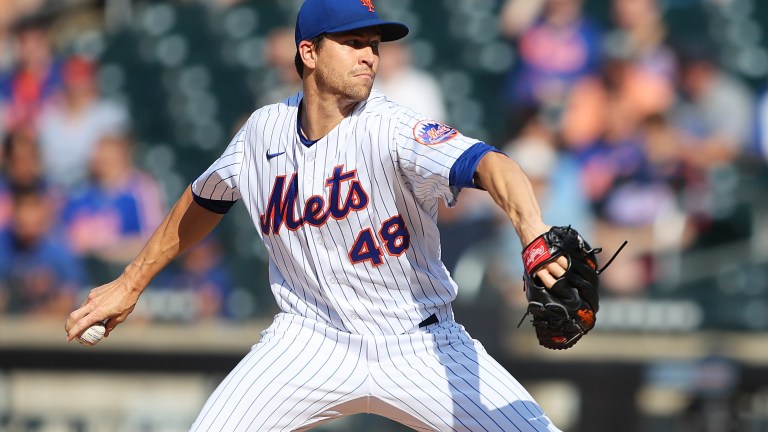 In the first half of the 2021 season, Jacob deGrom was pitching at a level we had never seen before in the history of Major League Baseball. That is not hyperbole. It is simply fact.
There has never been a starting pitcher who has thrown harder and more accurately than deGrom, who was putting together the type of statistical season only possible in video games. DeGrom only made 15 starts and pitched 92 innings, yet his 4.9 fWAR still placed him in the top-10 among MLB's pitching leaders this season.
The 33-year-old ace carried an ERA of 0.67 into July, as he put together a string of gems that kept the Mets atop first place for nearly all of the first half of the season. DeGrom's ERA finally eclipsed 1.00 in July after two starts where the flamethrower showed some humanity and allowed a few runs. Pitching against the Atlanta Braves and the Milwaukee Brewers, deGrom allowed five runs over his last two starts. Still, he pitched seven innings in each start and struck out 24 batters in those 14 innings.
Heading into the All-Star break, deGrom was not only a shoe-in to win the Cy Young, he also was putting together an incredible case to be named MVP as well.
Through his first 12 starts, deGrom had allowed one earned run or less each time he took the ball, keeping the other team off the board entirely in eight of his starts. DeGrom reached double-digit strikeouts seven times this year, eclipsing 14 Ks on four separate occasions.
Along with his incredible prowess on the mound, deGrom also went 12-for-33 (.364) as a hitter, scoring four runs and driving in six. The Mets were 11-4 in games started by their ace, as he was a force both on the mound and in the batter's box. He generated 10 runs of offense for the Mets and allowed just 11 earned runs.
Unfortunately, injuries prevented deGrom from throwing a pitch in the second half, which is a large explanation for why the Mets endured such a great collapse.
Now as the Mets head into the offseason, they are left with more questions than answers surrounding their best player and his availability next season. Which is only made more complicated when you understand that he is due for a new contract after the 2022 season.
Jacob DeGrom's First Extension
Jacob deGrom is technically under contract through the 2023 season, with a team option for 2024. Yet one of the stipulations in deGrom's deal is that he has an opt-out after the 2022 season. If deGrom makes it through next season healthy and pitches anywhere close to his standard, he is going to exercise that opt-out. It would be financially irresponsible to do anything otherwise.
DeGrom has been considered the best pitcher in baseball since his Cy Young season in 2018, but his career earnings do not nearly reflect the impact he has had on the mound. Despite what the value of his $137.5 million contract would suggest, deGrom's career earnings up to this point are only a little over $54 million. This is due to heavy deferrals in a contract that was also significantly backloaded. To fully understand deGrom's contract situation, it is important to remember the context for which it was signed.
During his first Cy Young campaign in 2018, deGrom's then-agent Brodie Van Wagenen demanded the Mets ownership group come to terms with his star client on a contract extension, or trade him at that year's deadline.
Van Wagenen continued to say that, "If the Mets don't share same interest, we believe their best course of action is to seriously consider trade opportunities now. The inertia of current situation could complicate Jacob's relationship with the club and creates an atmosphere of indecision."
The Mets ended up letting the 2018 season play out without ceding to Van Wagenen's demands, only to make hiring the agent as their new GM the first course of action in the offseason. DeGrom was anxiously awaiting his big payday at that point in his career, and now he had to watch his own representation join the club he was supposed to be negotiating with on his behalf.
Due to being a late-bloomer who did not reach the majors until he was 26 years old, deGrom was still two years away from free agency entering the 2019 campaign. Part of the reason deGrom took so long to make his debut is because he had Tommy John surgery right after being drafted in the ninth round of the 2010 MLB Draft. DeGrom had also seen injuries derail the careers of his teammates David Wright and Matt Harvey, putting even more pressure to sign any guaranteed nine-figure contract that was on the table.
This is what allowed the Mets to sign one of the best bargains in recent memory.
Full Contract Breakdown
When the New York Meets signed deGrom to his five-year, $137.5 million contract extension it came just under the $138 million deal David Wright had previously signed for being the largest deal ever given out by the franchise. Still, the structure of the contract is fascinating to look back on, especially when you understand that the Wilpons ended up selling the team not even two full years later.
| | | | | | |
| --- | --- | --- | --- | --- | --- |
| Year | Age | Base Salary | Signing Bonus | Deferred Salary | Yearly Cash |
| 2019 | 31 | $7 million | $5 million | N/A | $12 million |
| 2020 | 32 | $23 million | $5 million | $12 million | $9,074,074 |
| 2021 | 33 | $33.5 million | N/A | $13.5 million | $20 million |
| 2022 | 34 | $33.5 million | N/A | $15 million | $18.5 million |
| 2023 | 35 | $30.5 million (Player Option) | N/A | $12 million | N/A |
| 2024 | 36 | $32.5 million (Club Option) | N/A | $15 million | N/A |
Prior to signing deGrom to his contract extension, the Mets had already agreed to giving their ace the largest arbitration raise in MLB history, taking his salary from $7.4 million in 2018 to $17 million in 2019. What is crazy about the deal the Mets signed their reigning Cy Young to is that he actually took a pretty massive pay cut in the short-term to gain his long-term financial security.
DeGrom went from a guaranteed $17 million through arbitration in 2019, to only bringing home $12 million after his contract was restructured. This is because deGrom's base salary went down to just $7 million, with a $10 million signing bonus accounting for the difference. That bonus was split over the first two years of the deal however, with deGrom receiving $5 million in 2019 and another $5 million in 2020.
This allowed the Wilpons to save $5 million in 2019, not mention the massive discount they received for the 2020 season, their last year owning the club. DeGrom went on to win his second-straight Cy Young in 2019, which would have warranted another massive bump as he would have entered his final year of arbitration heading into 2020.
Instead of making upwards of $25 to $30 million in arbitration, deGrom was slated to make $11 million of his base $23 million 2020 salary, with $12 million being deferred until 2035. But due to the season being cut by more than 100 games, deGrom was only paid just over $4 million in salary for 2020, with the extra $5 million from his signing bonus taking his yearly earnings over $9 million.
With all of that said, the 2021 season was the first time that Jacob deGrom has actually being paid $20 million in a season, as another $13.5 million of his $33.5 million base salary was deferred. All told, $52.5 million of deGrom's $137.5 million deal is in deferred money.
While all of that money will eventually belong to deGrom, that does not diminish the fact that the two-time Cy Young winner has been massively underpaid compared to his contemporaries atop the sport.
| | |
| --- | --- |
| Pitchers | Career Earnings in Total Cash |
| Justin Verlander | $274,588,222 |
| Clayton Kershaw | $251,342,641 |
| David Price | $216,042,498 |
| Max Scherzer | $139,575,000 |
| Stephen Strasburg | $139,076,586 |
| Gerrit Cole | $84,222,046 |
| Jacob deGrom | $54,159,998 |
When negotiating the terms of his first contract extension, deGrom's primary motivation was clearly to secure the generational wealth he had earned by taking a deal that would pay him tens of millions of dollars into his early 50s. He was able to remove the pressure of pitching for a new contract with all of the concerns a pitcher can have when it comes to injuries.
This past year, those injury concerns once again returned for deGrom, after four seasons of great health from 2017 through 2020. DeGrom had multiple stints on the IL in 2021, with his last one costing him the entirety of the second half.
The Mets and deGrom have both pushed back on any notion that those injury concerns could follow him into 2022, yet team president Sandy Alderson did admit that there was a sprain/partial tear of the UCL in his pitching elbow, which led to their cautious approach in managing the injury.
There is every chance that deGrom's elbow holds up for the next five years and he is able to pitch well into his 30s like Justin Verlander, Clayton Kershaw and Max Scherzer. But that may not be something deGrom is willing to bank on when it comes to the timing of signing his next contract.
Why Sign an Extension Now?
On the surface there is no need for Jacob deGrom or the New York Mets to even consider signing a new contract this season. Regardless of his health, deGrom is guaranteed $30.5 million from the New York Mets in 2023, as long as he does not exercise his opt-out clause.
If deGrom pitches at a Cy Young level, he can test free agency as the top player on the market next offseason. If he gets hurt or underwhelms, deGrom will have another chance in 2023 to rebuild his value.
From the Mets perspective, if deGrom opts out of his deal, that does not mean they can't still bring him back, they will just have to pay him what he is worth in free agency. If he does not opt out of his deal, the Mets gain an extra year of control with their club option for 2024.
Instead of waiting for all of that to play out though, deGrom may once again be motivated to take his next deal now. He has made it clear in the past that he would like to spend his entire career with one organization and this would be an opportunity to secure that future as soon as possible.
This offseason, Max Scherzer is set to be the top free agent starting pitcher on the market after putting together another Cy Young-worthy campaign. Despite entering his age-38 season, Scherzer will likely still be able to secure a massive contract for three or four years if he wants to continue to pitch into his 40s.
If deGrom would like that same luxury of pitching into his 40s, he could once again sacrifice some of his earning potential to secure the bag now, while still remaining a member of the Mets for the remainder of his career.
How Much Would it Take to Sign DeGrom?
When Gerrit Cole signed his contract with the Yankees two years ago, it was natural to compare what the two aces of the New York were making. Unlike deGrom's contract with the varying salaries each year and the large portions of deferred money, Cole's contract was as simple as it could be.
The then 29-year-old received a $324 million deal, which pays him $36 million every season for nine years. DeGrom can certainly make the argument that he deserves more than Cole, but considering his advanced age and recent injury history, this would still be a good starting point in imagining his next contract.
Unlike when the Wilpons owned the Mets, this franchise is in a great financial position with owner Steve Cohen at the helm. Cohen just handed Francisco Lindor $341 million of guaranteed money prior to last season and is likely to hand out more nine-figure deals in the near future. No one deserves consideration for one of those deals more than deGrom.
If the Mets were to throw out the final three years of deGrom's current contract and offer him a five-year deal making Cole-type money, there is a good chance that both sides could come to terms on a new contract.
Based on his performance alone, a five-year, $200 million deal would not be out of the question for deGrom. His camp will be keeping close tabs on what Scherzer commands in free agency and likely try to structure a contract with a similar AAV over more years.
Expect deGrom to get over $35 million a year in his next contract, which would put the realistic price range of his next deal anywhere from $175 million to $200 million over five years.
Verdict: Should the Mets Extend DeGrom?
The short answer is absolutely.
There is no better pitcher in baseball right now than Jacob deGrom and there is no signs of his performance slowing down any time soon. DeGrom keeps throwing harder and harder with age, making regression on the mound very unlikely in the near-future.
Unless Carlos Beltran is inducted into the Hall of Fame as a Met, deGrom is likely the next player who will go into Cooperstown wearing the Mets logo on his plaque. The last thing fans want is to see deGrom pitch out the final years of his career wearing a different uniform, as they already had to endure that fate with Tom Seaver in the past.
The problem for the Mets is weighing the desire to keep their ace happy, with their future financial flexibility. This franchise has been burned by giving out big contracts in the past, which could even give Cohen pause before handing out extensions that aren't needed immediately.
Still, if deGrom approaches Mets brass with the desire to sign a new deal and remain with the club for the rest of his career, Cohen should not hesitate to keep his ace happy.
On the latest episode of my podcast, Locked On Mets, I discuss this article and why I feel the Mets need to prioritize signing deGrom this offseason.