Analysis
Trades the New York Mets Could Make By Taking On Salary
The Mets just acquired some relief help by taking on a bad salary. Are there more moves they can make where they employ this same strategy?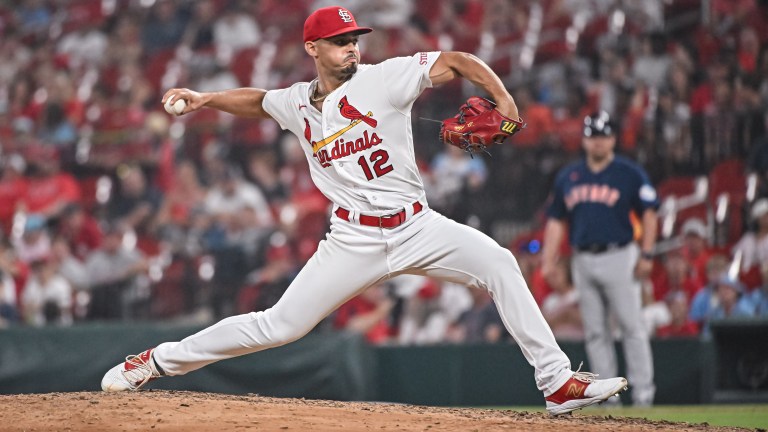 If there is one thing we have learned about the New York Mets and how they operate under owner Steve Cohen, it's that they are going to spend money at every turn to try to get an advantage. Whether that is splurging on free agents, or cutting bait on a struggling veteran on a big contract, money is clearly not an object when it comes to Cohen and the Mets.
Lately, we have seen this show it's face rather boldly in the last two trades the Mets have made. First, they ate the remaining salary on Eduardo Escobar's contract in a deal with the Los Angeles Angels to enhance the prospect return on a player who was barely playing in New York.
Yesterday, the Mets acquired a player to help their MLB roster, trading with the Seattle Mariners for reliever Trevor Gott. In exchange for acquiring Gott, the Mets also took on Chris Flexen, who had been designated for assignment by the Mariners a few days prior.
Flexen was pitching to a 7.17 ERA this season and was still owed $4 million on his $8 million salary for the season. The Mets took that dead salary off the Mariners hands and received Gott in exchange. Gott is coming off an injury but there is clearly some upside here for the Mets, which they are able to acquire without giving up any real prospect capital in return.
Moving forward, we could see Cohen and the Mets continue to explore trades using this strategy. They can absorb small market teams bad contracts and receive useful players to fill out their roster in return. In desperate need of help to improve their bullpen, here are more trades that could make sense for the Mets to buy some relievers midseason.
Bring Back a Former Met, for Jordan Hicks
The St. Louis Cardinals are one of the few teams in the National League that are in worse shape than the Mets right now. Currently sitting 14 games under .500, the Cardinals are looking more like sellers than buyers this year and one of the pieces they could dangle is flamethrower Jordan Hicks.
Hicks will become a free agent after this season, where he is sure to enjoy a healthy market thanks to his tantalizing stuff. If the Cardinals are not planning on retaining him, sending him out in a trade now would be the prudent thing.
The question is, what is more valuable to the Cardinals, getting a prospect return for Hicks or getting off Steven Matz's contract?
Matz is still owed around $5 million of his $10 million salary this season and $12 million in each of the next two years. The 32-year-old left-hander has pitched to a 4.92 ERA this season, across 64 innings pitched.
From a Mets perspective, that is a lot of future money to take on for a rental in Hicks, but if they are in the Wild Card race at the deadline, don't count the Mets out from making the desperation trade.
Taking On White Sox Salaries
The Chicago White Sox are in the midst of another dissapointing season, where they could be sellers at the trade deadline. One piece they have to move is Joe Kelly, who is on a $9 million deal, with a $1 million buyout on a $9.5 million club option.
Kelly is pitching to a 4.33 ERA, but has a 2.65 xERA, 2.77 FIP, 2.99 xFIP and a 11.67 K/9. For the White Sox to get a real prospect return for Kelly, they would have to eat a good portion of his salary for most teams. The Mets however can absorb all of his salary, while maybe giving them a lottery ticket prospect in return.
If the White Sox are looking to get out of more long-term money, Kendall Graveman has a guaranteed contract next season.
Graveman is in year two of a three-year, $24 million deal, making exactly $8 million per season. The 32-year-old has been one of the better relievers in baseball over the last few years and is pitching to a 3.00 ERA. The White Sox may want to hold onto Graveman, or get more of a prospect return if they dealt him.
Helping the Tigers Get Off Jonathan Schoop
Jonathan Schoop is making $7.5 million this season, with over $3 million still owed to him for the remainder of the year. He has played in 52 games this year and is hitting .209/.275/.264 and has yet to hit a single home run. The Tigers would love to get off his salary, but what would they be willing to part with in return for the favor?
Jose Cisnero is pitching to a 2.18 ERA, with 9.82 strikeouts per nine. Cisnero will be a free agent after this season and is making roughly $2.3 million this season.
The Tigers have a lot pieces that can be dealt at the deadline, including fellow relievers Alex Lange, Jason Foley and Will Vest. Lange, Foley and Vest are all in their first year of arbitration though, meaning they all have multiple years of control beyond this season.
If GM Scott Harris wants to rebuild the farm, he can look to deal all of these relievers in exchange for hefty prospect returns. But Cisnero is the one reliever who can be dealt that is a rental, so the return is going to be light for him regardless. Getting off Schoop's money is the type of move that will score the rookie GM a lot of points with ownership.
Acquiring a Closer from the Royals
We are saving the best for last here, as this is the best possible arm that could come back to the Mets in one of these trades. Scott Barlow has been the Royals closer over the last few seasons, having saved 50 games since 2021, 40 of which came in 2021 and 22.
Barlow has a career 3.20 ERA and pitched to a sub 2.50 ERA in each of the last two seasons. This year, the ERA has ballooned a bit on Barlow, as he currently is sporting a 4.06 mark. His expected ERA is 3.32 though and Barlow is striking out over 12 batters per nine.
The 30-year-old has some of the best batted ball data in baseball, ranking in the 99th percentile in average exit velocity against, and HardHit%. With a run value of -8, Barlow's slider is one of the best pitches in baseball.
When it comes to acquiring Barlow, the question is how cheap are the Royals?
Barlow would undoubtedly cost a handsome prospect return if floated at the deadline, but if Kansas City could get out of the two-year, $17 million contract they gave Jordan Lyles this offseason, that return would be cut significantly.
Lyles has a career 5.20 ERA, and things have only gotten worse this year, with him sporting a 6.68 ERA. Trading a pitcher as good as Barlow without receiving a top prospect in return would be a tough pill to swallow, but so is the nearly $13 million still owed to Lyles.