List
MLB Rookie Power Rankings
These rookies have stood out from the pack.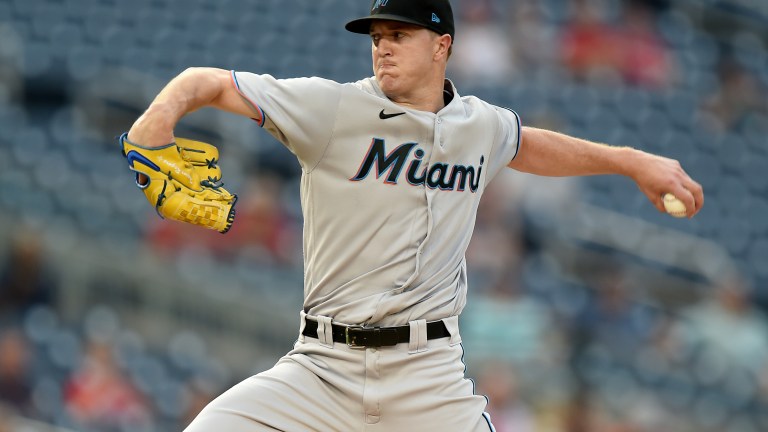 We are approaching the home stretch of the season where some rookies could hit a wall and others may finally hit their stride. The first year players who really stand out are the guys who have been in the big leagues since the early weeks of the season and have remained consistent as we pass the century mark in games played. That being said, if there are some mid-season call-ups who are lighting the world on fire, they could force their way up the rankings.
1. Trevor Rogers – LHP – Marlins
As a guy who has been on Rogers for a minute now and even picked him to finish as a finalist in ROY voting, I am still floored by what the rookie southpaw has done this year. Rogers currently owns the third lowest FIP in baseball (2.60) and has surrendered three runs or less in 21 consecutive starts.
A combination of length, deception, and late life allows for Rogers to dominate with his fastball. Leaning on the heater 58% of the time, Rogers has maintained a whiff rate of nearly 30% and held opponents to a .221 batting average against it. The mid-90s fastball sets up his nasty changeup well, which generates a 34% whiff rate and stingy .169 OPBA (27% usage).
The fastball, changeup combination allows Rogers to dominate right-handed hitters, holding them to a .583 OPS and 28% K-rate. Rogers trusts his changeup enough to use it left on left as well, but has made improvements to his slider which have made it a viable third offering.
Rogers is pacing rookies with a 3.3 WAR, the next closest is Jonathan India at 2.5. The Marlins rookie also sits at the top or near the top in virtually every pitching category. On pace for around 200 strikeouts and an ERA closer to 2.00 than it is to 3.00, it will be pretty hard for Rogers to relinquish his NL Rookie of the Year lead, or his spot atop this list.
2. Jonathan India – 2B – Reds
Just as everyone expected before the year, the two best rookies as we begin August are Trevor Rogers and Jonathan India. Though unlikely candidates relative to their most recent prospect status, both have first round pedigree, drafted 13th and 5th overall respectively.
After a sub-par start to his professional career, Jonathan India made waves at camp and Spring Training. Just like that, India went from underachieving prospect to potentially cracking the Opening Day roster. That's how different he looked after the 2020 layoff.
India's lack of power output in the minors raised some concern as to how the then third baseman projects at the big league level. His athleticism allowed him to slide to second base and a knack for getting on base has made India incredibly valuable. Add the fact that he plays his home games at the hitter friendly Great American Ballpark and his fringe power becomes a bit more present.
The 24-year-old is slashing .281/.401/.445 with 11 HR and a 130 wRC+. His 13% walk rate has helped him become one of five players in baseball to currently own a .400 OBP. India is a gamer, always taking the extra base and using his sneaky athleticism to steal bags when he can. An Opening Day starter, India has been as steady as can be throughout the duration of the season. India's steady production through 400 plate appearances should have Reds fans feeling great about the future and would be tough to beat in the NL ROY race if it weren't for darn Trevor Rogers.
3. Luis Garcia – RHP – Astros
Another guy who has been up for the entire season, Luis Garcia has churned out quality start after quality start. In 20 appearances, Garcia has pitched to a 3.49 ERA, 3.48 FIP, and is leading the Astros with 10.8 K/9. The 24-year-old right-hander dominates with his slider and cutter, which opponents are hitting just .122 and .140 respectively against with a 46% whiff rate.
While the fastball is a bit flat, the use of the cutter, slider, changeup, and occasional curve paired with strong command has allowed Garcia to keep big league hitters off balance. Racking up a whiff rate of 42% or higher on all of his secondaries, there's plenty of reason to believe that Garcia is here to stay.
4. Akil Baddoo – OF – Tigers
A 2020 Rule 5 Draft pick, Baddoo was thrust into the big leagues after only 23 career games above low-A. For the rebuilding Tigers, Baddoo's tools and upside were enticing enough to take a shot and see if he will sink or swim in the Major Leagues. Swam he has, backed up by a slash line of .268/.340/.478 with 10 homers, a league leading five triples and 14 stolen bases.
Baddoo has even cut the strikeouts down to 26% and is walking at an above average 10% clip. Baddoo's plus speed has not quite translated to defensive success, yet. Comerica Park is one of the most spacious outfields in baseball, and remember Baddoo had only played 140 games above rookie ball prior to this year. The 22-year-old has been one of the must clutch hitters in baseball, boasting a .364/.479/.691 line with runners in scoring position and a .380 batting average in 64 high leverage plate appearances.
Baddoo has endured ups and downs this season, but has stayed the course and his rapidly improving K-BB ratio paired with budding power and present athleticism leave plenty to be excited about moving forward.
5. Adolis Garcia – OF – Rangers
Another incredible 2021 story, Garcia was DFA'd by the Rangers in February, before working his way to the MLB roster and lighting the world on fire to start the season. Garcia has since cooled off a bit, but his overall numbers remain impressive.
The All-Star owns a .785 OPS with 23 home runs and 63 RBI. A plus defender in center field, Garcia provides more value than India and Baddoo on the defensive side of things. Garcia's aggressive approach limits him and does raise some concern about possible regression. A 31% K-rate and 5% walk rate puts a lot of pressure on Garcia to produce gaudy power numbers and so far he has done just that.
Earlier in the year, Garcia would've been atop this list, but the aforementioned approach issues have caught up with him over the last month. In Garcia's previous 20 games, he is hitting just .164 with 2 home runs, 4 RBI and a 32% strikeout rate.
Garcia's defensive prowess and hot offensive start still has him second among rookie position players in WAR, but he will soon be leapfrogged if the free fall continues for the 28-year-old.