Feature
MLB Journeymen: Todd Zeile
A career that spanned 16 seasons, Todd Zeile collected hits for over 10 teams on his path to finishing his career with over 2,000 hits.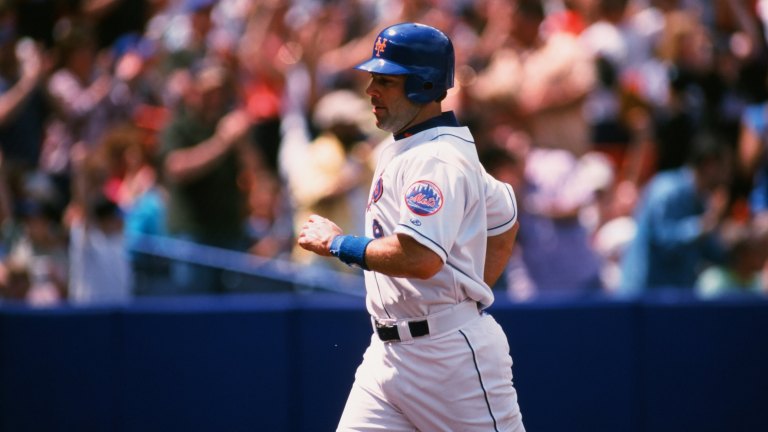 As we head into the regular season, we'll look at baseball's well-traveled, some of who have moved to other franchises more often than others. Next up is someone who didn't just change teams but also changed positions.
You couldn't pick a better way to go out. Ted Williams and Todd Zeile forever share a common exit as each capped their major-league career with a home run. Zeile's storybook ending came on October 3, 2004 at Shea Stadium in his second stint with the New York Mets.
In a game with no consequence, Zeile was also given a chance to play his final innings at catcher — the position he manned when he began in 1990. As it turns out, Zeile is as much a journeyman of the field. In addition to being on 11 different teams in 14 seasons, he was a regular at three different places defensively on the diamond.
Zeile's primary spot was behind the plate as he came up with the St. Louis Cardinals. He slashed .244/.333/.398 with 15 home runs and 25 doubles. Manager Joe Torre, once a catcher turned infielder, then put Zeile at first and third base to allow time for Tom Pagnozzi. The move was certainly not done for any defensive prowess. In the 1990s, no player committed more errors.
His hitting, which gradually improved as he matured, was why he became a valuable contributor to the Cards, Rangers, and Mets (among other teams) over the years.
As the Redbirds' hot corner starter in 1991, he raised his RBI total to 81 before topping 100 two years later. He had five seasons of at least 90 runs driven in. His OPS+ was above league average 10 times. Zeile's power numbers would improve as well. He slugged 25 homers for St. Louis and Chicago in 1995, then 31 with the Dodgers in 1997, 24 more for the Rangers in '99, and 22 with the Mets in 2000.
Zeile fit the classic saying of "have bat, will travel," becoming the first player to hit a home run for 11 different teams. That broke a record that stood for 108 years. Despite belting 253 for his career, he was never selected for an All-Star team.
The 1995 trade between the Cards and Cubs helped Zeile's career intersect with journeyman Mike Morgan as both were part of the swap that involved NL Central rivals. Zeile underwhelmed on the North Side, leading to stints in Philadelphia and Baltimore — where he made his first postseason trip. He later maximized his October appearances during his two-year stay in Texas.
In between the O's and Rangers was perhaps his best season. With the '97 Dodgers, Zeile set career-highs in homers and OPS+, but would again be a part of a trade — one of the most notable of the decade. Zeile, Mike Piazza, and others went to the Florida Marlins for a group that included Bobby Bonilla, Gary Sheffield, and Charles Johnson.
Within a week-plus, Piazza was shipped off to New York, leaving Zeile on a floundering Florida club. But Todd would be put out of his misery soon enough as part of the Marlins' continuing fire sale.
In 2000, Zeile and Piazza would be teamed together in Queens. Zeile replaced the departing John Olerud at first base. Along with Robin Ventura and Edgardo Alfonzo, he would be part of the nucleus that would power the Mets to the pennant and Zeile to his only World Series.
He helped them win Game 3 by scoring the go-ahead run in the eighth and might have contributed to a victory in Game 1 if not for Timo Perez' bad baserunning on Zeile's drive that apparently went off the top of the left-field fence at Yankee Stadium.
The 2001 season saw a significant dropoff in his offensive numbers and was traded to Colorado. Zeile then came back to New York (albeit in Yankee pinstripes) and ventured to Montreal before returning to the Mets in 2004. That year, he was able to cross off some career milestones: his 2,000th hit and later his 250th home run.
But the 253rd was the most memorable. Zeile got into film production and acting at the tail end of his career. Hollywood-like endings were something he became familiar with. He would offer one of his own while playing himself in the lead role.
After convincing manager Art Howe to let him put on the catching equipment for old time's sake, he came to the plate with two on in the sixth and worked the count to 3-1 before his cinematic drive over the left-field wall.
"I floated around the bases," he said. "I don't think my mind was processing anything at that moment. There were too many emotions. Hitting a home run in your last at-bat is the last thing you'd ever expect."