Feature
MLB Journeymen: Edwin Jackson
Of all of the journeyman in MLB history, no one was more well-traveled than Edwin Jackson, who pitched for 14 teams across a 17-year career.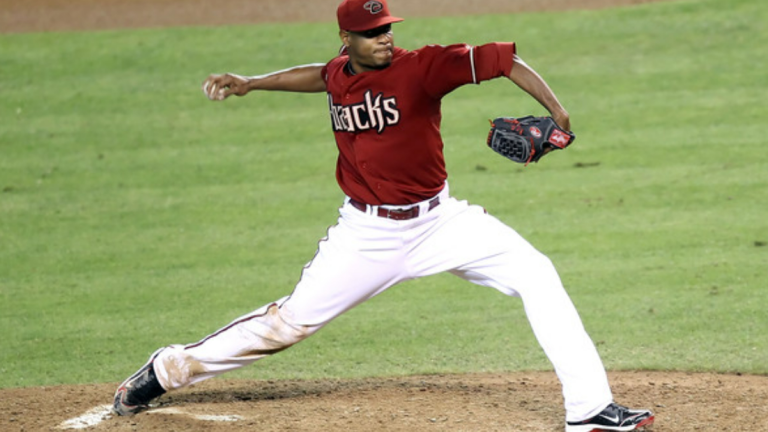 As we head to the regular season, we've been looking at the sport's most well-traveled. Some have moved to other franchises more often than others. We now conclude with the ultimate baseball nomad.
All hail the major league's most frequent flier. He is the man with the most stamps on his MLB passport. The big-leaguer who with the most Zillow visits.
Edwin Jackson took the journeyman king crown away from Octavio Dotel four years ago with his 14th team and it he won't have to relinquish it for a while.
In 2019, when Jackson signed with the Blue Jays, he officially added a record 14th different organization to his extensive major league resume. He became the LeBron James of teams joined, but there's no evidence Dotel made like Kareem Abdul-Jabbar and handed over luggage as a gesture.
The two shared much more than a busy Baseball-Reference page. Jackson and Dotel overlapped for 11 seasons and like Todd Zeile and Mike Morgan, were connected in a trade. The only difference is the deal brought them together. Jackson went from the Chicago White Sox to the Cardinals while Dotel flocked to St. Louis from the Blue Jays. Three months later, both received World Series rings.
While Jackson left the majors with his own distinction, he entered with notoriety too. His debut with the Los Angeles Dodgers on September 9, 2003 was worth celebrating on its own. But it also happened to be Jackson's 20th birthday. And the opposing pitcher happened to be Randy Johnson — nearly twice his age. In Arizona, Jackson faced off with a future Hall of Famer…and won: six innings, four hits, one earned run, and no walks.
Nineteen years and one day later, Jackson officially announced his retirement. In between, he suited up for eight NL clubs and six AL clubs, at least one team in every division, three teams in the AL East, three teams in the NL East, and three teams in the NL West. He had multiple stints with the Nationals, Tigers, and Blue Jays.
Jackson even played for the United States in the delayed Tokyo Olympics, in an attempt to rejuvenate his big-league career.
He was traded six times, involving 23 different players. He was released three times. He pitched in more ballparks (35) than major league clubs (30). He wore nine different uniform numbers — 36 most frequently.
Jackson was an All-Star in 2009 for Detroit, a year in which he had a 125 ERA+, 1.262 WHIP, and 214 innings pitched.
In 2011, he was part of the Cardinals' run to the World Championship with a 3.52 ERA in 13 appearances down the stretch. Although his postseason numbers weren't impressive, the end result was better than what happened with the Rays in 2008 as they lost to Philadelphia. Jackson was used strictly as a reliever that October and was used for just 4.1 innings (allowing only one run).
It was actually in Tampa where Jackson had his greatest accomplishment: a no-hitter as a member of the Diamondbacks.
Jackson's career, while not brilliant in statistics, was impressive in sustainability and proved to be a true mark of resilience. And this performance at Tropicana Field on June 25, 2010 was a reflection of that over nine innings.
It was far from efficient. Anything but a thing of beauty. Through three innings, Jackson threw 70 pitches. By the end, a 1-0 D-Backs win, he threw 149. It was the highest total of pitches of any single game (no-hitter or not) in five years. There were eight walks, a hit batter, and an Arizona fielding error. It was one of the most unusual no-hitters, but it also made a lot of sense for a pitcher who enjoyed taking the scenic route.