Feature
Reliving the Mike Piazza Trade Saga 25 Years Later
A pit stop with the Marlins is often forgotten when looking back at the trade that sent Hall of Famer Mike Piazza to the New York Mets.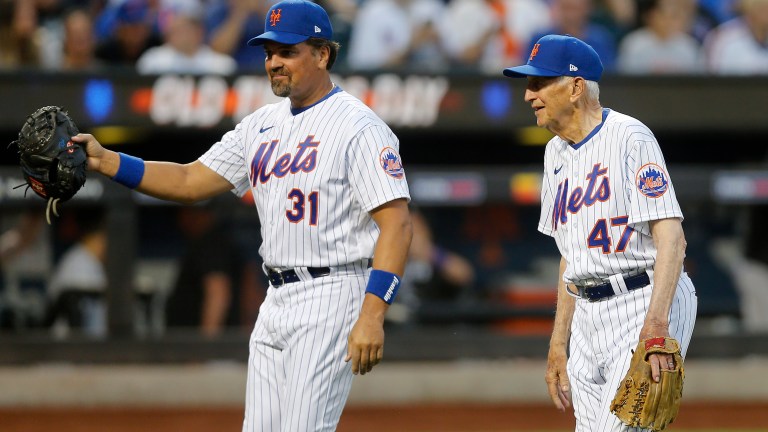 It typically takes about five hours to fly from Los Angeles to New York City. Mike Piazza, in May 1998, had about a week layover and not by choice.
Piazza's 62nd-round pick to "Greatest Hitting Catcher" path is among the most unlikely obscurity-to-Cooperstown trajectories in baseball history. But it may not be as unconventional as his three-team in under two-week whirlwind.
By the end of the 1997 season, Piazza had completed five full years and was already on a Hall of Fame track. Chosen by the Los Angeles Dodgers in 1988 basically because of his dad's friendship with manager Tommy Lasorda, Piazza won the 1993 NL Rookie of the Year with 35 homers and a 153 OPS+. He'd lead the league in OPS+ twice, hit better than .300 each season, and in '97 established one of the elite offensive years by any player (not just a catcher): .362/.431/.638, 40 homers, and 124 RBIs.
But Piazza was becoming increasingly unhappy. He had yet to win a postseason game, Lasorda had retired, the franchise was under new ownership (Fox Entertainment Group took the reins from the O'Malley family) and, most importantly, he wanted a contract extension with free agency looming after 1998. With negotiations at an impasse, Piazza aired out his frustrations to the Los Angeles Times, which did nothing to calm the waters.
Opening Day arrived and an attempt to make an offer went awry. The Dodgers now realized if they were going to lose him, they might as well get something in return. The Florida Marlins were the ideal trade partners. Coming off a World Series, their owner Wayne Huizenga couldn't afford to keep the team together and was already in the midst of a serious dismantling.
On May 14, Piazza and Todd Zeile were shipped to South Beach in exchange for a package of Gary Sheffield, Bobby Bonilla, Charles Johnson, Jim Eisenreich, and minor leaguer Manuel Barrios. Even as the deal was being finalized, everyone knew Piazza's time with the Fish would be temporary. The Marlins were not in the business to pay lucrative contracts and after sending away most of their lineup, they needed more assets coming their way.
The leading suitor now was the New York Mets, even as their general manager Steve Phillips voiced on local radio that it wouldn't happen. New York broke a six-year losing season skid with 88 victories in 1997. The Mets resembled a good team, but one that wasn't going to scare anyone. The fans knew the type of difference-maker Piazza could be.
The New York public and media saw an irresistible opportunity for the Mets to sign a potentially transformative figure in the organization — one capable of turning the Mets from overachievers into contenders. With ownership making the final push, all it took was Preston Wilson, Geoff Goetz, and Ed Yarnall for the generational catcher. It happened in eight days.
You wonder if Piazza even unpacked his luggage. You'd also have to search hard to find footage of Piazza in teal. He played just five games with the Fish, getting five hits and five RBIs in 19 plate appearances.
After a beginning that didn't resemble the power hitter fans were used to, Piazza turned it on. He ended his three-month stint with a .348 average, 23 home runs, and a 1.024 OPS. In batting .378 for September, Piazza was the clear catalyst in New York's fight for a postseason berth.
The Mets wasted no time in leaving the question of "will he stay?" unanswered, and inked him to a record seven-year, $91 million deal that ensured he'd be a New Yorker through his prime.
"We were doing fine [before him]," Bobby Valentine, his manager for five seasons, said. "It was moving along. And when he got here, everything changed. Perception included."
While the Mets never won a championship with Piazza as a central figure, the Mets won the trade. They made consecutive postseason appearances for the first time and went to the World Series in 2000. Piazza established himself as a New York baseball legend in his seven-plus seasons, had his No. 31 retired, and became the second player inducted into the Hall as a Met.
But don't discount the Marlins as benefiting from their maneuvers. This laid the groundwork for their next title, as two of the pieces acquired from New York were used in trades to get Mike Lowell and Juan Pierre — key contributors to the 2003 World Series champions.
If anything, baseball fans now have a fun trivia question to ask: "Where did the Dodgers trade Mike Piazza?" Anyone with his Marlins jersey has a true collectible.