Analysis
MLB Injury Report: Orioles Brace for Worst as Felix Bautista Hits IL
Major League Baseball's best closer is on the injured list, after the team announced he is dealing with an injury in his UCL.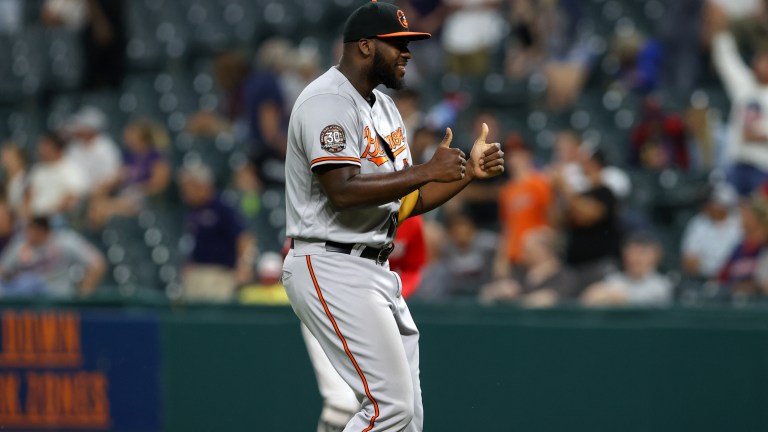 Welcome to September, folks.
It's the long Labor Day Weekend, the last weekend where baseball maintains its stranglehold on the sports-watching world. And though football will begin to creep its way into the picture, there are still major storylines to keep our eyes on as the last 30ish games of the Major League Baseball season play out.
Playoff spots, the race for MVP and a MAJOR weekend series in Los Angeles.
Many of these involve injuries. So let's get into this week's report.
Félix, finished? Bautista sustains 'some degree of injury' to UCL
Look, I usually like to start these reports with the newest piece of information. And while that's not the case here, it is the case that this injury situation could be the most impactful one over the course of the next two months.
Last week, Orioles closer — and frankly, the best relief pitcher in baseball — Félix Bautista hit the IL with an elbow injury. It looks like the injury happened here.
Bautista left the game with "arm discomfort." The prognosis seemed ominous when we later found out there was "some degree of injury" (hey, their words not mine) to his ulnar collateral ligament, or UCL. In my eyes, the prognosis is even more ominous considering we haven't heard anything more in the past five or six days.
It's certainly sensible to believe this injury has ended Bautista's season. It may have even ended next season for him. And that is truly devastating for an Orioles team that has relied so heavily on its bullpen this year.
Between Bautista and Yennier Canó, the pesky O's may have the best 1-2 relief punch in baseball. A great way to prove my point is with this stat. The O's are 24-12 in one-run games this year, trailing only the Brewers (27-13) for the best record in that category. Also worth noting, the Orioles' starting rotation carries a 4.37 ERA. The bullpen carries a 3.56 ERA, nearly a full run lower.
Maybe Canó can fill the massive void left by the man nicknamed 'The Mountain.' Maybe he can't. I guess we'll find out. But before we move on, I have to show you the numbers about why Bautista is so important. In 61 innings, Bautista's earned 33 saves and has pitched to a 1.48 ERA and a 0.92 WHIP. He's struck out 110 batters in that time, good for a 46.4% K rate.
All of Bautista's under-the-hood numbers are just as impressive. His xBA (.142), xSLG (.239), wOBA (.218), and xWOBA (.226) are all in the top ONE PERCENT of the league.
He's so good. And they need him…badly. Let's hope for the best here.
Juli-oh no! Seattle superstar Rodriguez out with foot injury
Now this one's more timely, though it may not be as serious.
Julio Rodríguez was held out of Wednesday's lineup — his second consecutive game — with what manager Scott Servais described as a "pinched nerve situation" in his left foot. It flared up first on Tuesday and forced him out of the starting lineup.
The Mariners are off Thursday, before they start a weekend series with the Mets. So far, several reports say he should avoid a stint on the IL and be ready for Flushing.
I don't have to tell you how hot Rodríguez has been. Every baseball fan knows it. I'd say he's the hottest man in America right now, but Mookie Betts is hitting like .800 in the month of August.
Hyperbole, but you get the point. Still, Rodríguez slashed .429/.474/.724 in August, and was coming off homers in his past three games. He's been the key cog in the machine that's turned the Mariners' season around.
Hopefully, those reports are right, we can wipe our brows and he's back in the lineup where he belongs Friday night.
Two Jays, one infield: Blue Jays lose left side of Bichette, Chapman in same game
From one AL contender to another…
Entering Thursday, the Toronto Blue Jays are 73-61 and 2.5 games out of the last American League Wild Card spot.
Sunday, the team suffered a huge blow when they lost both members of the left side of the infield. Bo Bichette left the game with a right quad injury, while Matt Chapman left with right middle finger inflammation.
Both players hit the IL, but Chapman's injury appears to be more severe than Bichette's. Officially, Chapman's is being called a sprained right middle finger, something he initially hurt putting away a weight in the weight room several weeks ago.
This situation has added to what's been a frustrating season for the soon-to-be-free-agent third baseman. He came out of the gates like a wrecking ball, hitting .384 with 20 extra-base hits and 21 RBIs in April. Since, he's hit just .211 with a .663 OPS. He's also striking out a ton, 28.5% of his at bats to be exact.
Luckily for the Jays, Davis Schneider has been a revelation since his call up. In 14 games played, he's 20-for-47. That's .426 for the folks at home. He's also smacked six homers in that time. Obviously he'll cool down, but it's been a nice jolt for a team that feels very much like it's all hands on deck.
Now to Bichette…
He's so obviously been the Jays' best player this year, someone they can least afford to lose. His .314 batting average and .832 OPS have been consistent for a team that's struggled in that department all year. Now for the second time in a month, they're trying to scratch and claw without him.
Officially for him, it's a quad strain, and he's hoping to miss the minimum amount of time. But, he did tell reporters he had to be careful, to avoid an 'out for the season' situation.
I mentioned Schneider, but Ernie Clement has also played a role in this creative reimagining of the infield. Friday is September 1, meaning we could see one of a few top prospects in a Blue Jays uniform. Could it be Orelvis Martinez? Maybe Addison Barger? Perhaps Spencer Horwitz?
We won't have to wait long to find out.
Red Sox Duran done for the year after turf toe surgery
I don't know if it's fair to call the Red Sox contenders anymore. Now 6.5 games out of the last Wild Card spot, it feels like their playoff efforts, while insanely valiant, will come up a bit short.
Still, the emergence of the young players will give most of Red Sox Nation something to smile about. I say most, because at the end of the day, it's still Boston we're talking about.
Jokes aside, Triston Casas and Jarren Duran have been awesome. But it looks like Duran won't be able to finish off what's been a breakout year. He had season-ending turf toe surgery on Wednesday. He had been on the IL since August 20, when he stubbed his toe climbing the wall at Yankee Stadium.
In 102 games, he's slashed .295/.346/.482 with 34 doubles, 24 stolen bases and a 120 OPS+. He also dropped is K-rate to a career-low 24.9%, while increasing his walk rate to a career-high 6.6%. Duran also solidified the Red Sox center field defense, playing a majority of his games there. That responsibility now likely falls on Adam Duvall.
For Duran, he'll rest and rehab his way into 2024, with a solid foundation to build on.
Cubs' Fulmer has another forearm injury
I'm going to finish things up with the Chicago Cubs, who've embodied the words roller coaster in 2024. Solid start followed by extreme skid followed by absolute heater. Entering Thursday, they were just three games back of Milwaukee for first place in the NL Central.
Way back in April, I wrote in my bold predictions the Cubs would win 90 games, in part because they "would find some guys to get a few outs." One of those guys, Michael Fulmer, got a scare last week when he was experiencing pain in his forearm. He hit the IL with what was diagnosed as a strain, but if anyone knows Michael Fulmer, they know that's a bit of a precarious diagnosis.
Fulmer's injury history includes an ulnar nerve transposition surgery in 2017 and Tommy John surgery in 2019, so another forearm-related issue was a major concern. Luckily, it appears like a strain is all this is. This tweet is from Tuesday.
And while you might look quickly at the numbers and ask yourself why losing someone like Fulmer would be a big deal, you have to look at the big picture to understand what losing any arm does for the Cubbies bullpen.
Brad Boxberger, while on his way back, hasn't pitched since mid-May with a forearm strain of his own. Nick Burdi has also been out since May. Drew Smyly has been shifted to bullpen duty to help stabilize the group, while youngster Jordan Wicks fills the slot in the rotation left behind by Marcus Stroman, who by the way won't be back any time in the immediate future. So like I said, big picture…
It's been fun to watch the Cubs claw their way back into contention this year. Baseball is better with them in the mix. Hopefully Fulmer's strain is just a strain and they can maintain their solid play for another 30 days.
One more quick note:
Shoutout Michael Brantley. Back on a baseball field for the first time in more than a full year, and he picked up two hits Wednesday night in Boston.
That Astros lineup finally feels whole again.