News
MLB Injury Report: Late Additions, Subtractions To Impact Playoff Push
With just one weekend left in the Major League Baseball season, several playoff teams are expecting to both lose and gain impact players.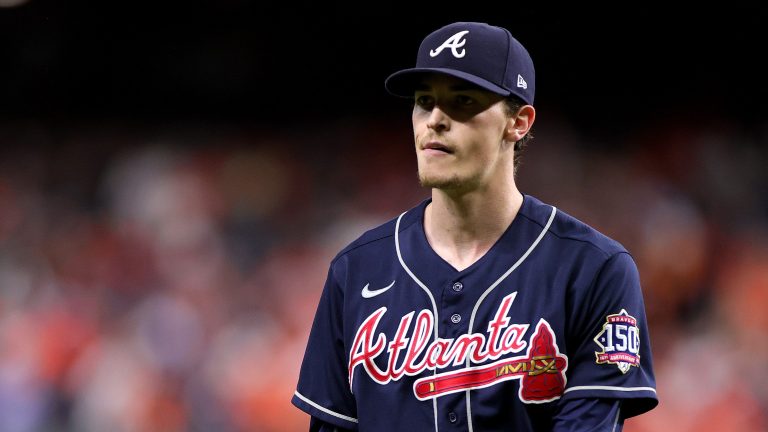 We made it. The last weekend of the year.
The 2023 season was, in many ways, historic. The banning of the shift and return of the stolen base brought offense and excitement back in a major way. Those two rule changes also ushered in individual performances we've never seen before, and may never see again.
Teams are set to make the playoffs for the first time in nearly a decade. It will also be the first time in 30 years the Yankees, Red Sox and Cardinals will all miss the playoffs.
And as we make one last weekend push for October, and officially set the playoff bracket, let's look at which teams are healthy and which are hurt.
Let's dive into the last injury report of the season.
Updated as of September 28.
Dominant Braves enter playoffs with rotation questions
I feel like we have to start with the best team in baseball.
I've said it once, and I'll say it again. The Braves are a complete ball club.
But — and this is a small 'but' — there are some concerns.
Namely, the fact the Braves might go into the playoffs without Max Fried and Charlie Morton, who are both dealing with funky finger injuries.
Let's start with Fried. He was placed on the IL with a blister on his left finger. And while many fans were worried, his injury timeline is set to expire before the National League Division Series. While blisters are always concerning, when Fried has pitched this year, he's pitched really well. In 14 starts (77.2 innings), he's pitched to a 2.55 ERA and a 1.13 WHIP, while striking out 80 hitters in that time. It's just a matter of getting him on the mound.
Now to Morton…
He was placed on the IL with right finger inflammation.
Here's more information from Morton himself:
This injury, because of when it happened, not only ends Morton's regular season but also his chances of pitching in the NLDS. Rosters will have to be set for that series before he's eligible to come back.
I'm not sure what this means for the Braves' playoff rotation, but I'd imagine we're going to get a long look at Bryce Elder in Game 3 against whomever their NLDS opponent is.
Orioles' Bautista throwing from a mound
The Bird Bath is making its way to October for the first time since 2016. They – like the Cincinnati Reds – have done it on the backs of outstanding young players.
But the Orioles' most impactful player is the man who carries the nickname 'The Mountain.' Félix Bautista was lights out this season. He was 8-2 out of the bullpen, with 33 saves and 110 strikeouts in just 61 innings. He accumulated 33 saves and was even getting Cy Young talk.
That is, before he went down with a UCL injury. It began ominously, with the thought Bautista would be shelved for the rest of this season and possibly deep into next season too. Then Tuesday came, and he threw 25 pitches in a simulated game.
Needless to say, that fired up the fanbase and gave them hope they'd see the big man on the mound again in the playoffs. However, Manager Brandon Hyde threw some water on that fire when he said the team was running out of time to activate Bautista.
This team is still VERY much in contention to win it all. Cionel Pérez and Yennier Cano have filled in admirably in Bautista's absence. That said, it will certainly be a postseason storyline if he isn't able to make it back in time.
Stung, Rays: Tampa enters playoffs with several injury questions
Now, to the team the Orioles are leading in the AL East: the Tampa Bay Rays.
I will be brief here, because there's a lot to get to.
The Rays, the AL's top Wild Card team, are fighting injuries across the roster. Tell me if you've heard that one before.
Let's start with Randy Arozarena. He made his return to the lineup Wednesday after missing the past few games with quad tightness. Yandy Díaz is still sidelined after he left the game Sunday with hamstring tightness. On Wednesday, he said he was feeling "a lot better," and the thought is he'll be ready to rejoin the team Friday in Toronto.
Jose Siri has been out since September 12 after he was hit by a pitch on the hand. Siri had imaging done on Wednesday, and the team was encouraged by what they saw. So much so, that he will begin baseball activities starting Thursday.
Luke Raley was initially hurt during a freak pregame accident with a staff member on September 16. He was diagnosed with a cervical strain, placed on the IL, and shut down for a few days. He's begun some light rehab work and is 'getting close' to baseball activities.
Brandon Lowe is dealing with a right kneecap fracture after he fouled a ball off himself on September 21. The timeline was set at 4-6 weeks, which would seem to end his year. But if the Rays advance deep into October, maybe – just maybe – he'd be able to make a return.
Last, but certainly not least…
Fresh off the IL, Jason Adam left his first appearance back when he re-aggravated his oblique injury. Adam said this injury feels worse than the first one. This ends his regular season, but Adam said he's hopeful to return at some point during the playoffs.
Marlins' Arraez still missing from lineup
The NL Wild Card race is TIGHT.
As of now, three teams are in contention for two spots. Entering play Thursday, the Arizona Diamondbacks were two games ahead of the Chicago Cubs and Miami Marlins, who are tied for the final spot.
The Marlins have already lost their ace Sandy Alcantara for the season, and have been playing for the last week without presumed NL batting champ Luis Arraez, who sprained his ankle pregame on September 19. Eight days later, and he was hobbling around in an ankle brace as the team prepared for a doubleheader with the Mets.
As I read the tea leaves this morning, it sounds like Arraez is questionable to play Thursday night. The team is 4-3 in his absence and has one game left with their division rivals before they finish the season in Pittsburgh. You'd have to think he's pushing to get back for the final series of the year.
Cubs get Candelario back, Alzolay could be close behind
Did I mention the NL Wild Card race is spicy?
Chicago lost again to the Braves Wednesday, pulling them into a tie with Miami for the final Wild Card spot. That's particularly shaky ground for the North Siders, considering they have one more against the Braves on Thursday before finishing the year against the Brewers. You know the Brewers would love nothing more than to knock their rivals out of the playoffs.
But the Cubs will get a boost in the final four games. The team activated infielder Jeimer Candelario from the injured list Wednesday. He was the Cubs' big deadline splash, expected to provide gap-to-gap power in the middle of the lineup. At the time of the trade, Candelario was slashing .258/.342/.481, with 30 doubles and 16 home runs. When he got to Chicago, he continued to swing a hot bat, hitting .305 in his first 92 plate appearances.
However, a brutal slump dropped his Cubs average to .231. Still, injecting his bat back into the lineup will prevent the Cubs from having to rely on a combination of Miles Mastrobuoni, Nick Madrigal and Patrick Wisdom.
But Candelario may not be the only returning piece.
Cubs' closer Adbert Alzolay threw a 20-pitch batting practice session to Candelario Wednesday. He's been on the injured list with a forearm injury since the middle of the month. But the BP session went well, and there's optimism the Cubs' late-inning sensation will be activated for Friday's series start with Milwaukee.
For those who haven't watched, Alzolay is straight-up nasty and has really settled into the closer role for the Cubs in the second half of the season.
Reds lose rookie McLain, defensive wiz Bader for the season
Heading into Thursday, the Reds sit 2.5 games behind the Marlins and Cubs for that final NL Wild Card slot.
It feels like the Reds have simply run out of time to slide into the playoffs. Their Saturday night loss to the Pirates was a backbreaker. Believe me, I was there to see it live. When the Pirates recorded the final out, it just felt like that was the end of the season.
They've scratched and clawed exquisitely all season long. Their efforts are even more impressive when you consider several of their players getting everyday at-bats had never played in the big leagues before. But one of those outstanding rookies – Matt McLain – will be shut down for the rest of the year. 
As McLain was on a rehab assignment, he re-aggravated the oblique injury that had sidelined him for about a month. It looks like this new injury is a Grade 2 strain, more serious than his original injury. These oblique strains don't carry a typical timeline but can keep guys out for about two months. 
McLain seemed pretty bummed about it when he spoke to reporters recently.
As for Bader, it seems like his groin injury will force him to miss the rest of the season. Claimed off waivers from the Yankees, Bader hit just .161 in 14 games as a member of the Reds, recording a .429 OPS in the process. He finished a disappointing 2023 campaign, slashing just .232/.274/.348 overall, with a few IL trips mixed in.
Bader's a free agent at season's end, so it'll be interesting to see where he ends up and who decides to take a flyer on the oft-injured defensive specialist.
Twins' triple threat working their ways back
The Twins are AL Central champs. Even better, they won't have to play their playoff bugaboo New York Yankees.
You'd think the vibes would be high in the Twin Cities. But this team has had to navigate its share of injuries, especially to big-name players.
As the Twins wind down their regular season, they'll likely be without Carlos Correa, Royce Lewis and Byron Buxton, who are all nursing injuries. That said, it also looks like all three guys will have a shot to take the field come playoff time. On Wednesday, the Twins hosted a simulated game at Target Field, and all three players participated. Lewis even homered, because OF COURSE he did.
The best estimate of when we can see these guys back on the field came from manager Rocco Baldelli, who had this to say about each player:
While the timelines seem a bit ambiguous, it's pretty set in stone how important these players are to this team's October success.
Phillies' Hoskins eyeing possible World Series return
We all knew it when we saw it.
March 23, 2023. Rhys Hoskins backs up to snag a ground ball in a spring training game. The Phillies' first baseman takes a step, appears to jump and instantly crumples to the grass.
He was diagnosed with a torn ACL, needed surgery, and was said to be done for the year.
But, the Phillies have taken care of business and secured themselves another playoff berth. And depending on how far they advance, Hoskins MAY be in play.
Here's manager Rob Thomson:
And here is Rhys Hoskins taking BP pregame Thursday at Citizen's Bank Park:
In the meantime, it looks like Bryce Harper will be the Phillies' everyday first baseman. And who knows how game-ready Hoskins might be if and when he does return. What's more, while his home run and subsequent bat slam were electric, he only slashed .159/.205/.435 last postseason.
If nothing more, his recovery may be a moral boost for the Phils. And maybe, that moral boost is just what they'll need to get over the hump this year.
Rangers holding their breath after Jon Gray's wrist injury
There isn't too much here to pass along. So, I'll just go with what we know.
Jon Gray left his Monday start in the 7th inning with a wrist injury. He was warming up, felt something, and left the game with the training staff. On Tuesday, Gray went for "imaging" on his wrist, and the team is still waiting for the results on that.
While we wait and see, it's worth noting the Rangers are also without Max Scherzer and Jacob deGrom for the rest of the season, including the playoffs. And while they've tried to fill those holes a few ways, Gray has been consistent. His 29 starts and 157.1 innings pitched are the second most in his career.
We don't know for sure just yet, but losing him may be a blow that the starting rotation cannot come back from. We'll keep our fingers crossed this injury is nothing serious.
The Rangers also got a scare when Corey Seager got hit by a pitch on his forearm Tuesday. But the crisis has been averted. Seager returned to the lineup Wednesday and had two hits.