Analysis
MLB Injury Report: Ohtani's Season, Angels Career Likely Over
The dual-threat superstar underwent an elbow procedure that will keep him off the mound until 2025, but should enable him to hit in 2024.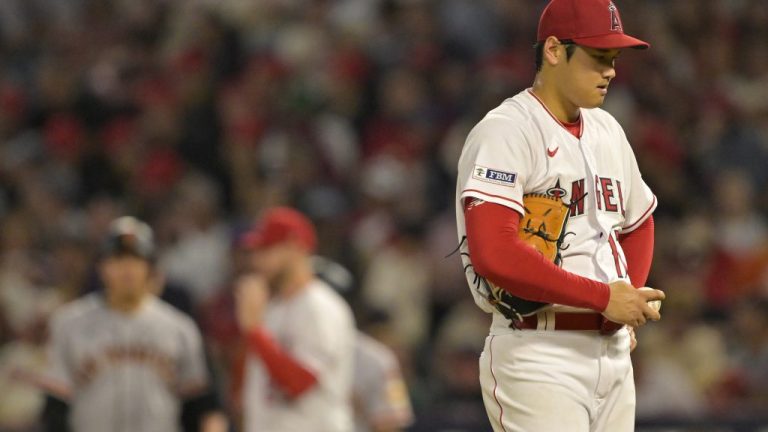 Two. Weeks. Left.
The Major League Baseball season is coming to a close. Some division races (looking at you, AL West) and both the Wild Card situations are still up for grabs.
Who makes the move for them in the last eight games will, in some capacity, come down to injuries.
With an eye toward playoff baseball, let's get into this week's injury report.
Sho's Over: Ohtani's surgery casts doubt on future
I wish this injury mattered as it relates to playoff baseball. But sadly, it doesn't.
The Angels just clinched their eighth losing season in a row. Pitiful, for a team that employs two of the league's five best players.
While it doesn't affect this year's playoffs, what happened to Shohei Ohtani will almost undoubtedly affect what happens next playoffs. The Angels' dual-threat superstar underwent elbow surgery on Tuesday. We don't which procedure he had, but Octane's agent said the surgery will allow him to be ready to hit on Opening Day 2024, with an eye on getting back on the mound in 2025.
The mayhem with this story started last week, when Ohtani cleared out his locker and left the team. The following morning, they said he was going on the IL and would be shut down for the year with an oblique strain. A few days later, we find out about the elbow procedure. Though to be honest, that wasn't breaking news by any stretch of the imagination, considering we all knew he had an injury to his UCL.
As for what jersey Ohtani wears next year, I'll leave that up to my colleagues to write about, and the rest of the baseball-watching universe to talk about. But if I were a betting man (and I am) I would bet my money he would not be wearing an Angels jersey. I don't know if I've ever seen a team bungle the trade deadline that bad in my 30 years on this earth. But, hindsight is also 20/20.
Let me end this segment by showing you Shohei's numbers.
With the bat, he slashed .304/.412/.654, with 44 HR, 20 SB, 95 RBI, 102 R, and an OPS+ of 184. On the mound, he threw 132 innings, pitching to a 3.14 ERA and a 1.06 WHIP. He struck out 167 batters, walked 55 and had an ERA+ of 144.
We've never seen anything like him. Hopefully, we see him in October next year.
Twin Killer: Carlos Correa hits the IL again, Royce Lewis tweaks hamstring
The Minnesota Twins' magic number is down to one. They're all but going to turn what could've been a turbulent, unpredictable season into a division title.
For all the injuries they've suffered, here they are ready for another crack at luck in October. But they may have to do it without the man who started their whacky season back in January.
Carlos Correa hit the IL Wednesday after he re-aggravated the plantar fasciitis in his left foot. Correa was removed from Monday's game, after he said he heard something pop in his heel. He also played through the injury back in May, but this time around thought it better to rest up and stay out of the lineup. The earliest he can return is September 29.
Correa has obviously had a down year, slashing just .230/.312/.399 with 18 home runs in 135 games. But he didn't sign the six-year, $200 million dollar contract to win regular season games. He signed it to win in October. And if 10 days of forced rest can ensure he'll be on the field when the calendar turns, then you'd have to consider that a win.
One more thing…
Roye Lewis left Tuesday night's game with a hamstring injury. Here's what he told reporters Wednesday afternoon:
Lewis has been a revelation when healthy this year. He's also been a grand slam machine, which has been enthralling to watch. He says he's not that worried. You've got to trust the guy there. But you'd also have to imagine the Twins would play this one safe too.
They're lucky they play in the AL Central, and can end the year on cruise control if need be.
Mountcastle to miss time: O's first baseman to hit IL with shoulder injury
The Orioles are in the big dance for the first time in seven years. It's beautiful. And it's on the backs of what feels like an army of 21-year-old kids.
There's been so much star power ascending from the Orioles' minor league system that many people have forgotten about the "elder" statesman in the room. I use the quotation marks because he's just 26 years old, but it is slightly true that Ryan Mountcastle has become a bit of an overlooked commodity in the middle of the O's lineup.
He's a guy with almost 1,800 big-league plate appearance, someone with legitimate 30 home run power. But he's only played 111 games this year, and is set to miss even more, after hitting the IL with what's being described as AC joint inflammation.
He originally felt the pain about a week ago. Here he is discussing it:
Here's his manager Brandon Hyde providing more context a week later:
The hope is for Mountcastle to miss the minimum 10-day allotment and then return to the lineup. The O's have already clinched a playoff spot, are 2.5 games up on the Rays for the division and have a bevy of players who can fill his middle-of-the-order slot.
So it's not like there's a rush to bring him back, but you'd certainly like to see him get some game action before Hyde pencils him into the playoff lineup.
He's been productive when healthy (slashing .269/.327/.453 overall) and smashes lefties (.340/.396/.660), so let's hope the time off gives his shoulder enough chance to heal.
Injury concerns/returns highlight Reds race toward October
If you're a Reds fan, you've got to be encouraged by this season. Through the disappointing veterans, exciting rookies, devastating injuries, trade rumors and everything in between, they're 79-75 and entered Thursday just a game back in the NL Wild Card race.
The team will have to navigate injuries through the final eight games of the season. The latest news is that Graham Ashcraft, who's had an up-and-down year, has successful surgery to relieve a stress reaction in his right big toe. That will end his season, regardless of a possible playoff appearance. He is expected to be ready for 2024.
The team may also be forced to play in October without recently-acquired centerfielder Harrison Bader, who hit the IL for the third time this year. This time, with a right groin strain.
Bader's bat is a liability – he's slashing .232/.274/.348 between the Reds and Yankees this year. Since joining the Reds, he's batting just .161 through 14 games played. Still, his base running and defense would be valuable assets come playoff time. He's stolen 20 bases in just 98 games, while continuing to lock down center field with his glove.
Now to the good news…
If everything goes according to plan, the Reds should get rookie infielder Matt McLain back as early as next Tuesday. He's been out for almost a month with an oblique strain. Before getting hurt, McLain may've been the most impressive rookie on the roster, slashing .290/.357/.507, with 16 homers, 50 RBI, 14 stolen bases and 65 runs scored in 365 at-bats.
Arráez-ing concern: MLB batting leader out with ankle sprain
I have loved watching Marlins baseball this year. They're so exciting.
I've also loved watching Luis Arráez flirt with a .400 average for much longer than many people anticipated. Truthfully, it's going to take a hot 10-game stretch for the Fish to sneak into a Wild Card spot, but it is doable.
But they got dealt a really unfortunate blow Tuesday night, when Arráez sprained his left ankle making a play on a ball in warmups.
He talks about what happened here:
He also missed the team's game – an 8-3 loss – on Wednesday with residual soreness from that play. Here's what we told reporters postgame.
This isn't what Marlins fans are hoping for. Entering Thursday they're 0.5 games out of the final Wild Card spot. They've played good ball, and Arráez has led the way. Let's hope he can find a way in the lineup over the final nine games. He's not hit the IL yet, and probably can't afford to with how important each game is down the stretch.
For those who're counting…
Arráez is hitting .354 on the year, and almost certainly has the batting title wrapped up.
D-backs lose Drey: Tommy John surgery ends Jameson's season, casts doubt on 2024
One more playoff-hopeful team to discuss.
Much like the Orioles, the Arizona Diamondbacks have been a pleasant surprise in 2023. Their young players have emerged early, led by starboy Corbin Carroll, who may be having the most unspoken-about 25-50 season ever.
Even Brandon Pfaadt, who struggled MIGHTILY to begin his big league career, has rounded into form and showed flashes of the pitcher he can be.
But the Baby Backs will have to march on without another promising young arm. Drey Jameson, who's been fighting elbow problems for a little while, will undergo Tommy John surgery. It ends his 2023 season, and likely shelves him through 2024 as well. Initially, the team said Jameson was dealing with a UCL strain, and he was planning to avoid surgery and rehab his way through.
Now, the former top pick faces a long rehab process.
Since moving to the bullpen at the end of May, Jameson had been sharp for the snakes. Overall, he carried a 3.32 ERA through 40.2 innings, striking out 37 batters in that time.
Other News and Notes
I want to touch on a few more things quickly.
The Cleveland Guardians — while out of the playoffs — will earn a bit of a moral victory when they get their two biggest arms back from the IL. Triston McKenzie worked 3.2 innings in a rehab assignment Tuesday with Triple-A Columbus. It's possible he's with the big club as early as Sunday. He hasn't pitched since mid-June.
The Guardians' ace is not far behind McKenzie. It's likely Shane Bieber will be activated Friday to start against the Orioles. This will be Bieber's first start since July 9.
The Washington Nationals will shut down MacKenzie Gore for the rest of the season because of a blister on his finger. Gore's been strong at times during his first full MLB season, especially in the first half. That said, he allowed too many baserunners, as shown by his 1.40 WHIP.