Analysis
MLB Hitters Stock Watch: Mookie Betts Is Back, Javier Baez Is Spiraling
Mookie Betts looks like he's back to his MVP form for the Dodgers while Javier Baez is off to a rough start in Detroit.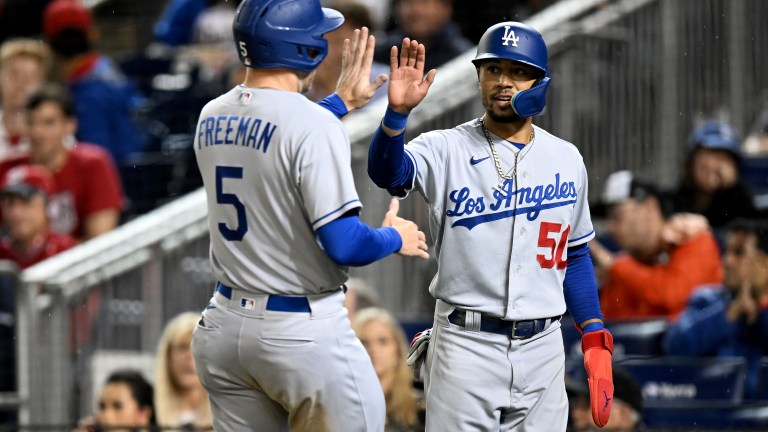 Each week, we will be checking in on the stock of MLB's hitters and pitchers who are trending most notably in either positive or negative directions. Can we expect these trends to continue for each of the players on the list? Let's dive into it!
To find the stock watch on pitchers for this week, click here.
Stock Up
Mookie Betts – OF – Los Angeles Dodgers
2022 Stats: .292/.385/.578, 12 HR, 172 wRC+
Mookie Betts is so good that he posted a 131 wRC+ last season and we were left wanting more. By Mookie's standards, last season was below average, but he was banged up for much of the year and only played a career-low 122 games.
Betts looks to be feeling much more like himself in 2022, already more than halfway to last year's home run total in less than a third of the games. The big difference has come in Betts' regained ability to punish non-fastballs, already launching five homers against breaking balls and changeups (had four total last season) while hitting well over .300.
The 29-year-old has been heating up as the season has endured, hitting .408/.491/.980 over his last dozen games and continues to play elite defense in right field. Betts looks like he is totally back to his perennial MVP candidate self and makes the Dodgers just that much scarier.
Daulton Varsho – OF/C – Arizona Diamondbacks
2022 Stats: .268/.337/.490, 8 HR, 130 wRC+
There's not many players out there who split time between centerfield and catcher, nor are there many players who are putting up better numbers in the month of May than the 25-year-old Diamondback.
Since May 1, Varsho is hitting .317/.378/.573 with four homers and nine doubles all while providing good defense wherever Torey Lovullo sticks him.
For Varsho, he has improved a little bit in a lot of places. The left-handed hitter has decreased his chase rate and whiff rate by a couple ticks, is hitting the ball in the air more and drastically improved on his surprising reverse splits from last season. Most notably, Varsho's average exit velocity has jumped by a mile per hour and his barrel rate has increased by more than 4%.
Varsho is a rare five-tool catcher with an ability to play plus center field and should be a core piece of the Diamondbacks future. Forget the sophomore slump, Varsho is already on the cusp of blowing his solid rookie numbers out of the water in 2022.
Santiago Espinal – INF – Toronto Blue Jays
2022 Stats: .284/.342/.418, 15 XBH, 117 wRC+
A wizard with the glove, Espinal has turned himself into a valuable bat this season, hitting the baseball with more authority without undermining his impressive bat-to-ball skills. Espinal has already nearly matched the his 2021 extra base hit total (16) with 15 this season in half the games.
Espinal focused on getting his lower half more involved to tap into some more power, adding a bit more of a visible leg kick in his load. The results are undeniable as Espinal has upped both his average exit velocity and max exit velocity by more than 2 mph.
As mentioned earlier, the added impact on the baseball did not negate Espinal's bat-to-ball ability. The 27-year-old is still striking out only 17.7% of the time while taking free passes as an 8% clip. Added power in exchange for a marginal rise in swing and miss is a no-brainer for a player like Espinal and he is now looking the part of a solid every day player.
Stock Down
Javier Baez – SS – Detroit Tigers
2022 Stats: .201/.241/.321, 3 HR, 63 wRC+
It was a tale of two halves for Baez last season. Starting 2021 with the Chicago Cubs, Baez struggled with major swing and miss issues before being traded over to the New York Mets where he played out of his mind during his 47 games with his new team. Baez played so well that he earned himself a nice six-year, $140 million pay day from the Detroit Tigers over the offseason.
As a Tiger, things have looked much like the end of Baez's Cubs career. The 29-year-old is struggling to get on base consistently, hitting the ball on the ground, and swinging and missing as much as ever. On breaking balls, Baez has been one of the game's worst hitters, posting a .138 batting average with a 53% whiff rate.
Not only is the infrequency of Baez's contact concerning, but when he is connecting, he is not hitting the ball as hard as we are accustomed to seeing. Baez's average exit velocity is the lowest it has been since 2017 and his max exit velocity thus far is six mph shy of last year's.
Baez will have his hot stretches, but I think it's fair to question what kind of offensive production we can expect from him. I think he'll be a bit better than what we've seen in Detroit, though I feel pretty strongly that the Tigers will regret giving such an inconsistent player a nine-figure deal.
Raimel Tapia – OF – Toronto Blue Jays
2022 Stats: .228/.261/.276, 1 HR, 53 wRC+
Tapia's stock peaked in 2020's shortened season when he hit .321/.369/.402 in 51 games. He took a bit of a step back in 2021, but the Blue Jays still felt that the 28-year-old left-handed hitter could help balance out their lineup, swapping Randall Grichuk for him ahead of this season.
Tapia is off to one of his worst starts in the big leagues, posting only four extra base hits through his first 38 games while walking at the lowest clip of his career. Tapia is at the basement of the league in chase rate and despite his efforts to hit the ball in the air more, he is not slugging at all.
While Tapia may be one of the lesser-known names on this list, his stock is trending towards DFA territory given his defensive struggles as well.
Corey Dickerson – OF – St. Louis Cardinals
2022 Stats: .183/.236/.220, 0 HR, 33 wRC+
The Cardinals added Dickerson to a crowded outfield ahead of this season, feeling the need to add an established left-handed bat to the fold. Dickerson has seen action in 32 contests this year, and despite being almost completely shielded from southpaws, he has struggled mightily at the plate.
Dickerson has a track record of being a slightly above-average hitter through his nearly 1,000 big league games, but his power has steadily dwindled year over year. While it is still a small sample size this season, Dickerson's barrel rate is the lowest of his career and there's no shortage of bats behind him making a strong case for MLB run time.
24-year-old left-handed-hitting outfielder Lars Nootbar has dismantled Triple-A pitching this year after a solid debut in 2021 for the Cardinals and with more athleticism than Dickerson, Nootbaar could soon eat into the veteran's opportunities.
The Cardinals also have one of baseball's most underrated prospects in Alec Burleson, another left-handed hitting outfielder, who has made a mockery of Triple-A pitching by hitting .303/.348/.559 with nine homers in 37 games. Though not a lefty, Juan Yepez has been spectacular in an outfield/DH role as well for the Cards, already launching four homers in 19 games.
Dickerson very well could get things going to a degree, but I just don't see him performing well enough to fend off all of the aforementioned youngsters who are pressuring the Cardinals for playing time.