Analysis
Mookie Betts vs. Ronald Acuña Jr. Has Become a Great MVP Race
Ronald Acuña Jr. was long the front-runner to win the National League MVP, but Mookie Betts has turned this into a race down the stretch.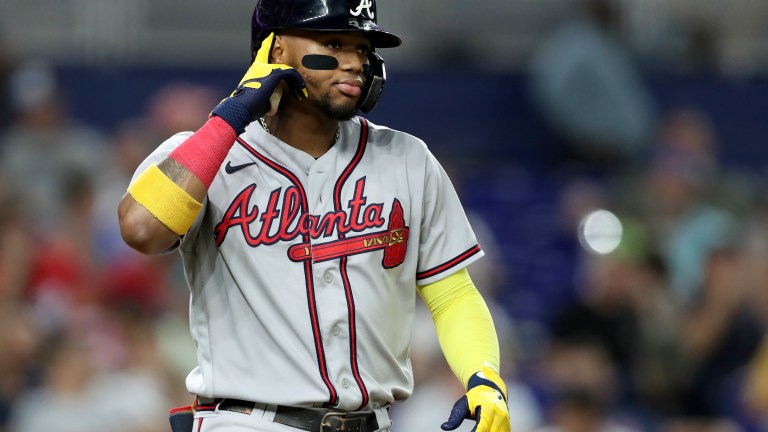 The National League MVP race can now be described as something that the baseball world likely thought it would not be back in July — close.
Ronald Acuña Jr., for all intents and purposes, has been the best player in the sport not named Shohei Ohtani for the vast majority of the season. He became the first player in MLB history to hit 30 home runs and steal 60 bases in a single season, which is certainly worthy of eventually being crowned the National League MVP.
Only problem for Acuña is that Mookie Betts has put together an other-worldly second half, with an especially torrid August, to make this race a tight one that is going to go down to the wire.
Ronald Acuña Jr.
6.6 WAR, .330/.411/.570, 123 R, 32 HR, 86 RBI, 63 SB, .981 OPS,163 wRC+
The Braves superstar outfielder opened the season on the short list of favorites to win the award, but his incredible play has made him the favorite, really, since May.
What separates Acuña is his unparalleled combination of power and speed. Out of the leadoff spot for the Braves, his 32 home runs and 63 stolen bases established MLB's 30/60 club, and with 24 games left, who knows where he finishes the season in those categories.
The fact that he is within shouting distance of a 40/40 season is unreal in and of itself. He would become only the fifth player to go 40/40 in a season and the first since Alfonso Soriano in 2006 with the Washington Nationals, and that alone adds to his MVP pedigree.
That said, there's more.
Acuña is third in baseball with his 6.6 WAR. His wRC+ of 163 — meaning he is 6e% better at producing runs than the average MLB hitter — is also good for fifth in the sport.
He also leads the National League in hits, runs and OBP, and is second in OPS.
There is also the "good player on a good team argument." Though it is largely outdated, Acuña has not missed a game (138 games played) and has been the best player on the best team in baseball this season.
There is a weakness in Acuña's game, however, that could leave room for Betts to steal this award away from him — defense.
Acuña, almost inexplicably, has been bad defensively this year. He is armed with blazing speed and a rifle for a throwing arm but has accumulated -0.5 dWAR this season.
Acuña, at the end of the day, is still the favorite to win National League MVP, and for good reason, but he is no longer than only player that has a real shot at winning it.
Mookie Betts
7.7 WAR, .313/.408/.609, 117 R, 38 HR, 99 RBI, 10 SB, 1.017 OPS, 173 wRC+
Betts opened the season as somewhat of a longshot — compared to the rest of the pack — to win the award, but the Dodgers superstar now-utilityman has done everything possible to help keep his team afloat when they were struggling and helped push Los Angeles over the edge and pull away from the pack as they were hitting their stride.
To be clear, Betts was good in the first half. Really, he was good. But his numbers since the All-Star break have been borderline historic, and that is why he is entrenched in this MVP race with Acuña.
In 46 games in the second half, Betts has slashed an incredible .381/.464/.652. His 203 wRC+ in the second half means he has been twice as good at producing runs as the average MLB hitter.
In August, en route to being named National League Player of the Month, Betts hit .455/.516/.839. He is well on pace to record the first 40-home run, 40-double season in Major League Baseball in eight years.
Overall, Betts leads the National League in WAR, slugging, OPS and wRC+. Like Acuña, Betts' production also comes out of the leadoff spot.
What can't be overlooked, however, is Betts' positional selflessness this season. He has played wherever his team has needed him most.
The six-time Gold Glove Award winner for his play in the outfield has played both second base (50 games) and, for the first time in his Major League career, shortstop (14 games).
Betts hadn't played shortstop since his time in the Arizona Fall League in 2013 but volunteered to do so this season due to injuries piling up in the Dodger infield.
Despite spending time at three different positions this season, Betts has accumulated 0.8 dWAR this season.
To make the "good player on a good team argument" for Betts, Freddie Freeman has had a ridiculous season in his own right, but Betts has been the engine for the Dodgers all year.
For Acuña it would be his first MVP, and if Betts were to win it, he would become only the second player to win MVPs in both leagues and the 33rd player in league history to win the award twice.
Both Acuña and Betts have put together seasons in which either could foreseeably win this award. In any other year, either of these superstars would be a shoo-in for National League MVP.
Truthfully, there is not a wrong answer between two of them.
That said, if I were the BBWAA writers, I genuinely do not know what name I would write down for National League MVP and, thanks to the seasons Acuña and Betts have put together, I certainly do not envy them.