Analysis
Mookie Betts Is Giving Ronald Acuña Jr. a Run for His Money
Not so long ago, Ronald Acuña Jr. had the NL MVP on lock, but now a red-hot Mookie Betts is making things a little more interesting.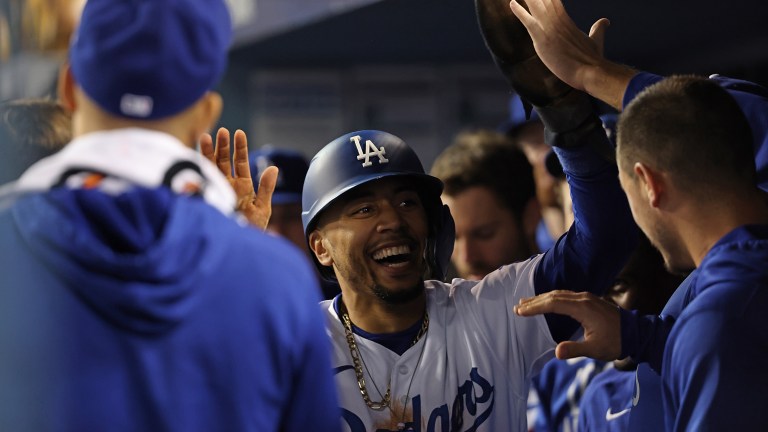 Ronald Acuña Jr. has been the National League MVP frontrunner since mid-April. As he continued to dominate through May and June, the baseball world couldn't help but wonder: Would both MVP races be decided before the All-Star break? Shohei Ohtani was the obvious favorite in the American League, and Acuña seemed to have the NL on lock.
Enter Mookie Betts.
Betts got off to a slow start by his own standards, slashing .235/.350/.431 with a 117 wRC+ over the first month of the season. He only hit four home runs in 27 games, and his 25 strikeouts were the most he's ever had in a single month. As of May 1, he ranked 38th among NL position players with 0.6 fWAR – nearly a full win behind Acuña.
Yet since that day, Betts ranks first on the Senior Circuit with 3.8 fWAR. He's slashing .296/.392/.630 with an NL-best 23 home runs. His 14.4% strikeout rate is the twelfth lowest among qualified batters, while his 13.4% walk rate is the ninth highest.
Betts also ranks 15th in the league in FanGraphs' baserunning metric, BsR, and he's been above-average in the field if you ignore his -2 OAA at shortstop; it doesn't seem fair to penalize him for playing a brand new position to help out his team. Just watch him play the outfield and try to argue he isn't great with the glove:
After tearing the cover off the baseball for the past twelve weeks, Betts has made up much of the ground he lost with his slow start. His 27 home runs rank fourth in baseball, while his 65 RBIs rank tenth. He is one of four qualified batters with a wOBA above .400, and the only one to do so with a BABIP well below league average.
Betts ranks second in the NL in fWAR, only seven-tenths of a win behind Acuña. He also ranks second in Baseball Reference WAR and third in Baseball Prospectus WARP.
In other words, Acuña is still the favorite, but Betts is making things interesting. If both of these guys keep this up, it's going to turn into a good old-fashioned MVP race down the stretch.
Two of the game's best, duking it out for glory. One is a veteran, who's finished top-10 in MVP voting six of the last seven years. The other's a young stud, finally putting it all together and showing what he's capable of. Now that's compelling.
I love both players, and I'd be thrilled if either took home the trophy. But what thrills me the most is the competition itself – especially when it looks like Ohtani is going to cruise his way to victory in the AL.
Last week MLB.com polled 47 writers and analysts, and Acuña was the unanimous midseason selection for National League MVP. However, with the way Betts is playing, the next poll might be a little closer. As Dodgers manager Dave Roberts told reporters, "I think he's trying to win the MVP."
Betts' candidacy is particularly exciting because he could become just the second player to win the MVP in both leagues. Frank Robinson, who won with the Reds in 1961 and the Orioles in 1966, was the first. Betts claimed his AL MVP with the Red Sox in 2018.
What's more, Betts could also become the first player to win an MVP and a World Series in both leagues. He won his first championship with the Red Sox in 2018 and his second with the Dodgers two years later. He already looks like a future Hall of Famer, but you have to presume this would cement his case.
Acuña winning his first MVP is a good story, but Betts making history would be even better.
Mookie Betts has been so good for so long that sometimes it's hard to believe he's still at the top of his game. Over the last 365 days, Betts ranks third in the NL in homers, second in wRC+, and first in fWAR. And he won't even turn 31 until October.
Ronald Acuña Jr. might be the future of National League baseball, but Betts is still the present. He's in this MVP race, and he isn't going down without a fight.
All stats and rankings as of July 20.