Analysis
MLB Pitchers Stock Watch: Michael Kopech's Sunday Night Gem Has Him Skyrocketing
Plus, hot starts in the Diamondbacks and Phillies rotations have cooled off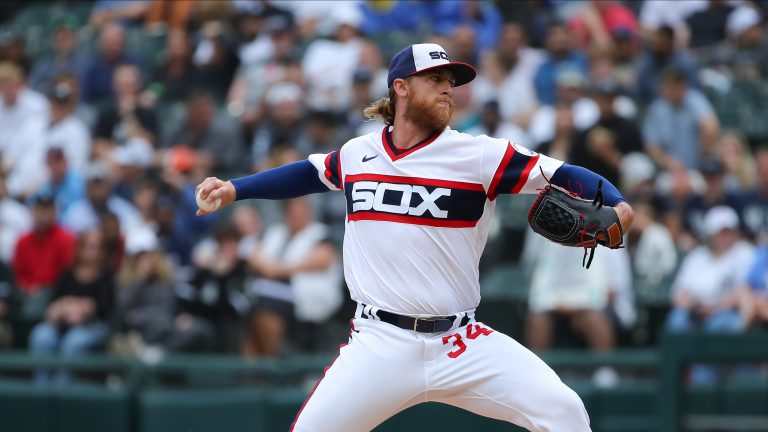 Each week, we'll be checking in on the hitters and pitchers in Major League Baseball that are trending most notably in a positive or negative direction.
To find the stock watch on hitters for this week, click here.
Stock Up
Michael Kopech – RHP – Chicago White Sox
2022 Stats: 42.0 IP, 1.29 ERA, 2.68 FIP, 39 K (24.2% K%), 19 BB (11.8% BB%), 1.2 fWAR
As Peter Appel and myself mentioned on The Just Baseball Show on Tuesday, Kopech's performance on Sunday Night Baseball in the Bronx may have been the most impressive pitching performance we've seen this year (yes, we know there was a no-hitter).
To do what Kopech did to one of the best offenses in baseball, including arguably the two most menacing hitters on the planet, is astounding. His final line:
7.0 innings, one hit, no runs, six strikeouts, and two walks on 92 pitches.
Arguably the most impressive part of Kopech's season has been his overwhelming usage of two pitches: his mid-90s fastball, and his improving slider. Not many starters can survive deep in games with only two offerings comprising the majority of their pitches, but Kopech can. On Sunday night, he threw 54 fastballs, 32 sliders, and just six curveballs. While the quantity could make you shudder, the location should be encouraging.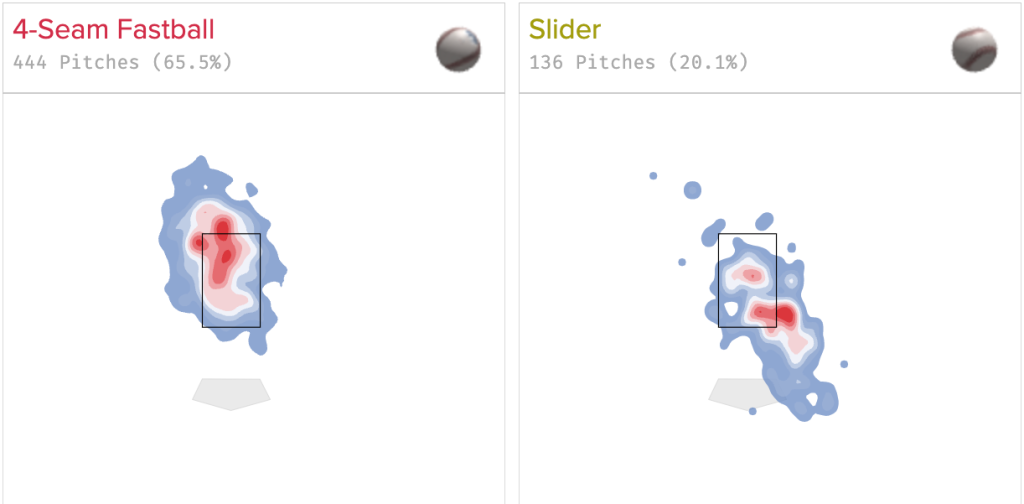 If Kopech continues to locate consistently like he has in the early goings, he can not only survive on just two main pitches, but thrive. Think Freddy Peralta last year; Peralta had a few more pitches to break up the lull of a fastball/slider mix, but an arsenal dominated by those two pitches netted Peralta a .165 batting average against in 2021.
Framber Valdez – LHP – Houston Astros
2022 Stats: 54.0 IP, 2.83 ERA, 3.24 FIP, 43 K (19.0% K%), 19 BB (8.4% BB%), 1.1 fWAR
We hereby declare Framber Valdez "The King of the Ground Ball." After leading all Major League pitchers (minimum 100 IP) last year by nearly ten percent with a 70% ground ball rate, Valdez is at it again, pacing the league with a 65.8% ground ball clip.
Valdez is quickly blossoming into one of the most effective strike-throwers in the game. So far this season, Valdez is third among qualified starters in percentage of pitches thrown in the strike zone at 47.0%. Of the three top strike-throwers in the game (Valdez, Yu Darvish, and Triston McKenzie), Valdez runs away from the pack with a measly 30.4% Hard Hit Rate against him, compared to 39% for Darvish and 48% for McKenzie.
The marriage of throwing strikes and inducing contact on the ground has turned Valdez into one of the strongest innings-eaters so far this season. Across five starts in May, Valdez has thrown 34.0 innings; only Sandy Alcantara's 34.1 IP in his five starts is better. If Valdez continues to trend the way he is, we may be looking at the only left-handed pitcher in Major League Baseball to eclipse 200 innings.
Nick Pivetta – RHP – Boston Red Sox
2022 Stats: 48.2 IP, 4.25 ERA, 3.89 FIP, 46 K (23.1% K%), 16 BB (8.0% BB%), 0.8 fWAR
What seemed to be a fall from grace for Nick Pivetta in April turned into a blip in the radar before an exceptional month of May. The splits by month may be as drastic as anyone in baseball:
APRIL: 4 GS, 8.27 ERA (15 ER in 16.1 IP), 16 K, 13 BB, 1.96 WHIP, .297 BAA
MAY: 5 GS, 2.23 ERA (8 ER in 32.1 IP), 30 K, 3 BB, 0.74 WHIP, .179 BAA
Obviously, limiting walks has been the name of the game for Pivetta. We can simply look at opponent's OBP against him; hitters were reaching base at a .410 clip in April, compared to a minuscule .207 in May.
In terms of Pivetta's arsenal, everything seems to be a tick or two down in velocity from where it was in a solid 2021 season. However, Pivetta seems to be settling in and understanding how each pitch can build off of his previous one. He may not "wow" to the degree that he did last year, but he's proving that a down April was certainly was a fluke.
Stock Down
Merrill Kelly – RHP – Arizona Diamondbacks
2022 Stats: 49.0 IP, 3.49 ERA, 3.09 FIP, 42 K (20.3% K%), 18 BB (8.7% BB%), 1.0 fWAR
Kelly's stock couldn't get much higher than it did through the first month of the season. Across his first five starts of the year, the 33-year-old was utterly dominating, carving through hitters to the tune of a 1.27 ERA and .208 batting average against.
May has done the opposite to Kelly. Across four starts, Kelly has a 6.53 ERA (15 earned runs in 20.2 IP) and a .296 opposing batting average.
By pitch mix, Kelly seems to be struggling to establish any rhythm in what iteration of his hard stuff to throw, and how often, over his last several starts. On May 17th in Los Angeles against the Dodgers, Kelly threw 41% fastballs, 11% sinkers, and 13% cutters. Five days later in Chicago, Kelly threw fastballs 33% of the time, sinkers 4%, and cutters 28%.
As Kelly's WHIP seems to be on the rise, it may be in direct correlation to his confidence in his overall mixing of pitches fading. If Kelly continues to surrender hard contact, he may not regain conviction in his arsenal for quite a bit of time.
Kyle Gibson – RHP – Philadelphia Phillies
2022 Stats: 48.0 IP, 3.94 ERA, 3.21 FIP, 45 K (22.5% K%), 14 BB (7.0% BB%), 1.1 fWAR
While the overall season numbers may not cause you to slam the panic button, a skid in the early goings of May could cause you to hover over it.
Now, let's acknowledge that Kyle Gibson was never brought to Philadelphia to be a front-line starter. He was acquired at last year's deadline to offer solid starts in the middle of a rotation that boasts Zack Wheeler and Aaron Nola. He was a pleasant surprise for the Rangers last year, but underwhelmed after the deal.
Through the first month of the season, Gibson was excelling. In 27.2 innings, Gibson was sporting a sub-3.00 ERA and a .184 batting average against. As we've reached the home stretch of May, those numbers through his first four starts this month have ballooned to 5.31 and .341, respectively.
Gibson's command numbers have drastically improved as the season has progressed. Of his 14 free passes issued, just two have come in the month of May. However, with more strikes comes more opportunities for opposing hitters to put the ball in play, and they've been doing so well. Over his last three starts, Gibson has allowed a combined 23 hits in 14.1 innings pitched.
Gibson did piece together a very strong outing in Atlanta earlier this week, so hopefully that's a sign of things leveling back out for the right-hander.
Zach Plesac – RHP – Cleveland Guardians
2022 Stats: 43.1 IP, 5.40 ERA, 5.04 FIP, 28 K (14.6% K%), 13 BB (6.8% BB%), 0.0 fWAR
After an impressive maiden season in 2019 followed by a sub-3.00 ERA in the COVID-shortened 2020 season, many were expecting Plesac to be yet another Guardians starting pitcher that develops in an organization that's known for being the best at wringing the towel dry of all their pitchers are worth. However, after Plesac missed all of last June after fracturing his thumb "aggressively" taking off his shirt, he never really regained the form that put him on the map.
Fast forward to this year, and Plesac is nowhere close to the arm that he once showed flashes of becoming. After scattering base hits just effectively enough in April, Plesac's ERA exploded to a 6.95 clip in four May starts to this point, embodies by 25 hits and nine free passes in 22 innings of work.
All of his pitches have seemed to tick down. Compared to where they sat last year, every offering but his changeup is down about two miles-per-hour, and the slider and change are getting hit noticeably harder than last season. Plesac has gone from key piece of the Guardians' future to possible odd-man-out of the rotation in under a year.