Analysis
Mookie Betts Is One of the Best Players in Baseball Again
Dodgers outfielder Mookie Betts has bounced back from an injury-plagued 2021 season to once again contend for MVP.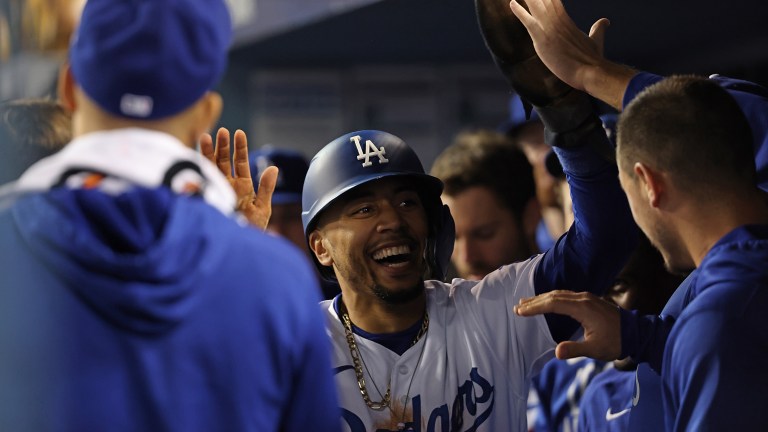 In 2021, Mookie Betts was an All-Star. He hit 23 home runs and posted an .854 OPS. He was worth 3.5 fWAR. His team won 106 games. And yet in 2021, Mookie Betts was having a down year.
By almost anyone else's standards, it would have been an amazing season. But Betts has set the bar so high for himself that anything less than elite production is a disappointment.
For the first time since his 2014 rookie season (when he played just 52 games), Betts did not receive a single MVP vote. For the first time since 2015 (his first full season), he did not finish in the top-eight for the coveted award.
That's how incredible Betts has been throughout his nine-year MLB career. If he isn't in the MVP conversation, he's underperforming. Thus, his 2021 season came as a bit of a surprise. It might sound silly to call it a down year, but for Betts, it really was.
In 2022, everything is back to normal. Betts is hitting .280 with a 153 wRC+, and he is, once again, getting serious consideration for NL MVP. He has proven that his substandard performance last season was just a blip on the radar, not a sign of impending decline.
Mookie Betts Wasn't Quite Himself Last Season
Staying healthy was a big part of the problem for Mookie Betts in 2021. He missed 40 games, spending time on the IL with various injuries, including bone spurs in his hip. However, even when he was on the field, he didn't look quite right.
In 122 games, he accumulated 3.5 fWAR. That was good for seventh among all NL outfielders. Yet it was also the lowest fWAR per game he ever has posted. For the first time in his career, he was on pace for fewer than 5.0 fWAR per 162 games. He was merely playing like an All-Star rather than an MVP.
What was up?
Betts' bat wasn't quite as potent – his 131 wRC+, while still excellent, was his lowest since 2017 – but the real problems were his baserunning and his defense.
For the first time in his career, Betts was not a plus baserunner. The metrics from both FanGraphs and Baseball Prospectus deemed him to be a negative presence on the bases. His sprint speed dropped significantly. He stole only 10 bags and was caught five times.
His defense also seemed noticeably worse. While defensive metrics are only so trustworthy over less than a full season's worth of games, it's still notable that Betts declined substantially according to every major defensive metric. It's not that he became a bad defender, but it was clear to anyone watching he wasn't reaching quite as many balls as he once did.
Betts was playing through pain and injuries for much of the 2021 season, and that could certainly explain why his baserunning and defensive skills took such a hit. Still, in order to prove his down year was caused by injuries and not overall decline, Betts needed to bounce back in 2022. And that's exactly what he did.
Betts Is Back
In 2022, Mookie Betts has turned things around in a major way. He is putting up his best offensive numbers since his MVP season. He has stolen 12 bags and only been caught once. He has not made a single error all year. The advanced metrics once again suggest he is a good baserunner and a strong defensive outfielder.
Interestingly, he has not recovered the foot speed he lost during the 2021 season. His Statcast sprint speed and time from home plate to first base are both exactly the same as they were last year. However, he has clearly found a way to compensate.
Betts has posted the best stolen base success rate of his career, and his "outfield jump" (per Statcast) is the best it's ever been. Even if he's not quite as fast as he was in his younger years, he still knows how to move.
With his strong bounce back performance, Betts is a lock to earn MVP votes once again. That much is a given. With a strong September, he might even challenge frontrunner Paul Goldschmidt for the award. If he were to do so, he would become just the second player to win MVP Awards in both the American and the National League, and the first player to win both an MVP and a World Series in each league.
Betts isn't just back to normal. He might make history.
Various injuries slowed him down in 2021, turning him from a perennial MVP candidate to a mere All-Star. Now, all that is in the past. Mookie Betts is one of the very best players in baseball. Balance has been restored.