Analysis
Mookie Betts is in the Midst of a Historic Second Half
Mookie Betts has been on an absolute tear lately, proving that he should be viewed as the National League's Most Valuable Player.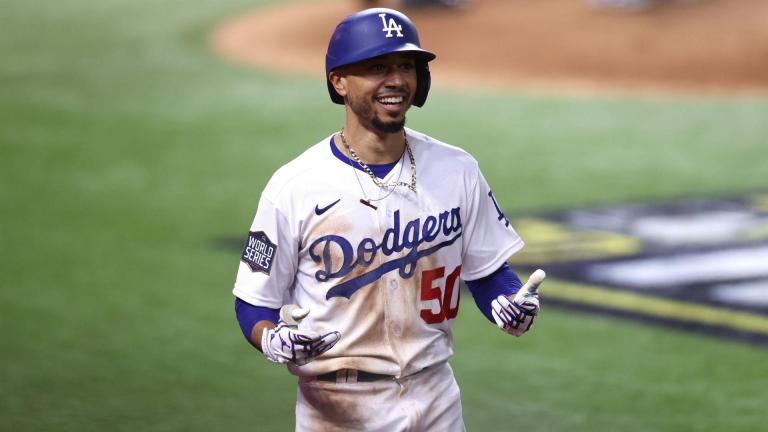 This weekend, Mookie Betts capped off the last game of a three-game series against his former team, the Boston Red Sox, with three hits, a home run and three runs batted in. It was another impressive showing from Betts, who is closing in on Ronald Acuña Jr. for National League MVP.
Betts came into the day with the major league lead in fWAR and a 171 wRC+, which is only trumped by Shohei Ohtani, who owns a 183 wRC+ on the season. If Betts keeps up this pace, he'll not only make the case for the MVP award, but also lay claim to one of the best second halfs in recent history.
He has a 210 wRC+ in the second half, which means he's been 110% better at producing runs than the average MLB hitter. For context, Xander Bogaerts has a 100 wRC+ in the second half this season and Mookie Betts has been more than twice as valuable at the plate than him.
Below are the top five players in wRC+ in the second half this year, which includes the usual suspects Ohtani, Freeman, Seager and Matt Olson.
| | |
| --- | --- |
| Player | 2023 Second Half wRC+ |
| Mookie Betts | 210 wRC+ |
| Freddie Freeman | 197 wRC+ |
| Shohei Ohtani | 191 wRC+ |
| Corey Seager | 187 wRC+ |
| Matt Olson | 181 wRC+ |
Second Half wRC+ Leader courtesy of Fangraphs
What Mookie Betts has done at the plate over the last month and a half could put him among some elite company if he can hold this pace. Below are the players with the best wRC+ in the second half since 2010. If the season were to end today, Mookie Betts' second half wRC+ would rank behind only Aaron Judge from his 62 home run season, Christian Yelich from 2018 when he hit 28 home runs in the second half, Mike Napoli from 2011 and Joey Votto in 2015.
| | |
| --- | --- |
| Player & Year | Second Half wRC+ |
| Aaron Judge 2022 (62 HR season) | 253 wRC+ |
| Christian Yelich 2018 (MVP) | 221 wRC+ |
| Mike Napoli 2011 | 213 wRC+ |
| Joey Votto 2015 | 212 wRC+ |
| Bryce Harper 2021 (MVP) | 202 wRC+ |
Second Half wRC+ Leaders since 2010 (Min. 200 PA)
One interesting note on Napoli from that insane 2011 second half: He only hit above sixth in the Texas Rangers lineup in nine out of 63 games in the second half. I guess that was protocol when the Rangers lineup featured Josh Hamilton, Ian Kinsler, Michael Young, Adrian Beltre.
Although they did slot Elvis Andrus and his 93 wRC+ into the two-hole everyday, which was less than ideal, but I digress.
It's Monday, August 28th, and Mookie Betts should be the current front runner for NL MVP in the minds of BBWAA writers everywhere. He may not have 59 stolen bases like Ronald Acuña Jr., but he has more WAR, a higher wRC+, and more home runs than the Braves superstar. He's been the better all-around player this year and is a huge reason the Dodgers own MLB's third-best record, despite their 17th ranked team ERA.
Mookie Betts has 34 games left to become the 33rd player in MLB history to win a second MVP award, a feat most recently completed by Bryce Harper back in 2021, on the back of a 202 wRC+ in the second half. Could history repeat itself this year?